Various Artists – Permanent Vacation 3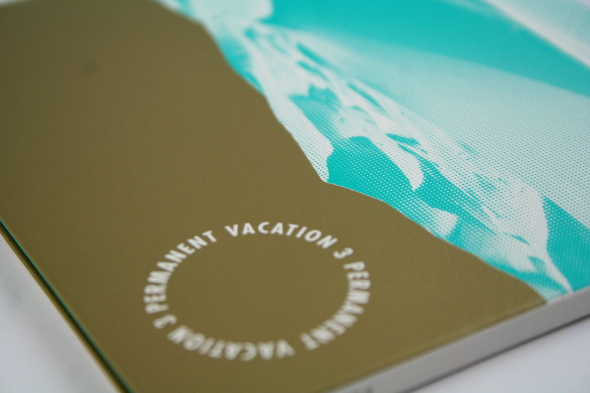 Back in 2006, the launch of Benjamin Fröhlich and Tom Bioly's Permanent Vacation label wasn't marked with a single from a new signing, but rather a taster 12" for the imprint's first compilation. Few labels choose to begin life with an EP of licensed material, but in many ways it made a lot of sense. What better way to outline your new label's approach than to gather together material that sums up your musical outlook? Certainly, the Permanent Vacation 12" and the full-length CD that followed did just that, gathering together evocative Balearic, nu-disco and deep house cuts from the likes of Maurice Fulton, Kelley Polar, Ilya Santana, Manhead and Lindstrom.
In the early stages of the label's development, this outlook was strictly adhered to. As time went on, though, Fröhlich and Bioly began to look further afield for inspiration. While the label's releases have retained an air of Balearic intent, in recent years they've explored deep house and emotion-rich techno as much as revivalist disco and wide-eyed electronica. There have been as many impressive albums as singles, including inspired full-length releases from John Talabot, Wolfy vs Projections, Mano le Tough and Midnight Magic. Music evolves, and smart labels keep up; by and large, Permanent Vacation has been doing just that.
Even so, it's been a while since Fröhlich and Bioly have taken time out to showcase some of the tracks that have influenced the musical choices they've been making. In recent times, they've concentrated on their "new house" series – If This Is House, I Want My Money Back, which now runs to three volumes – or label collections that merely round-up a year or two of albums and 12" singles. In fact, the last Permanent Vacation collection was released way back in 2007. That, like its 2006 predecessor, was largely a disco and Balearic-influenced affair.
This belated third volume, the first in the series for seven years, offers further proof as to how Fröhlich and Bioly's tastes have changed. That's not to say that they've completely abandoned their Balearic and disco roots, but rather that there's a much greater emphasis on electronic music influenced by deep house, techno, new age ambience and spacey electronica. It's not that great a leap in the grand scheme of things, but it is still marked. Even so, the majority of music on Permanent Vacation 3 is every bit as immersive, atmospheric and melodious as that featured on the previous two volumes. The influences and inspirations may be a different, but this is primarily still music for the head, rather than the feet.
Happily, the Munich-based duo has opted not to take the easy route and put together a single CD of recent favourites. Instead, they've looked back through seven years of favourites, chosen 24 tracks and expanded to two discs. It turns out to be a wise choice, as there's far too much high-grade material here to fit on one CD alone. There are, of course, some tracks that diggers will be familiar with ­– A Sagittariun's startling 2010 debut, the chiming early '90s 'intelligent techno' revivalism of "The Circle Stops Somewhere", for example, or the mesmerising opium-house pulse of Invisible Conga People's "Cable Dazed", which sounds every bit as numb and disconnected as it did on its' initial 2008 release.
These semi-familiar moments are contrasted by selections that could be considered deeper or at least lesser known. Few picked up on Beautiful Swimmers' "Late Night Dubbing" version of Chateau Marmont's "Nibiru" on its' initial digital-only release (something of a pity, since it's one of Max D and Ari Goldmann's better remixes), while Timothy J Fairplay's brilliant, early New Order style revision of Scott Fraser's "A Life of Silence" has been near impossible to get hold of on 12" since the week it was released Or, for that matter, the ultra-deep electronics, tactile deep house rhythms and snaking clarinet of JR Seaton's "Vertigo".
Regardless of the obscurity of some of the material, its' the quality of Fröhlich and Bioly's selections that shines through. Whether exploring bossa-influenced new age deep house (Young Marco's sublime remix of Heatsick's "Dream Tennis"), atmospheric electronica (Daniel Wang's previously overlooked 2002 cut "Two Tracks We Made In 1999 For A Gay Leather Video"), enveloping Balearica (Secret Circuit) or deep, intergalactic techno (Recondite's epic "Tie In"), there's barely a duffer in sight. Sure, not every track sparkles as much as, say, Joakim's yearning dub of Arsenal's "One Day At A Time" – see the so-so deep house hypnotism of Charles Webster's remix of Rompante's "Treat" – but these forgettable moments are happily few and far between.
Matt Anniss
Tracklisting:
CD 1
1. Commix – Japanese Electronics (Instra:Mental Moog Remix)
2. Pascal Schäfer – Mystere
3. The Golden Filter – Kill Me (John Talabot Killed In Room 616 Refix)
4. Chateau Marmont – Nibiru (Beautiful Swimmers Late Night Dubbing Mix)
5. Panther Modern – Pentimento
6. DrumTalk – Time
7. Heatsick – Dream Tennis (Young Marco Remix)
8. RA-X – THE OPIUM DEN Part VII
9. Invisible Conga People – Cable Dazed
10. Popnoname – Touch (The Field Remix)
11. Kettel – Boekebaas
12. Sergej Auto – Abyis
CD 2
1. Woolfy – Warehouse (Project Sandro Mix)
2. Arsenal – One Day At A Time (Joakim Dub Mix)
3. Scott Fraser – A Life Of Silence (Timothy J Fairplay's Fall Of Shame Remix)
4. Brandi Ifgray – Mono (Ibiza Mix)
5. Secret Circuit – White Wish
6. Daniel Wang – Two Tracks We Made In 1999 For A Gay Leather Video
7. Enchante – Pattern 3 (Gunman)
8. Bot'Ox Meets Showgirls – Grand Central
9. JR Seaton – Vertigo
10. A Sagittariun – The Circle Stops Somewhere
11. Rompante – Treat (Charles Web