Listen to Diagonal's Unsound podcast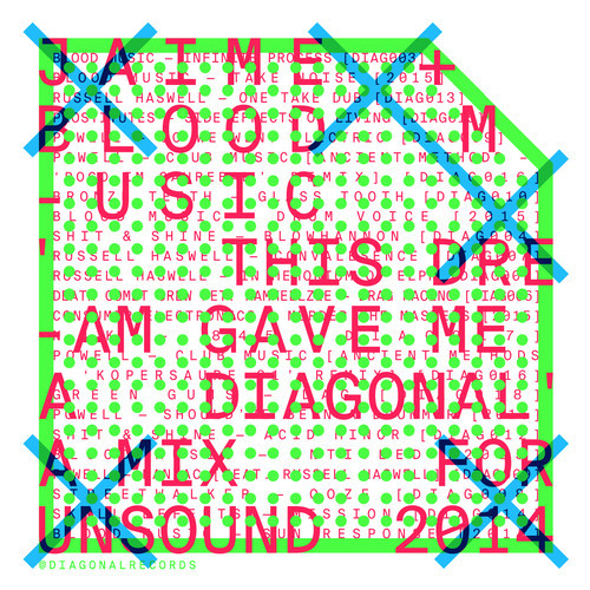 Jaime Williams mixes up label classics and forthcoming material on this mix ahead of next week's Unsound festival in Krakow.
Though Diagonal will be hosting a label showcase featuring Powell, Russell Haswell, Bronze Teeth, Evol and Traxx at next week's Unsound festival in Krakow, they're getting things started now with a podcast mixed by co-founder Jaime Williams, together with improvised noise and electronics from Blood Music. Humorously titled "This Dream Gave Me A Diagonal" and described as "a 90-minute rhythmic ride into the past and future of Diagonal Records," the mix features a healthy dose of forthcoming material from Skull Defekts, Consumer Electronics, Green Gums and more. The mix can be streamed below, and for those equally as excited by Diagonal's art direction as the music itself, the podcast artwork comes courtesy of regular Diagonal designer Guy Featherstone.
Unsound will also be making a recording of Robert Rich's Sleep Concert available for download, originally performed at last year's festival when the artist played his ambient concert to a slumbering audience. The recording will be available for 24 hours only, from 17:58pm on October 11 onwards for 24 hours only direct from Unsound's SoundCloud page. According to Unsound, the idea is that "people around the world can press play and sleep to the 8-hour show at different times, according to where they live." Unsound has also announced a full programme of its NTS Radio broadcasts taking place during the festival next week – those can be viewed in full here.
Tracklisting:
1. Blood Music — Infinite Process [DIAG003]
2. Blood Music — Take Noise [2015]
3. Russell Haswell — One Take Dub [DIAG013]
4. Prostitutes — Side Effects Of Living [DIAG015]
5. Powell — So We Went Electric [DIAG009]
6. Powell — Club Music [Ancient Methods 'Pogo Im Saurebad' Remix] [DIAG016]
7. Bronze Teeth — Glass Tooth [DIAG010]
8. Blood Music — Drum Voice [2015]
9. Shit & Shine — Blowhannon [DIAG004]
10. Russell Haswell — Convalesence [DIAG007]
11. Russell Haswell — In Memorium Of Elph [DIAG007]
12. Death Comet Crew Feat. Rammellzee — Drag Racing [DIAG006]
13. Consumer Electronics — Murder The Masters [2015]
14. Nhk — 845 [DIAG017]
15. Powell — Club Music [Ancient Methods 'Kopersaure 91' Remix] [DIAG016]
16. Green Gums — Dag [DIAG018]
17. Powell — Should've Been A Drummer [2015]
18. Shit & Shine — Acid Minor [DIAG012]
19. Blood Music — Untitled [2015]
20. Powell — Maniac [feat. Russell Haswell] [DIAG009]
21. Streetwalker — Ooze [DIAG008]
22. Skull Defekts — Mission [DIAG014]
23. Blood Music — Sun Response [2015]