Scratching the Surface: Farbwechsel
In this month's Scratching The Surface column, Scott Wilson explores the producers orbiting around Budapest's Farbwechsel label, whose focus on Hungarian artists is incubating some interesting music.
If there's one key problem with running a prolific label with such a clearly defined aesthetic, it's that the finer points of certain releases are all too easy to miss. Dark and grainy with a sinister air, S Olbricht's Deutsch Amerikanische Tragödie cassette is one example; released on Opal Tapes last year, it fit the label's sound like a suitably worn-out glove. Route 8's Eleda 12", released on Nous this year was another example, slotting comfortably amidst the warm brand of deep house the Greek label has been cultivating since 2013. Listened to beside one another, you wouldn't immediately think there's much to connect these two records, but they're just two examples of an undercurrent of interesting electronic music emerging from the Hungarian capital of Budapest.
Opal Tapes and Nous aren't the only labels to have picked up on it. London-based house and techno label Lobster Theremin has released records from S Olbricht and Route 8, as well as an EP of saturated house and techno from Budapest-born producer Imre Kiss. Cleaning Tapes also recently put out a collaborative tape by S Olbricht and Norwell, another producer from the city whose individual style seems more influenced by classic kosmische. With such differing musical signatures, you'd be forgiven for thinking these releases all came from four producers working in complete isolation, but they're all connected by a music blog-turned-cassette label called Farbwechsel, which has quietly been putting out music from Budapest artists since the tail end of 2012.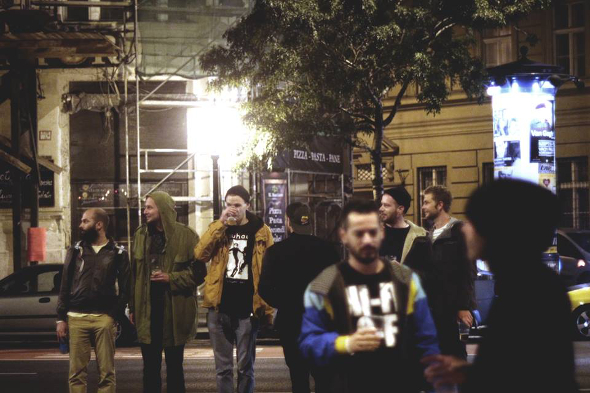 Those primarily responsible for the label are longstanding friends Martin Mikolai, aka S Olbricht, Bálint Zalkai, who also makes music as Alpár, Balázs Semsei, who produces as Norwell, and Erik Bánhalmi, also known as Svindler. Starting Farbwechsel was a simple case of having shared musical interests but having no outlet to explore them. In the early days they would post music that interested them and contribute to their Farbcast podcast series. The tracklistings from those early mixes showed each to have an interest in the margins of contemporary house and techno, but it was their own music and those of Budapest's underground community that was to define Farbwechsel.
"To be honest, I don't remember what made us start the blog," Mikolai tells me over email. "Maybe because we wanted to do something together. This phase was relatively short as we soon realised that we'd prefer to release music rather than deal with what sort of music other people make around the globe. By that time there were enough names in Hungary. We started the label because there were very few crews who would deal with the music of the local artists with proper attention and openness."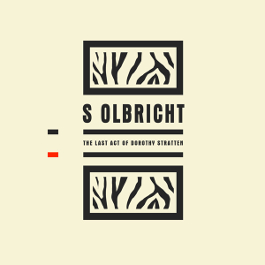 Mikolai is arguably the most visible and prolific artist connected to Farbwechsel, and his sound is perhaps the darkest. His 2012 tape The Last Act Of Dorothy Stratten was a conceptual release based around the real life death of the Playboy Playmate of the same name in 1980, whose eight tracks of washed-out techno were characterised by a sort of faded, inverted beauty. 2013's Deutsch Amerikanische Tragödie cassette for Opal Tapes sounded even more decayed, recalling a sort of alternate reality Eastern Bloc electronic sound created with primitive Soviet synthesisers. While it would be a stretch to say there's a concrete Budapest sound, his collage approach is perhaps the most evocative of the city's mixture of baroque, renaissance and art nouveau architecture and recent history as a city behind the Iron Curtain.
Mikolai's music may not be directly influenced by the country's communist past, but another Hungarian producer is, at least indirectly. Born in Slovakia to Hungarian parents, Imre Kiss's first taste of electronic music was illicit. "Even when we were living locked away behind the Iron Curtain my dad would find ways to smuggle in some 'western' music," he tells me. "This is how we got to listen to Kraftwerk, Roxy Music or Tangerine Dream when it was impossible to buy it here. Looking back it certainly inspired me to start making electronic music myself."
While Kiss lived in London for four years working as a freelance graphic designer, and has only just having moved back to Hungary, those early inspirations are still audible. His Farbwechsel cassette Midnight Wave is a combination of drifting new age ambience rendered in subtle hues of grey and occasional diversions into more rhythmic territory, while his brilliant Raw Energy EP for Lobster Theremin felt almost like it could have come from a different artist – or at least a sunnier clime. With a sonic quality that sounds like it could only have come from like a warped, fluttering tape spool (or at least a VST that can appropriate one) tracks like "Non" and "Raw Energy (ARPOS Session)" recall the more faded moments of Legowelt at his most stargazing.
The wildly differing nature of his tracks can perhaps be put down to the curiosity he showed when tinkering with the obscure music production software he used as a teenager. "I just like things that have character," explains Kiss of his exploratory approach. "People were trying to polish their music so much that its character had been lost. I do like to listen to people who do 'lo-fi' stuff but after a while that gets boring for me too. I don't want to limit myself. It's all about experimenting with sounds and genres. Taking inspiration from one genre and putting it into a different context."
Otherwise known as Route 8, Gergely Horváth is another Budapest producer, but one whose style is a little easier to pin down. Last year's Mental Murder EP on Farbwechsel featured four tracks that could be placed under the category of simple rhythm tools, perhaps reflective of his early interest in the French electronic scene as a teenager. As his releases have progressed however, his take on house music has become gradually more sophisticated. The jacking rhythms and serene pads throughout his releases on Lobster Theremin and Nous show a clear debt to Chicago house, but with an emotional depth sorely lacking from many of the current crop of imitators mining inspiration from the genre's past. Though he mentions L.I.E.S. as an influence, his emotive music is perhaps better compared to White Material's Galcher Lustwerk.
Balázs Semsei, who produces as Norwell, has perhaps the most colourful sound of anyone operating around the Farbwechsel artists. Both the Harmonia EP for Box Records and I Kissed The Sun for Shabu Recordings are characterised by their gleaming arpeggios and pastoral chords, music that sounds like it could be an updated take on the music of Cluster or any number of German pioneers (it's probably no coincidence that Harmonia is called just that). It's a style he describes as "bittersweet synth psychedelia" that recalls James Holden's recent work in places.
"I was trying to find my own sound which means I made a lots of terrible tracks first, but there was one common thing about them: melodies. I love melodies, especially if they are a bit dissonant," Semsei tells me. "I started making music when I was around 20 and I had very mixed up feelings back then. I was anxious about everything and I think music was my medium to express those feelings. Since then I have learned a lot about myself and the world, and my music became more positive but it still focuses on my emotions no matter if they are positive or negative. I'm trying to focus more on the positive thoughts though, so maybe that's why my sound is a bit more softer than, for example, S Olbricht's."
Though he has been a part of the Farbwechsel group since its inception, Semsei is unique in that he's yet to release anything on the label itself. He's still a core part of the group though, collaborating with Mikolai on the Untitled cassette for Cleaning Tapes. His Farbwechsel debut is coming soon, but he feels he needed to prove himself elsewhere before putting out his own material on it. "When we launched the label I told to the guys that first I want to have some releases on international labels and then return to our own one," he explains. "My friends like Martin, Bálint and Erik always told me that my music is good, but I think I needed some kind of a verification from someone who is not my friend that it was good enough."
Though the producers mentioned all make electronic music predominantly shot through with some kind of 4/4 pulse, it would be wrong to say that Farbwechsel is simply a house and techno label. 12z for example are an improvisational ensemble utilising guitar, viola and drums alongside an assortment of electronics, with a sound somewhere between the psych-rock of Acid Mothers Temple and the dusty metallic clang of Earth. The Wedding Acid Group make music that recalls the heavier end of Aphex Twin saturated with video game soundtrack nostalgia, while A i w A makes something closer to grimy hip hop than house or techno. With so many differing projects it's clear that Farbwechsel isn't just a label, but an incubator for underground Hungarian music of all types.
Speaking to Electronic Beats last year, Zalkai likened Farbwechsel to the Zodiak Free Arts Lab, the legendary West Berlin music hub founded by Conrad Schnitzler and Hans-Joachim Roedelius. A more contemporary parallel might be drawn with Bristol's Young Echo collective, each of whom have quite distinct identities of their own, but whose collaborations add new dimensions to existing genres. It's something that they do regularly, no doubt contributing their prolific output. "Every month we do a Farbwechsel live jam night where we bring a bunch of our synthesizers and old drum machines together and we just jam together, 4-5 of us for 3-4 hours straight," Horváth tells me. "Playing house tracks or techno – there was even a night where we just laid down some slow dark hip-hop stuff."
Farbwechsel occasionally venture out into the club and performances spaces in Budapest, most recently holding a label night at Budapest's A38, a boat that has been functioning as a live music venue since 2003. The line-up featured pretty much every artist on the label's roster, the kind of thing you'd be hard pressed to see even at a comparative party even from a night from a label like L.I.E.S., whose members are become increasingly spread throughout the globe.
However, Mikolai admits that these events are "not that typical". "Lets say it's improving," Semsei explains. "There are only a few proper clubs in the city – most venues are pubs, bars with a dancefloor in the basement or on the floor. Therefore there are only a few places where I like to go or play a gig. A small part of the audience is quite open minded in Budapest hence we have interesting events on every weekends. But of course techno, deep and tech-house has the biggest scene in the country, if you don't consider commercial EDM."
This may be the case at the moment, but Mikolai tells me that the Farbwechsel collective are planning to take their live jam concept into a public setting soon, with the aim of "creating loads of new tracks, as if it was an open rehearsal," on a more monthly basis. Horváth seems more optimistic about the future of Budapest's clubs. "The electronic scene here is really hot at the moment," he tells me. "A huge number of clubs have spent a lot of time and effort to upgrade their soundsystems and achieve a special atmosphere for their dancefloors. The audience is small but they are really open minded now, which is good, because now we are able see artists in Budapest such as Galcher Lustwerk and Seven Davis Jr."
Of course Budapest is a capital city whose economy relies heavily on tourism, and much of this improvement has come in spite of Prime Minister Viktor Orban's view that Hungary should "abandon liberal methods and principles of organizing a society," something that has attracted criticism from those outside the country. Speaking to Electronic Beats last year, Ábel Zsendovits, owner of the city's first 'ruin bar,' described an attempt by the municipality to restrict bar opening hours, thwarted by all the bars grouping together to put put pressure on the authorities to reverse these proposals. "We have to pay a new tax now, but at least we're allowed to stay open," he said. "The other day I was asked how this could have happened, and the answer is easy: tourism seems to be the only industry in the country that is still making money."
Any political effect on Budapest's nightlife or culture is not something Mikolai is willing to share his opinion on. But it raises an interesting question as to whether there is a more political dimension to the music Farbwechsel makes. When I ask Horváth if his Hungarian identity plays a part in the music he makes, he, like Mikolai, Semsei and Kiss seems unsure. "I don't know to be honest… life in Hungary at the moment seems a little bit… futureless? The government is kind of bad and our economy looks bad too, so we have a bunch of depressed people here. It has a little effect in our music scene, but we – the younger ones – just try to not care about it."
Horváth's response could be read as apathy, but it's clear that the Farbwechsel collective are anything but apathetic in the way they approach their music. The same problems that face Farbwechsel are much the same as those experienced by underground music collectives across Europe living under centre-right governments during a time of economic turmoil. However, it's the way in which Farbwechsel has chosen to do things by itself and keep things local rather than just sending their music to larger labels via the internet that makes the entity a rare thing.
Farbwechsel isn't the only label operating in Budapest – there's also 8ounce Records, whose focus is similarly local – and Farbwechsel is by no means a closed entity; as Semsei tells me, "there are some other very good labels in Budapest and everyone is close to each other," and it seems Budapest's underground scene is thriving outside of Farbwechsel's presence too. In a recent article at Resident Advisor, Adam Harper suggested that what he describes as the online underground could be a new kind of punk. That may be true in its own way, but the way in which Farbwechsel has opted to focus on local artists and build something concrete at home seems just as punk in its approach as its peers operating solely in cyberspace.
Scott Wilson