Best reissues and archival releases: September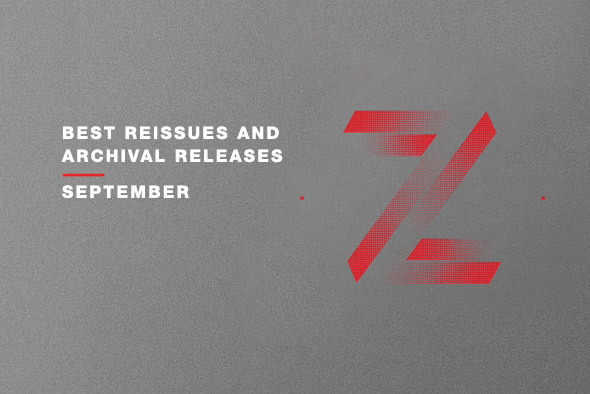 September's crop of the best reissues sees proto-acid experiments, intergalactic jazz, Birmingham techno and an audio retelling of Dune alongside a collection of under-appreciated Greek electronics.
Z aka Bernard Szajner – Visions of Dune (InFiné)
What's perhaps most remarkable about Visions of Dune is when Bernard Szajner recorded the album in 1979, he did so with no formal musical experience. His background was in lighting and visual effects, working on stage shows for artists as diverse as The Who, Olivier Messaien and Gong; his first record was produced using an Oberheim synthesizer and sequencer lent to him by a friend for eight days, recorded to a two-track tape recorder. Though Szajner went on to write a few more records he largely gave up music in the 1980s, and it's probably as inventor of the laser harp that is his most notable contribution to music, an instrument made popular by Jean-Michel Jarre. Despite this, Szajner's influence runs deep; Carl Craig has hailed Visions of Dune as a classic, and on this reissue from InFiné, it's easy to see the appeal.
Rather that being a soundtrack for any existing (or scrapped) version of Dune, Visions of Dune is a kind of imaginary audio retelling of Frank Herbert's original trilogy of novels; as Szajner told FACT recently, it was his own "visions of the book". Considering the limited tools at Szajner's disposal, his attempt to recreate the vast setting of Herbert's epic tale is impressive. With a style that sits somewhere between the influence of big '70s prog rock acts and the more introspective sounds of kosmische pioneers like Popol Vuh, the album sways between drifting synth compositions reflecting the sandstorms of Arrakis and more dramatic pieces like "Harkonnen" and "Adab", all of which do an excellent job of drawing out the power struggles that lie at the heart of the novels. Many have tried to adapt Herbert's Dune novels for the screen – even David Lynch's adaptation falls wide of the mark – but Szajner's audio retelling might be the best we'll get.
Listen/buy vinyl
Tom Ellard – 80s Cheesecake (Dark Entries)
We haven't been short of Severed Heads reissues this year – both Medical Records and Dark Entries have put out some of their best work in the past few months, much of which was for the second or third time around. Any fatigue any fans of the seminal '80s Australian act should be swept away by this latest reissue from Dark Entries however, which is something of a coup, no matter how you look at it. Back in 1982, Severed Heads frontman Tom Ellard released two cassettes called 80s Cheesecake and Snappy Carrion, produced in the time between Blubberknife, and Since The Accident. When Ellard discovered copies of 80s Cheesecake were selling for extortionate sums on eBay in 2002, he reissued the cassette on a CDr as well as digitally. However, nobody does a vinyl reissue like Dark Entries, and this version sees both tapes on two sides, together with some previously unreleased material.
With the material from these cassettes coming from the time they do, they have much in common with the sound that would go on to characterise Since The Accident. Much of this has to do with the Roland TB-303 Ellard had begun to experiment with; while tracks like "Anthem 82" and "Big Eats" have a kind of metronomic minimal synth quality to them, its the slight undercurrent of acid sitting beneath Ellard's grubby sound that makes these tracks more unique than just the average collection of '80s experimentation. It's worth bearing in mind that the first official acid house track, Phuture's "Acid Trax", wasn't made until 1985. It's pretty hard to believe when listening to "303B The East Is Red", which you'd be forgiven for thinking Ellard must have made with acid house in mind if the dates weren't completely out of sync. Of course these tracks are more than just some proto-acid curios; as with the work of Severed Heads there's a uneasy sense of melancholy throughout – "These Are The Words" especially.
Listen/buy vinyl
George Theodorakis – The Rules of the Game: Original Studio Recordings 1978 – 1996 (Into The Light)
Earlier this year Into The Light released The Sleeping Beauties: A Collection of Early and Unreleased Works, a retrospective of Greek musician Vangelis Katsoulis' early work. Its collection of utopian minimalist synth compositions highlighted both just how ahead of the curve Katsoulis was and the skills of Echovolt Records boss Ilias Pitsios and Tako Reyenga of Redlight Records, the two people responsible for Into The Light. With their Katsoulis retrospective still standing as one of the year's most essential reissues, their third project on the label – a collection of music from Greek composer George Theodorakis – comes with high expectations.
You'd probably be forgiven for not having heard of Theodorakis – his father Mikis, the composer behind scores for cinematic classics Zorba The Greek and Serpico, is arguably the more widely-known family member, but he's still more than worthy of greater exposure. Much like previous Into The Light subject Katsoulis, there's something undeniably new age about much of Theodorakis' music. "Getaway" for instance tumbles with a Klaus Schulze-esque arpeggio, while there's a faintly ritual air to "In Conclusion" reminiscent of Popol Vuh. "Escape" meanwhile, is a synth composition with a sinister, tense air reminiscent of John Carpenter (so much so the name seems like it could be more than a coincidence). It has its lighter moments too; on "So Many Flowers" he sings over the top of a simplistic synth horn arrangement, while the drifting "Nicotine 4" has a more plaintive air; the synthetic slap bass of "The Rain" on the other hand shows his skill for crafting bouncy '80s synth-pop. While not quite as striking as Into The Light's Katsoulis project, The Rules of the Game is still another essential reissue, demonstrating that Pitsios and Reyenga are two of the best in the game right now.
Listen/buy vinyl
Anthony Child has been releasing records for 20 years now, and he's arguably more relevant than he's ever been to the overall discourse of techno. Last year Rinse FM gave him his own regular show, the importance of which shouldn't be underestimated; his position on the airwaves is an acknowledgement of his placing as an elder statesman, and that British techno can still (and has been) holding its own against Berlin for quite some time. This EP is the first in what promises to be the first in a series of six reissues from Surgeon of his early work, and they couldn't have come at a better time, especially given there's likely to be a whole generation eager to discover more about Child's early catalogue.
However, this series is about more than just reissuing tracks that have already been re-released on vinyl a few times before; these reissues are remastered from the original DAT tapes as opposed to the vinyl pressings Child sees as inferior, as a recent post on his blog described. "While searching through old DAT tapes I was shocked to find how clear and dynamic many of my early tracks sounded, not the way I remembered them from the vinyl releases," he explains. "Those early tracks, recorded 20 years ago, were mastered and cut by people who had no understanding of electronic music. I actually remember cutting a dubplate back then and being asked if my track was "supposed to sound like that?" The engineer was so disgusted at my music that once the cut started he left the room until it was finished."
Listening back to these four tracks 20 years later, you'd have to wonder what that same engineer would make of the current trend for noise techno that seems to be showing no signs of slowing down. While Surgeon's style has never veered quite so explicitly into that territory, these early tracks do show it has become markedly more experimental – there are no ambient diversions or complex textures to be found here, but they're all the more refreshing for it. The foundation-shaking kick drum and minimal synth line of "Magneze" combine to make a grimy British counterpart to what Robert Hood was doing in Detroit at the same time, while "Atol" trades brute force for an undulating synth line with a surprisingly deep undercurrent. There's no frills with these four tracks, but they're a reminder that techno producers often said a lot more with a lot less 20 years ago.
Listen/buy vinyl
Sun Ra and his Arkestra – In The Orbit of Ra (Strut)
There have been plenty of reissues of the work of Afrofuturist jazz visionary Sun Ra over the years, and it would be easy to question whether this collection is absolutely necessary, but Strut can always be counted on to add a new perspective to things. The reason for the release of In The Orbit of Ra is to commemorate what would have been the year of his 100th birthday; it would have been all too easy for Strut to have entrusted the task of selecting which tracks to include to any number of critics with their own opinions on what the essential music of Sun Ra includes, but instead the label has wisely opted to entrust the task to Marshall Allen, the longest standing member of the Sun Ra Arkestra and its current bandleader.
The amount of music Sun Ra was responsible for in his lifetime was vast, and as such Allen's approach offers the closest we've got to an official primer on the artist's vast legacy (Mr Beatnick's Essential Sun Ra list for FACT not withstanding of course). Really, there's not much more to say here – if you're yet to get down to the task of familiarising yourself with one of the 20th century's most unique and inspiring musical figures, this is probably the place to start.
Listen/buy CD
Scott Wilson