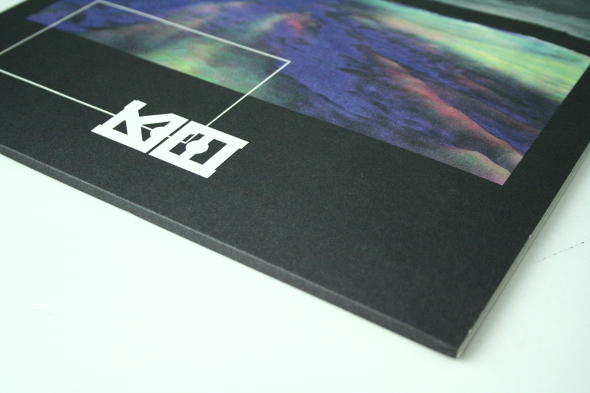 "What you've got is a whole… miserable subculture". Spoken by an anonymous voice, these words are the only ones uttered in the entirety of Lee Gamble's KOCH. Given the London-based producer's penchant for revisiting the past, the statement could easily be interpreted as ironic – maybe the clip has been plucked from archival footage in the '90s, maybe from a news segment extolling the dangers of jungle music.
But then again, when you break down Gamble's body of work, it's also possible that the he could refer to rave music as a "miserable subculture" without irony. While 2012's Diversions 94 – 96 found Gamble reconstructing the frayed jungle cassettes of his teen years, it felt too dark to be called a tribute – the euphoric breakbeats of yesterday were absent, replaced by dubby dissonance. In fact, quite a lot of Gamble's work rejects traditional dancefloor sentiment – even when he remixes a track like "Capsules" from Paul Woolford's Special Request project, the maximal breakbeat nostalgia of the original gets dragged into dubby oblivion by Gamble's touch.
This doesn't mean that Lee Gamble hates dance music, but perhaps just that there's a distinction between powerful and happy; with Gamble's music falling definitively into the former camp. This is certainly true throughout latest LP KOCH, which invites listeners to experience rave signifiers made foreign, unfamiliar, plucked out of their natural habitat. The result is as brilliantly disorienting as the LP's artwork from PAN label boss Bill Kouligas, which adds to the mystery of the music within by presenting an unrecognizable landscape that could be taken from underwater, in the clouds, or perhaps even from an unfinished video game's texture map.
Weighing in at a massive sixteen tracks, there's lots to explore in KOCH; from the placated thrum of "You Concrete", to "Oneiric Contur", which sounds like a series of sparse xylophone tones kept afloat in a sparse mist, shrill keys echoing and drifting about the fog. The liner notes for KOCH states that the LP approaches "music as projection, state, hallucination, an other place", and it's in moments like the churning, heartbeat-mimicking bass of "Yehudi Lights Over Tottenham" that this contention makes absolute sense. "Voxel City Spirals" makes it a mission to displace the rhythmic pulse of other tracks, flaring up in obtuse spasms like an angry bundle of swollen nerves. Only at one or two points throughout its duration does KOCH dip into a vacant, nauseous boredom – "Ornith-Mimik" invokes Rene Hell's obtuse experiments in sound, but risks losing us in its muddled, whirring wind-chime thud.
The LP's most engaging moments come from the times that Gamble makes dance tracks, or at least slices into the flesh of rave and pulls out a meaty a handful of something that induces movement. "Jove Layup" is bursting with tension, erupting into an even more skeletal bare-bones percussion track than Hawtin managed with "Spastik". "Motor System" may be Gamble's most accessible work yet with it's thumping, cavernous beat – a track that would slay at peak time in all but the most conservative of clubs. While much of Gamble's work feels like a documentation of how lingering rave memories are washed away by time, it's anything but miserable.
Brendan Arnott
Tracklisting: 
A1. Untitled Reversion
A2. Motor System
A3. You Concrete
A4. Nueme
B1. Oneiric Contur
B2. Head Model
B3. HMix
B4. Frame Drag
C1. Voxel City Spirals
C2. Yehudi Lights Over Tottenham
C3. Jove Layup
D1. Ornith-Mimik
D2. Caudata
D3. Flatland
D4. Gillsman
D5. 6EQUJ5-7