ImpLOG – Holland Tunnel Dive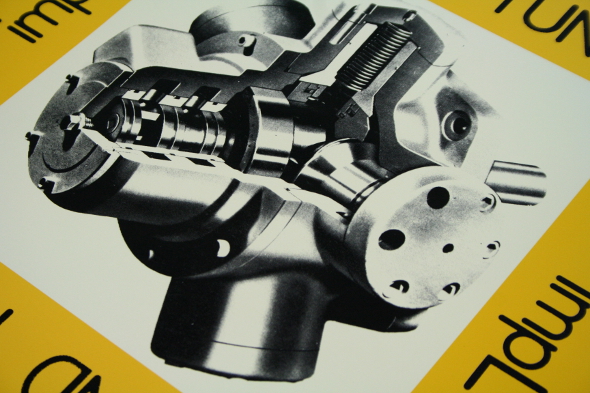 Don Christensen and Jody Harris embarked upon a project called ImpLOG, after their involvement with James Chance's seminal New York no-wave band The Contortions. Their first release, Holland Tunnel Dive, was released on the Lust/ Unlust Label, and found itself among the company of no-wave bands like Teenage Jesus and the Jerks, DNA and Mars. A short-lived project, ImpLOG managed to carve its own distinctive sound, removed from its peers and from their jazz/punk past with The Contortions. Christensen and Harris would later play with the Raybeats, a no-wave surf rock group that occupied their time for a few years, but before this development, they released a couple singles as ImpLOG. The other-worldly sounds of "Holland Tunnel Dive" along with an unconventional version of NY classic "On B'Way" can now be found as a reissue on Dark Entries.
Industrial repetition sets the tone for "Holland Tunnel Dive", propelled by bass guitar pulsations and rigid drum machine pangs. The narrator's heavily processed voice sounds like it might have been transmitted from a spaceship; distant and dispirited in tone, describing a life with "nothing to learn, no soul, no love, no dinner tonight, No woman, no cry, no respect, no equal rights, No garden to hoe, no seeds to sow, No food in the fridge, no TV shows " and so on. At various unexpected moments, the overpowering sound of a jet engine emerges (it also sounds suspiciously like a vacuum cleaner) and this overwhelming noise drowns out the rest of the track.
A sense of playful humour is apparent in all of impLOG's work, and especially "Holland Tunnel Dive" with it's aforementioned vacuum sounds and the unexpected burst of saxophone solo that kicks in towards the end. The bright, upbeat melody of this saxophone is completely out of whack with the dour mechanical elements of the track, causing an almost disorienting effect for the listener.
"On B'Way" is a cover of the famous show tune by Lieber and Stoller. Harris leads the way with gruff guitar riffs that carry Christensen's raggedy vocals, sounds that match the rough backstreets and alleyways of NYC, far removed from the glamorous theatrics of life on Broadway. Although impLOG did not produce many releases, there is a refreshingly bizarre quality that resonates throughout all their material; it is music that doesn't appear to fit comfortably into any one place or time.
Chloe Frieda
Tracklisting:
A1. Holland Tunnel Dive
B1. On B'Way