Paula Temple returns to R&S

The self-confessed Noisician will drop the Deathvox EP via R&S Records next month. 
When R&S Records announced news of a label debut from Paula Temple last year, she surprisingly represented the first time the long running techno label has issued a record from a female artist. At the time of release, the Colonized EP represented Temple's first output under her given name in almost a decade, though she does possess quite a body of work under her abstract electronic guise Fragile X. Today R&S revealed plans to issue a second release from Temple, which highlights the unfortunate fact the label remains a predominantly male concern.
Entitled Deathvox, the three-track EP looks to build on the success of last year's R&S debut, with the title track notable for some heavily treated vocals from Temple herself. Apparently heavily inspired by a recent relocation to Berlin and a more explicit insight into her love for post punk and industrial music, Temple has the following to say on the forthcoming release: "I wanted to create a sonic movement completely transhuman, captivating, and capable of tingling every chakra in the body". Deathvox is set to arrive late next month, and is the latest release in a rather relentless schedule from the R&S label whose bulbous roster now features Paul White, Lakker, Tessela and opium fanatic Shanghai Den.
R&S Records will release Deathvox by Paula Temple on October 29.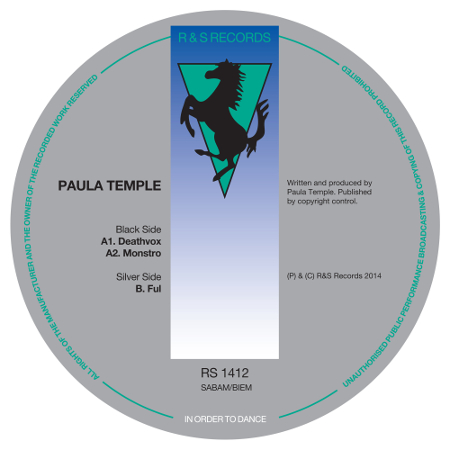 Tracklisting:
A1. Deathvox
A2. Monstro
B1. Ful