Das Ding is making sequencers
We quiz the cult Dutch artist about his new line of self-built Baby 8 Sequencers. 
Rotterdam-based Danny Bosten has his place in the coldwave canon guaranteed thanks to his early '80s dark electro output as Das Ding, which was later brought to wider attention thanks to the efforts of the Minimal Wave label. Das Ding material from this period still sounds absolutely relevant today with everyone from Helena Hauff to Andrew Weatherall via Funkineven known to include "H.S.T.A." and "Take Me Away" in their sets, and the renewed interest in Bosten's work helped persuade the Dutchman to revive the Das Ding project with a wave of new material issued over the past 18 months in addition to an active gigging schedule.
Last week Minimal Wave alerted us to the news that Bosten had begun to build his own miniature sequencers (as pictured above). We felt it was deserving of a bit more investigation, so we dispatched a series of questions in the direction of Rotterdam.
Hi Danny, when did you decide to start building your own sequencers?
Well, I was always interested in finding ways to modify my gear ever since I got into synthesizers in the early '80s (ruined many a device, don't ask…). So when I came across Mark Verbos' super-simple schematic for the Baby-10 sequencer, it seemed like an ideal idea for my first DIY project. It worked straight away too! Many years later, when I got into Eurorack modular synths, I incorporated this first one into my rack, along with a Doepfer A-155, and a Hexinverter.net simpleseq.  But I saw how much space these took up, and decided to squeeze an 8-step sequencer into a minimal panel. Then I could fit about 15 of them into the same space! I got hooked on DIY via my friends at the MASK club, where we solder away most Monday evenings, and they showed me how easy it was to design a PCB and have it manufactured in China. So then I was off.
In terms of function, what can you achieve with the Baby 8 Sequencer?
Put simply, when a clock-signal is input, it outputs a repeating sequence of voltages varying between 0,5 and 8,5 volts, depending on the power source. This can be applied to oscillators or filters typically, influencing frequency or resonance. Thus you get a sequence! And the pulse-outputs for each step can be used to trigger other stuff, like drums or gates, or other sequencers.
How long does it take to build one sequencer?
About an hour, for the PCB, there is no wiring, everything fits on to the board. A little more in making a front panel or a box. These are made from acrylic using a laser-cutter.
Have you encountered any issues with regards to sourcing the parts?
No, it's all readily available stuff.
What inspired the creation of the Baby 8? Older vintage sequencers? The ability to design your own sequencer your own way?
Older sequencers, I guess. Next to the tone generator, the sequencer – for me – is the holy grail of electronic music. And it appealed to my preference for using simple elements in building something more elaborate. The Baby-8 is a simple thing, but once you have four of them running alongside, you can get some intricate interactions, which is key to using modular systems, I suppose. It can get pretty complicated at times.
This isn't going to be a full business venture for you but you do sell them – how can people get in contact with you?
They can find me on Facebook, I guess. Or my tumblr.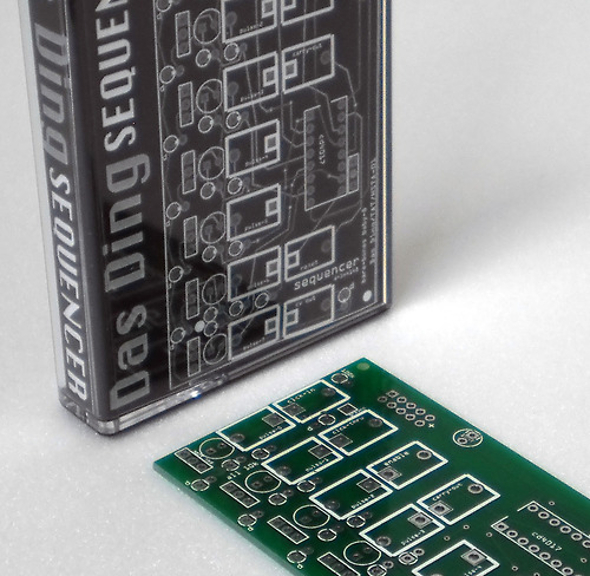 You recently put out a cassette of new material called Sequencer – was this produced using your self-built machinery?
Yes, that was the idea. The whole thing was recorded live using just my homebrew modular drum machine (and a Casio SK1 loaded with a Mellotron sample.) All melodies and modulations are driven by the sequencers, their output goes into two Barton Analog Drums, a Coron drum synth, and a Polivoks filter clone, all of which have  CV inputs. Along with my friend Falafel's excellent set of 808 clones – snare, bass drum and hi-hat – it came out beautiful. I'm really happy about the result. I made ten special copies that included the PCB in the tape cover (as pictured above) that looked great. The 'normal' version of the tape was released by DeHef tapes, a label that's just started up here in Rotterdam. It's almost sold out, though maybe some copies are still to be had from Clone and Rush Hour.
There has been a recent upsurge of affordable analogue equipment from the likes of Korg and Moog – as someone with experience of the older gear, what are your feelings on the new equipment?
I like Korg's new way of catering to the DIY fringe, the way they open up their smaller machines for modding. But I am mostly a Roland aficionado, the 606 and the 101 are my favorites always. Don't care much for Volcas or Airas. Haha. Never was much of a Moog fan. I've had a few but somehow I never could do much with them, though they can be heard on the Minimal Wave album. That harshness in sound is unmistakable. The only new stuff I buy these days are modular kits and PCBs. It's wonderful the way modular has exploded over the last few years.