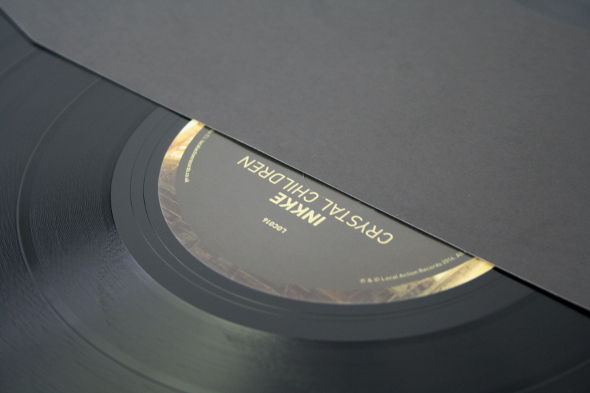 Glance at the cover of Glasgowian newcomer Inkke's first EP on Local Action Records, and you may be struck by a bit of deja vu – after all, the image of a crumbling subway station taken over by nature moss and grass certainly owes a lot stylistically to London's Night Slugs crew, who've often made the contrast between brutalist architecture and uncontrollable organic growth the focus of their aesthetic work (see the eerie trailer for L-Vis 1990's Ballads EP featuring a city block submerged in water, or the sectioned-off wilderness of the "Melba's Call" video).
Stylistically, Inkke's music is indebted to the same sort of dust-flecked grime instrumentals that have been formational to the rise of many recent UK producers. From Mumdance, Slackk and Plastician to Pearson Sound and James Blake, grime's ferocity, tenacity, and staunch refusal to become commercialized has made the genre a massive influence to modern dance music. But perhaps it's because of the persisting sense of déjà vu that pops up aesthetically and stylistically throughout Inkke's Crystal Children EP that distances it from being the product it very much wants to be – while there's a copious amount of quality material and stylistic twists on grime packed into this release, it simultaneously feels so concerned with nailing a certain authenticity, perhaps to the detriment of the ideas expressed within.
"Daisy Chain" is certainly a track that wants to sit alongside classic grime instrumentals of yesteryear, and admittedly, it does a decent job of tapping into the same sparse melancholia that made Ruff Sqwad's "Functions on Da Low" so hypnotic and transfixing. It's the closest to a straightforward 8-bar grime piece that you'll find in the package, and "Lego Riddim" prefers to take a more exploratory route with its structure, with swirling pressurized sweeps leading up to a guttural bassline thump with plenty of classic grime clicks.
However, in contrast, "Ultraviolet" feels somewhat muted and lifeless – a series of intermittent, barely-held-together greyscale thumps. Those who've grown up collecting grainy Roll Deep and Nasty Crew rips from Soulseek can likely see that Inkke's heart is in the right place, but for some reason, it falls flat of the source material it aims to pay homage to. Perhaps without hearing it booming from a basement sound system, or frantically thrown into a mix alongside other grime tracks, its effect is diminished. In further tribute to grime forefathers, "Thinkk Star (Club Mix)" has a sample referencing the 'old school' stitched into the middle of it, but it deftly navigates through its length with a series of turbulent, upset-stomach heaving lurches which keep the listener off-centre and unbalanced.
It's Julia Juban's vocal appearance on "Paradise" that stands out as one of the EP's most unexpectedly affective moments though – Inkke wisely slows down the BPM and creates a beat that sounds like R&B played on a series of hollowed out buckets. Juban's vocals are both effervescent and somewhat knackered, like she's carrying out a live PA set in the waning hours of the night while the party winds down, and when she coos "this life is a short walk to the next", it hits an emotive place that isn't ventured into anywhere else in the EP.
While the ever-changing line between tribute and appropriation makes this writer wary of any music that purports itself to be "Grime 2.0", it's also true that if you're enamoured with the genre, you'll find something in this EP that speaks to you, whether you're looking for a revivalist throwback track that evokes the kind of instrumentals that Jammer spit over, or tunes that channel the more blissful, lush side of the genre. However, some listeners may be hindered by the persistent feeling that, one way or another, they've been here before.
Brendan Arnott
Tracklisting:
A1. Lego Riddim
A2. Daisy Chain
A3. Zen
B1. Thinkk Star (Club Mix)
B2. Ultraviolet
B3. Paradise (feat. Julia Juban)