Unsound unveil third round of lineup additions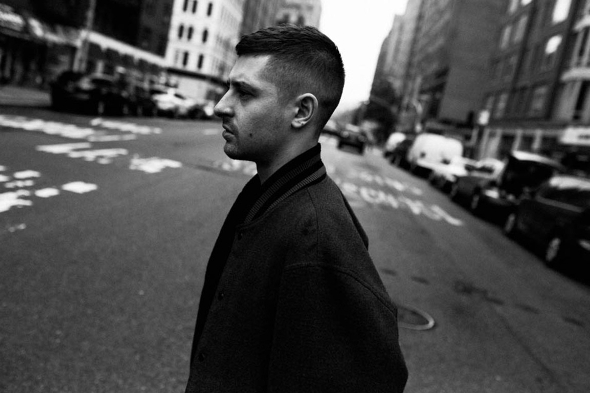 Young Echo, DJ Funk, Bok Bok, the Teklife crew and Willie Burns are amongst the latest names scheduled to appear at the Polish festival in Krakow.
With "The Dream" theme of this year's edition of Unsound established, the festival's organisers have begun to put in place perhaps their most impressive and interesting programme to date. Across the previous two line-up announcements, Unsound have unveiled showcases from Diagonal Records and Berlin's Janus collective, secured a rare live performance from Craig Leon as well as a diverse cast of DJs and electronic music performers that include The Bug, Dopplereffekt, Traxx, WANDA GROUP and Jam City.
In the wake of these announcements, it's little surprise to find that full passes for Unsound have already sold out and those pondering whether to indulge in individual tickets for the festival will probably be swayed by the latest round of additions. Topping the billing this time is a live performance of the score to the 2012 Warp Films crime drama Snowtown from composer Jez Kurzel, with the assistance of a full live band and accompanying visuals from Marcel Weber who will draw on unseen footage captured during the film's recording. Anyone familiar with the film or the true story behind the murders in Australia will fully understand the organisers intentions to "invert one idea of The Dream, revealing its other: nightmare."
In addition to performing as part of The Bug's new album showcase, Grouper has now been confirmed for her first solo performance at Unsound since 2009 and she is planning a special set with filmmaker Paul Clipson. This is one of several unique collaborations pencilled in for the October festival with Suzanne Ciani set to play a Buchla synth alongside the dusty fingered Neotantrik pairing of Andy Votel and Sean Canty for the first time in Europe after the trio debuted their project at Unsound NY earlier this year. An equally intriguing collaboration comes in the shape of DJ Funk and Bok Bok (pictured above) performing back-to-back as Unsound look to explicitly join and explore the dots between Dance Mania and Night Slugs. The evolvement from Dance Mania to contemporary forms of juke and footwork will also be presented with a Teklife showcase featuring DJ Spinn & Taso And DJ Earl & DJ Taye.
Those wishing to see how Vessel's forthcoming second album Punish, Honey translates to the live stage will be satisfied with his scheduled performance at Unsound, whilst the artist will also perform as part of a Young Echo showcase alongside Kahn, Neek, Ishan Sound, El Kid, Gorgon Sound, Killing Sound, Ape, Jabu, Zhou, Manonmars, Rider Shafique And Ossia. RVNG Intl duo Blondes have been confirmed to make their Unsound Krakow debut and they are joined by cantankerous WT Record boss Willie Burns who will be laying down one of his signature dollar bin house DJ sets.
Recent Anòmia signees Navnlaust Mønster Opptog (NMO) will bring their self styled "military danceable space music" to the Polish city, mixing acoustic and computer generated sounds with dizzying results. If you indulged in their recent 12″ for the Barcelona-based label you'll know they are complemented by the presence of Ninos Du Brasil, the Batucada obsessed Italian pairing of Nicolò Fortuni and Nico Vascellari whose Novos Mistérios LP was one of Hosptial Productions most surprising releases this year.
A further lineup announcement for Unsound is promised at the end of the month to coincide with the release of individual tickets for the festival which can be purchased from the official website.
Announced line-up:
Atom™ & Robin Fox present: Double Vision (DE/AU)
World premiere / Commissioned project
Ben Frost (IS/AU)
Bjørn Torske (NO)
Blondes (USA)
Carter Tutti Void (UK)
Craig Leon presents: Nommos, with Sinfonietta Cracovia & others (USA/PL/NO)
Deathprod presents: Treetop Drive (NO)
DJ Funk b2b Bok Bok (USA/UK)
DJ Stingray (USA)
Dopplereffekt (DE/USA)
Grouper & Paul Clipson (USA)
Hildur Guðnadóttir & Skúli Sverrisson (IS)
Jam City (UK)
Live premiere
Jenny Hval & Susanna present: Meshes of Voices (NO)
Joey Anderson (USA)
Karen Gwyer (UK)
Kassem Mosse (DE)
Księżyc (PL)
Le Petit Garçon (NO)
Mumdance feat. Novelist (UK)
Navnlaust Mønster Opptog (NMO) (NO/SP)
Ninos du Brasil (IT)
Perc (UK)
Pharmakon (USA)
Pinch b2b Mumdance (UK)
Ren Schofield (aka Container) with Kenneth Kapstad & Thomas Järmyr (USA/NO)
World premiere / Commissioned project
Richard Pinhas & Kapital (FR/PL)
Robert Hood (USA)
Rrose (USA)
Snowtown: Live (AU/DE/NO)
European premiere / Commissioned project
Stine Janvin Motland (NO)
Suzanne Ciani & Neotantrik (USA/UK)
Swans (USA)
TCF (NO)
The Bug with copeland, Flowdan, Liz Harris (aka Grouper), Manga, Miss Red (UK/EST/USA)
The Necks & Radian (AU/AT)
Transilvanian Galaxi aka Skatebård (NO)
Traxx (USA)
Vessel (UK)
Wanda Group (UK)
We Will Fail (PL)
Willie Burns (USA)
Zamilska (PL)
Zs & Gyða Valtýsdóttir (USA/IS)
Diagonal Presents:
Bronze Teeth (UK)
EVOL (SP/UK)
Powell (UK)
Live debut
Russel Haswell (UK)
Janus Presents:
Amnesia Scanner (DE)
Lotic (USA/DE)
Kablam (USA/DE)
M.E.S.H. (USA/DE)
Total Freedom (USA)
Teklife Presents:
DJ Earl & DJ Taye (USA)
DJ Spinn & Taso (USA)
Young Echo:
Ape (UK)
El Kid (UK)
Gorgon Sound (UK)
Ishan Sound (UK)
Jabu (UK)
Kahn (UK)
Killing Sound (UK)
Manonmars (UK)
Neek (UK)
Ossia (UK)
Rider Shafique (UK)
Zhou (UK)
Installations:
Damaged Particulates (USA) by:
Ben Vida
Ephemera (DE/CAN/IS/UK) by:
Geza Schoen (Scent), Tim Hecker (Drone), Ben Frost (Noise), Kode9 (Bass), Marcel Weber (Video) and Optigram (Visuals)