CHANNELXXX – Mangiami Edits 1 – 3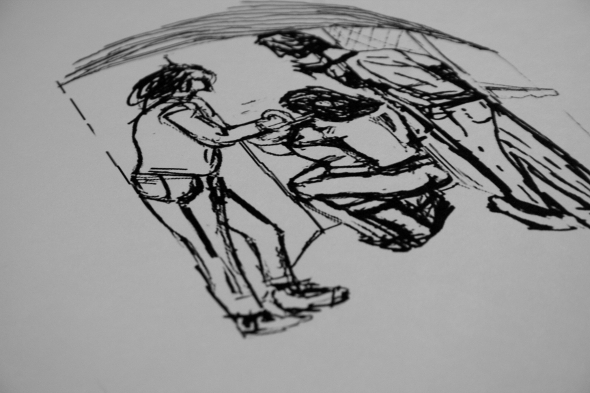 "Fusion" is a word that draws grimaces when used in conjunction with food, jazz, or yoga, but if there ever was an acceptable use of the phrase, it might be applicable to Mangiami. Translating quite simply to "eat me", Gianfranco Costa's Lower East Side venue combined guest appearances from folks like Horse Meat Disco, Justin Vandervolgen and Bicep, all while serving artisanal and affordable pasta over the six-year course of its existence.
Of course, all good things come to an end (especially in New York, where a year's rent is rapidly approaching the amount of some smaller countries' GDP), but in the wake of Mangiami closing, Costa approached Phil South of Golf Channel with the possibility of creating some kind of memorial compilation to distill the vibe of the venue. This writer has never stepped foot inside the establishment, but Golf Channel's preceding suite of three CHANNELXXX 12″ singles are bursting at the seams with the kind of drunken Balearic feel good music that should be blaring from sidewalk beat boxes and open-air block parties all across New York this summer.
"How We Do in NYC" has actually seen release before under a certain Norwegian DJ's Tangoterje moniker, but it's still a woozy, bustling, excellently horn-laced revision of Disco/Very's "Get It On." A chorus urging you to "get on the right side of NYC" comes off as quintessentially New York as getting flipped off by a cab driver, yelling at tourists to walk faster or scarfing down a hastily assembled bodega sandwich to soak up the alcohol in your system at the end of the night. The same couldn't be said for the flip, which is about as far from New York in tone and mood as possible, and certainly the oddball of the bunch: A buffed up edit of Travis Tritt's country anthem "Lonesome On 'Ry And Mean", it boasts a snazzy harmonica and blues lick, but oddly resets itself halfway through – as in, this edit might just be two versions of the original played back to back. While there's potential that this one could cause a 3:30am singalong right before the lights come up, it's a bit of a head-scratcher in the context of the other edits here.
"All Day" sounds much more quintessentially Golf Channel-esque, bearing resemblance to some of the label's earlier Try To Find Me edits. It's all about the slow ascent of the track's elements here, as hollowed out cowbell patterns and slow-growing basslines wind around each other while layers of reverb intermittently wash over the track like waves on the beach – and if the loopy disco guitar noodling on the track's second half does happen to be Justin Vandervolgen's work, it's up there with his best, rivalling the his infectious work on 2011's "Needs Ending". "Trocin" works with a similar guitar-driven, disco-lick pattern, but ups the ante by adding enough swelling orchestral strings to bring a tear to the eye of someone like Dmitri from Paris.
But it's on "Music Take You" that the real glory of these edits are unveiled: A piercing beam of Balearic sunshine, it touts a chorus of bellowing horns optimistic enough to slice through the humid air of a sweaty July dancefloor and transport the listener high above the skyscrapers of NYC into the clouds. "And Your Point Is" travels in the opposite direction, spending its first five minutes burrowing into a basement of dubby k-hole uncertainty. Slowly emerging out of those dark, damp tones comes the twang of tensely plucked string guitar, sparse horns and finally, a gorgeously plonked-out piano solo lending the track a long-withheld cohesion.
While Mangiami's culinary reputation may have been renowned for being able to nail traditional Italian staples, the level of exploration present in these edits show that the venue's sonic palette is about as varied as it gets. From fans of DJ Harvey's second-hand Ibiza anthems to Tim Sweeney's cosmic explorations to those who'll book a trip to the Big Apple just to spend a couple days digging through about-to-collapse-at-any-moment venues like The Thing in Greenpoint, these Mangiami edits are essential. Not just because they capture the mood of one place, but because they represent the cohesion of many moods, times, places and happily-fed people all gathered under one roof.
Brendan Arnott
Mangiami Edits 1 Tracklisting:
A1. How We Do In NYC
B1. Lonesome Edit Blues
Mangiami Edits 2 Tracklisting:
A1. All Day
B1. Trocin
Mangiami Edits 3 Tracklisting:
A1. Music Take You
B1. And Your Point Is