Invisible City Editions: Friends of Mine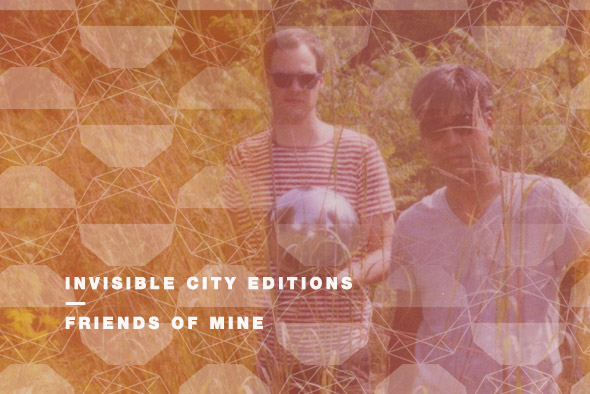 With their Invisible City Editions imprint, Brandon Hocura and Gary Abugan are redefining how we interact with the past. Brendan Arnott discusses the label's formation with the pair, and what they have planned for the future. 
"Be merciful unto me, O God; be unto me, for my soul trusts in ye. Yea, in the shadow of your wings will I take refuge until these calamities are passed… My soul is among lions… and I lie among even them who are set on fire." So begins the initial moment of Invisible City's mix for LNCC, featuring a recontextualized passage from the Book of Psalms spoken by a Caribbean voice, underscored by synthesized horns and windswept ambience. But as Brandon Hocura and Gary Abugan sit on a patio in the dusk of Toronto's West Side, sipping watermelon beer next to several friends, they look far away from the reach of any enemies. Instead, the duo which form Invisible City Editions, one of 2014's most essential reissue labels, look to be in good company.
Calling Invisible City Editions a reissue label might be selling it short; really, it's a redefinition of how we interact with the past. The internet era may give us access to anything in the world, but it doesn't explain the significance of it. Now, more than ever, music is available to us unchained from its original context and historical meaning – detached, separated, anonymized.  Since its inception in 2012, Hocura and Abugan have been working to undo that disconnect, creating a global network of collaborators and friends, and gaining the admiration of Italian cosmic disco trendsetter Beppe Loda, Zambia's jam-rock collective Witch, Trinidadian jazz funk pioneer Michael Boothman, and Kalinda Records' criminally overlooked Stephen Encinas in the process.
Invisible City is a strange choice for the label's name, since Abugan and Hocura actually do the opposite, resurrecting not only the music, but the context behind it and the cultural climate that created it. It's music that unearths the moments that your ancestors sweated it out to in the smoky discotheques of yesteryear. Stephen Encinas himself delivered an essay coordinated with the 2013 Invisible City re-release of 1979's Disco Illusion, in which he explains the track as "a commentary on the level of euphoria, coupled with a fair amount of escapism, manifested by the many who flocked to the discotheques on a weekly basis." Encinas goes into detail describing the venue's strobe lights, fog, complex dance routines and alcohol so vividly that the past jumps alive again; you can almost smell the sweat and cigarette smoke clinging to your t-shirt.
The Invisible City project didn't materialize overnight, however. Despite their close geographical proximity, Hocura and Abugan didn't meet each other for quite a while. Growing up in "the Cactus Capital of Canada" that is Dundas, Ontario, Hocura played music alongside Dan Snaith of Daphni and Caribou projects in a My Bloody Valentine-inspired shoegaze outfit called Kaptain Hairdo, while Abugan spent time in Toronto, with a background in film production and an obsession with local cult video stores, moving around in underground music circles in the city.

Shortly before the birth of the first of three children, Abugan was flexing the remainder of his free time by taking a gig as Caribou and Junior Boys' tour driver/opening DJ. Months later, when Caribou came to tour Japan (where Hocura and his wife had recently moved, cycling between Tokyo, Yokohama and Kawasaki), Snaith suggested that the two Canadian music nerds should touch base. Once Hocura returned to Toronto, a dim sum dinner finally brought him in the same room as Abugan, where the two hit it off. "We both realized that we went to film school, we were both into all sorts of Cassavetes and weird French new wave stuff, experimental stuff and all the Jodorowsky films" Hocura laughs. Abugaan admits that the two of them are still often trying to "out-buff" each other on a regular basis, in both music and film.
Were there any pieces that cemented the basis of your musical connection? I ask. "There's probably a lot of them," Abugan responds, racking his brain. "Definitely DJ Harvey's Sarcastic Study Masters mix – it really brought the cosmic sound to the West. Each song had its own vibe and was followed by another like it. The very substance of each song gave it a form, a feeling… something unique carved into it. It had flow. Sure, it was influenced by TBC and Baldelli, but it was more idyllic, more sunset." He pauses. "At the time, it was uncanny too, no one was playing that stuff. Everything was unknown, which only fed into the culture of myth surrounding it.  Aesthetically, it was refined, subdued and mixed with superb and mesmerizing simplicity. If you haven't heard it you should. We aspire to make mixes like that. I'll say no more. Go and study it," he laughs.
He pauses once again, "I'm trying to think. Mostly, we're always texting each other things like 'I just found the most amazing thing', or if one of us plays something, the other's always like 'what's that?!' Total music nerds," Abugan sighs.
After their initial meeting, the duo began to collaborate, throwing parties throughout Toronto with Optimo, DJ Harvey, Metro Area and Daphni, banking the savings to put towards an official label, a process Abugan dubs "trying to break out of the digger/DJ mould." It paid off sooner than they thought, with two monumental mixed cassettes from Italian cosmic disco legend Beppe Loda serving as their first releases. The opportunity was provided by New York promoter and DJ Tropical Jeremy bringing Loda to the East Coast in 2012. "It was kinda the first time Beppe had played abroad since the cosmic days back since the '80s" Hocura tells me, "so it was a really big deal. We were really into him and his mixes would be traded around on forums online, and we were just blown away as his style. Before there was such a thing as electronic music he was seeking out all this weird krautrock stuff, and new wave records played at the wrong speed, it's still really cool stuff today."
Loda was quite receptive to making a detour north to play Hocura and Abugan's parties. "He really wanted to come to Canada; he had this romantic vision of this country where he wants to ride a motorcycle on a cross-Canada tour," Hocura laughs. "So we were like, yeah, obviously we'd love to do a show – it was a really small show in Kensington Market, it was the middle of summer, and it was one of my favourite parties ever… I mean, he's this character, this 65-year-old Italian guy with a big belly who does air guitar while he's DJing – it's not the kinda thing you see normally."
Hocura's wife, sitting next to him, interjects with a deadpan face, "Beppe stayed at our house" she says, the slightest hidden smile dancing over her face. "We saw him in his pyjamas…"
"Yeah, he was in my studio playing my synth in his PJs." Hocura adds. "We drove him to Detroit afterwards too, and took him to a haunted house in Niagara Falls. He was terrified, but we got to know him." It was here that the seeds of an idea for Invisible City Editions began to form, Hocura tells me. "We were really into the idea of those guys in the Italian cosmic scene putting out their mixes on cassettes back in the '80s, so we thought it'd be cool to reissue one of those cassettes by our icons. We'd always intended to save up to start a record label, but we didn't know if it was necessarily going to be new music or old music." Loda was the perfect candidate, they state. "Considering the stuff we were constantly listening to, it was kinda natural that he would provide our first release."
Since then, Invisible City hasn't slowed down at all, as both admit that the project which began as a part-time passion has been increasingly taking over their days. The fact that we've met up on this early summer night is due to weeks of swapping emails back and forth trying to pin down a time – complicated further by a last minute trip to Trinidad to dig for records and license two compilation projects that are hush-hush for the moment.
"Every trip we go on we make more connections, and when we leave we have a bunch more leads that we have to follow, so every time we leave we're like 'we have to go back and talk to this artist, or, visit this record collection or this good archival video connection, anything music related,'" Hocura explains. Such digging recently led to Abugan unearthing washed out VHS footage of a live performance of Disco Illusion from the late '70s, as smiling dancers bathed in neon blue light dance flutter around Encinas. It also resulted in Hocura getting a hold of the original master tapes for Michael Boothman's Touch, which means that the Invisible City reissue involves Hocura mixing together all the separated tracks to try and recreate a cleaner version of the original.
"It is like detective work," Hocura admits about the process of tracking down the material they uncover. "Sometimes it's really easy because you can find it just by Googling or looking on Facebook, but sometimes it's hard work." Hocura attributes "being persistent, and… obsessive, I guess" as the secret to unearthing his label's material. This is how the duo discovered Rhyners warehouse, a treasure trove of Trinidadian records, and the location where they unearthed Disco Illusion.
"I had found an online index of the Trinidadian music industry from the '80s that listed all these record labels and shops, and almost everything was closed down, but I'd still look into these addresses – 'oh, it's an apartment building now, cross it off my list.' Some of them were still around as CD shops, and I was looking for records and talking to a guy, who said, 'oh, I know the Rhyners used to have this big warehouse.' So we called them up, and they managed to get us access." However, the process isn't always so fruitful – "nine times out of 10 we end up not finding an artist, or new records, but it's a journey, right?" he beams.
When talking about digging, it's important to acknowledge that at times in history, dance music has been downright Indiana Jones-esque in its appropriative mission: Infiltrate the temple, grab the cultural artefact, get the hell out. But not only do Hocura and Abugan reject the grab-and-split mentality so prevalent in the white label community that cuts out original creators – they actively work against it.
"That's one of the things that we consciously thought about when we first started the label," Hocura muses. "Because we've been through that revival of those edits – that was a big thing for a while, but after a while I sorta felt bad. It felt wrong that these people weren't getting paid for their music."
For the duo, holding the original creators intentions up was an important part of the process. "Recently there has been a trend of reissuing and re-contextualizing dance music that didn't have international success at the time it was originally released," Hocura continues. "The most obvious example is Africa, with the recent boom in Nigerian boogie and Afro-funk reissues. But we are mainly interested in musical trajectories that are unexpected – like, the popularity of reggae in Libya and its influence on Libyan music. What is it about Libya in the late '70s that resonated with reggae? It's truly fascinating how reggae music refracted through a great Libyan artist like Ahmed Fakroun sounds the way it does."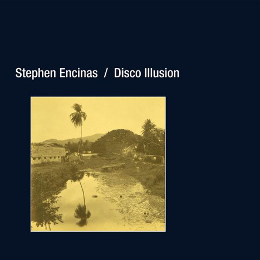 Another part of resisting the commodification of their reissues is making Trinidadian artists music available in different formats. After Disco Illusion seemed destined to keep selling out with each vinyl repressing, Invisible City finally made the release available digitally.  "We don't want to be purists about keeping something in a strictly vinyl format or anything," Hocura confesses, though he admits that receiving test pressings is somewhat akin to a religious ritual. "But y'know, we understand that people listen to music digitally right now – and I think that wouldn't be fair to the artist as well if we didn't do digital, because people are going to trade it anyway. This way we can put it out mastered really well, and in a controlled environment, and they're going to get paid for it."
Building up real relationships seems to be instrumental to the process of growing as a label. "The main thing we've gone about since the beginning is contacting people," Hocura explains. "In most cases we meet people and we find out stories, and then we pay people fairly and involve them in the process of making it happen. To see people rewarded for music they've done a long time ago, that's great." And Hocura and Abugan have found plenty of allies in their quest to bring their music to a larger audience. "This last trip we went to San Fernando, the second largest city in the South, where we made a really great connection – Kenny Phillips, he's like the Jay Z of Trinidad," Hocura tells me. "He owns a radio station that plays all Trinidadian music – and it was great to connect with him because we've been having a really hard time promoting the music we've been reissuing within Trinidad." The reason for this? "Vinyl culture hasn't had a revival there in the same way. Now that we have digital, we've been seeing some sales in Trinidad, which is exciting, it is reaching people."
Abugan interjects, inserting his thoughts on how the reissue process is also trying to re-sculpt what the West canonizes and values: "A lot of music that is traditional/folk and is non-Western has a sort of ethnographic appeal to some music fans and a lot of what was made in the West has a different, more iconic history with sub-genres already." Both he and Hocura want to redress this canon and open it up to "music that we feel is iconic but may have been overlooked because of geographic or political circumstances and lack of distribution or promotion." The music that interests them, Abugan continues, is that which "has a myriad of influences or refraction of styles. Things that don't normally fit together but work as a collision-cohesion, but still work as a song that you'll want to hear over and over and over and over again."
Hocura ensures me that there's also a steadfast belief at the heart of everything they release. "We felt so passionately about those records when we first heard them – they sound special and unique to us. Disco Illusion sounds like something that, if it had been known years and years ago, would've been a massive success. It would've been a known record, and it gets us excited." The reaction from friends and the online community to the record was vindication: "All these other people were getting excited about it, and it snowballed. It still surprises me now" he laughs. "And it gave us confidence, because we believed from the start that it was that good, and seeing the reaction made us realize we're onto something."
Invisible City's next releases continued the trend of impeccable curation, with two LPs from Zambian prog-rock outfit Witch, who Abugan and Hocura believe exemplify the unique history of popular music in Zambia. "Rather than resonating with the James Brown-derived Afro-funk of Fela Kuti, musicians in Zambia were obsessed with '60s British psychedelic rock, with full-on heavy fuzz guitars, while still creating music that was inimitably their own," Hocura tells me. "They later moved into prog territory, and finally with the two LPs that we're releasing, Movin' On and Kuomboka, they are dialled into American FM radio, touching on everything from Fleetwood Mac and Steely Dan to Grace Jones and Michael Jackson."
While Witch's songwriting abilities are stunning, they straddle the diaspora in a way that makes it tough to tell if they're American, African, or something altogether different. "Their personal history also reflects the larger socio-political problems facing Zambia, a kind of microcosm of the tragedy and hardships that the nation faced in the '70s and '80s" Abugan adds. "Despite this, Patrick Mwondela (one of the founding members of Witch) is one of the most optimistic and inspiring people we've ever had the pleasure to work with."
Work seems to be inescapable in Abugan and Hocura's lives these days. When I ask them about the label's next step, an overwhelmed "God…" is the first thing that escapes Abugan's mouth. "There's a lot of stuff, we have like 15 releases lined up, ongoing," he admits. "It's hard, I mean, you kinda chase something and sometimes you don't find the artist or they fall out of contact or they're not interested, or you think 'maybe this isn't going to work.' And timing too – there's stuff we have that we're kinda waiting for the right time to put it in sequence. Now it's a full time job."
Is that a good thing? I ask.
"Are you kidding? It's a dream" Abugan replies, citing the constant process of discovering unknown releases as one of the most satisfying feelings out there. "It's unbelievable, you're always learning stuff – so many artists, so many small pressings…"
With DJ sets flinging the Canadian duo as far as Asia and Australia, Hocura and Abugan's live gigs are gaining them increasing attention as well. One of the most notable happened last winter, where the duo transitioned from super fans to colleagues while playing alongside DJ Harvey at Toronto's Foundry series. Watching Invisible City drawing from a vault of sweaty international disco numbers to a room of a thousand blissed-out, grinning dancers was proof of their eclectic, unpredictable and entertaining selection.
According to Abugan, the experience was a meaningful chance to study the style of one of their legends. "Harvey can read a crowd, he gives them what they need, not what they want" he remarks. "And he grins like a Cheshire cat. It's the smile that makes it for me. He likes his job – not many people can say that. So many DJs look so serious and I think it really affects how crowds feel. He throws in a lot of risk and surprise into his mixes but he never loses the plot. He doesn't live in the past and plays new contemporary music as well. He never misses a beat, his mixing, volume and EQ are flawless and invisible. Expert level. He truly is a party DJ. His laugh is massive too.." Here, Abugan chuckles, "I feel like his publicist."
The patio we're drinking at is now a cacaphony of slurred noise and laughter, and just before I turn my recorder off and bike out into the night, I'm struck by the enduring theme running through Invisible City's output. At the heart of Abugan and Hocura's quest to reissue music, it's the desire to resurrect the lost, to rediscover the abandoned, to pay tribute to the forgotten gems lingering in dollar bins and warehouses worldwide and raise the voices of those records up to their previous glory. It's an idea that's caught up in the concept of generational knowledge, how we remember and forgot. This makes me curious whether Abugan and Hocura see passing music onto their children as important.
"It's a catch-22" Abugan responds. "Sometimes if you play too much music that you like for your kids, and push them too much, they're going  to listen to something totally different. My kids love some of the stuff I play, but other times they're like 'Ohmygod this gives me a headache, I wanna listen to Dora The Explorer'. I was taught piano by some crazy nuns and I hated it, so…" he trails off.
"What if our parents played us Witch records when we were young, would we be doing what we're doing?" Hocura asks.
"We'd probably be in accounting" Abugan laughs.
Interview by Brendan Arnott
All photography courtesy of Abugan and Hocura