Best reissues and archival releases: July
This month's best reissues include offerings from RVNG Intl, Sacred Summits and Death Is Not The End.
While bespoke artwork is always going to help some freshly released archival material to stand out, the releases that often resonate more are those that play with the expectations of the music contained within. While finding a common theme amid the monthly collection of reissues is generally going to be impossible, subversion of expectation was pleasingly common this time. In the case of Craig Leon's Anthology of Interplanetary Folk Music Vol. 1 it was the fact that the music was completely re-recorded, while the Colin Potter reissue from Sacred Summits offered a revised version that was almost but not quite the same. New label Death Is Not The End meanwhile took the opposite route from most reissue labels, reissuing its material on cassette instead of deluxe vinyl – something with financial as well as aesthetic impact.
Craig Leon – Anthology of Interplanetary Folk Music Vol. 1: Nommos/Visiting (RVNG Intl)
There have already been many words written about RVNG Intl's deluxe reissue of Craig Leon's Nommos and Visiting, so I won't repeat what's already been written by Brendan Arnott in his full review elsewhere on this site. What does bear mentioning however is the fact that Nommos was already the subject of a reissue last year, and some people might question the logic of RVNG putting out this version so swiftly. The simple answer is that last year's Superior Viaduct reissue was not sanctioned by Leon himself, and this edition should probably be viewed as the definitive version. Painstakingly re-recorded using extensive notes Leon took regarding the audio signals, patches and tape-delay speed, the result is arguably better than the original versions, with improved audio fidelity and none of the vintage quality of the music lost in translation.
Perhaps most important is the fact that Leon always intended Nommos and Visiting to be companion pieces listened to in sequence; while some are happy to throw a few demos or unreleased tracks into the mix, Anthology of Interplanetary Folk Music Vol. 1 dares to question our expectations of what a reissue can and should be. It seems hard to believe that this is only RVNG Intl's third full-scale reissue project, but the amount of effort which has gone into each dwarfs that of even most larger independent labels. The label may have set their standards impossibly high with this one.
Listen/buy vinyl
Severed Heads – Dead Eyes Opened (Dark Entries Records)
It's probably fair to say that Australian outfit Severed Heads' "Dead Eyes Opened" is one of the greats of that weird interzone between industrial, synthwave and post-punk. Created with a TR-808, Casiotone, Korg PolySix and and SH-1 synthesiser, it's probably more of a techno track, which is why its bright, perky arpeggio and dark undercurrent found favour with a lot of DJs over the years that followed. Joakim's simple but deadly edit of the track for Kill The DJ was featured on Tiefschwarz's Misch Masch mix back in 2004, demonstrating that it was even the kind of track accessible enough to find favour with the electro house cognoscenti of the last decade.
Despite featuring on their 1983 album Since The Accident, the track was supposedly an afterthought, written to fill a gap at the end of the C60 tape the album was originally issued on. This reissue from the ever dependable Dark Entries features the extended version, released on a 12" in 1984 after the original version of the track become something of a minor hit on Sydney's main non-commercial radio station at the time. On the B-side are two solo compositions from Tom Ellard which might not have the instantly gratifying nature of "Dead Eyes Opened", but that nevertheless go to show what a knack for creating weird melodies he possesses. If the creation of "Dead Eyes Opened" really was a bit of an accident, it was probably one of the most fortunate mishaps in electronic music history.
Listen/buy vinyl
Colin Potter – Entering Again (Sacred Summits)
Given the fact that Stuart Leath already owns one reissue label in the form of Emotional Rescue, you might wonder why he's starting another one, especially when its dedication to unearthing "the best and weirdest" sounds from around the world is the driving force for so many reissue labels already. However, Leath's partner in Sacred Summits is Firecracker Recordings boss Lindsay Todd, which adds an interesting dimension to proceedings, not least of which is the gorgeous screen printed artwork that adorns each release much like Firecracker's own records. The label also looks to be making good on its promise of hunting down weird sounds; while the label's first subject was Luis Pérez, a Mexican multi-instrumentalist who is a specialist in the field of pre-Columbian musical instruments, the second comes from British musician Colin Potter, known for his role as part of industrial act Nurse With Wound in the 1980s.
Prior to that, in the early '80s, Potter composed six albums of ambient and kosmische-inspired music, and Entering Again is a slightly different version of one of them, the A Gain cassette from 1982. While German kosmische music is an obvious reference point, that description doesn't really do justice to the uniqueness of Potter's sound, which though undoubtedly comes across as dated, doesn't sound like it's from 1982. "On Entering York Minster" for example, the melodies sound as if they're being transmitted from a parallel 17th century where synthesisers were invented early and supplanted baroque instrumentation. The arcane, primitive drone and crackle of "Hills" meanwhile is joined by the sort of radiophonic dub echo you might expect to hear in the more contemporary work of Ekoplekz, albeit shot through with a sinister pulse. It's for these reasons that Entering Again is a uniquely unsettling record, primarily because it just feels so utterly displaced from all reference points, contemporary or otherwise.
Listen/buy vinyl
Akira Ifukube – Godzilla: The Japanese Original 60th Anniversary Edition (Death Waltz Recording Company)
While Death Waltz may have made its name over the past few years for its choice reissues of great horror movie scores from the US and Italian examples of the genre from the '70s and '80s, the label's diversification into other realms and eras has been particularly exciting to watch. This reissue of Akira Ifukube's score for the original 1954 version of Godzilla is one such example, offering a soundtrack from something that is still quintessentially a horror movie despite its sci-fi undertones. Musically, it's perhaps the most unique thing in the label's catalogue, mainly thanks to coming from a culture whose contributions to the world of the film score seems in danger of being forgotten due to an overemphasis on its domination of video game soundtracks.
Of course Death Waltz's reissues wouldn't be half as popular as they are if Spencer Hickman didn't have the ear for a classic soundtrack, and Ifukube's score more than stands up to scrutiny. The animated orchestral bounce of the main title is a little misleading in terms of the soundtrack as a whole. The rest of the score is filled with the kind of moments you'd expect from what is essentially a very early blockbuster: moments of drama coinciding with the creature's attacks, triumphant themes to reflect the army's rally against Godzilla and sombre compositions to reflect the ensuing destruction. However, it's the more unsettling moments that stick in the brain, including the prickly strings of "Horror Of The Water Tank" and "Oxygen Destroyer", themes that reflect the true horror of the power of nuclear weapons the film was originally alluding to. More fascinatingly, its a soundtrack that shows an early example of the collision between cinema cultures, a soundtrack that feels as inspired by the movies of '50s Hollywood as it does the music of Japan.
Listen/buy vinyl
Various – Angola Prison Spirituals/Murderers' Home (Death Is Not The End)
Strictly speaking neither of these were released in July – Angola Prison Spiritual arrived at the tail end of June and Murderers' Home was released just this week. Pedantry aside, Death Is Not The End looks to be a label worth keeping tabs on given the strength of these first two releases. Describing itself very simply as an "early gospel & blues reissue label", the label's first releases are nevertheless focused very sharply on music from inmates of various US penitentiaries, and the subject matter makes for a particularly bold way to inaugurate proceedings.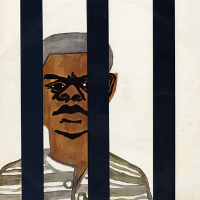 The records themselves are impressive too. Angola Prison Spirituals was originally released on the Folk-Lyric label in 1959, while Murderers' Home was originally released in 1957 on the UK-based Pye Nixa label. While both may share similar origins, the music of both is quite different. Angola Prison Spirituals is a much breezier listening experience (if such a word can be attributed to prison songs); most of the songs are accompanied with simple blues guitar, giving the whole collection a more optimistic impression of the musicians' incarceration. Murderers' Home is an altogether more solemn experience, fitting in with the long-running tradition of communal African-American work songs. With no instrumentation, and only what sounds like the swinging of pickaxes to keep time, it's a record that powerfully conveys the anguish of the subjects' experience. This kind of music isn't exactly an easy sell, which is perhaps why it's opted for cassette and digital format instead of vinyl, but however it's presented, this is essential stuff.
Listen/buy digital
Scott Wilson