Todd Osborn – T-Rhythm Trax Vol. 1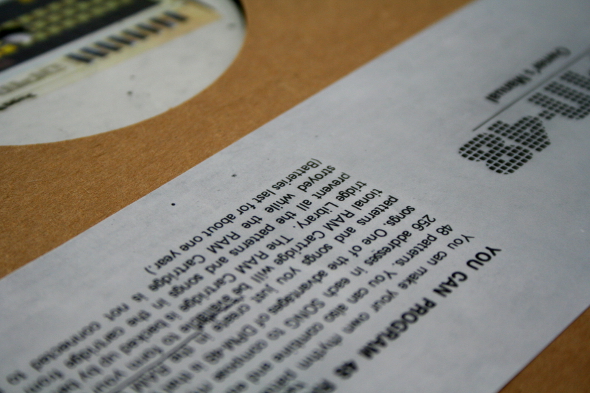 Todd Osborn is a versatile producer. While some of his fans know him for his drum'n'bass releases as Soundmurderer, he has also carved out a distinctive path as a house producer. In some instances, as Osborne, that voice is positioned in the direction of Chicago-style box jams – witness Bout Ready to Jak – or the eternal, infectious summer grooves of the Ruling EP (one of this writer's favourite modern house records). For his return to Gerd Janson's Running Back label, Todd reverts to his given name and puts his focus on sparse and basic rhythms.
"Beat A" is akin to something you might hear on a Ron Hardy edit, steely kettle drums and tough claps that nag and hiss with the skewed logic and chemically-imbalanced relentlessness of a particularly strong LSD dose. "Beat B" – by this stage you can probably see a pattern emerging – is in a similar vein, although this time Osborn focuses on powerful kicks in addition to doubled up claps to create momentum.
At this point, the release goes off message somewhat. Like the preceding tracks, "Beat C" is based on a 'less is more' approach. However, rather than drawing on Chicago house, its tick-tock percussion and freakish textures sound like minimal house actually fulfilling its potential and not disappearing down the cul de sac marked 'white noise blasts and hamster fart beats'. "Beatappella" sees Osborn back in tracky mode, with a stuttering vocal, ferocious percussive volleys and siren screeches creating an urgent, insistent mood and the release's most effective DJ tool.
This being Todd Osborn though, he doesn't remain in one place for too long and closing track "Itshoustrumental" is the most unconventional. Singular percussive ticks unfold over a mid-tempo groove that's as rubbery as a box full of Durex. Knowing Todd Osborn, a release themed around prophylactics is not beyond the realms of possibility.
Richard Brophy 
Tracklisting:
A1. Beat A
A2. Beat B
A3. Beat C
B1. Beatapella
B2. Itshoustrumental