H.S. – A Verdigris Reader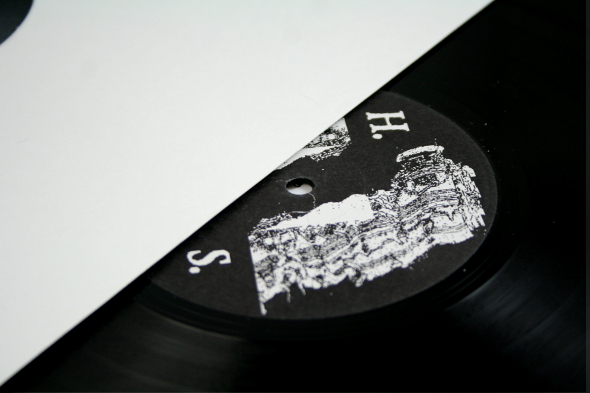 Proibito is a label that has been relatively gritty from day one: Their first release featured a 12-minute improvised freakout of a remix from Lori Antenes, Steve Summers and Bookworms, and label alumnus Hank Jackson has an obsession for distorting dance structures to the edge of legibility. This is the second time that Huerco S has graced Anthony Naples' New York-based imprint, but any similarities between A Verdigris Reader and the filter-swept party cuts produced under his Royal Crown of Sweden moniker are few and far between.
A Verdigris Reader (released under the new minimal H.S. moniker) is arguably the label's most experimental release yet, and those looking for something with the thump of Naples' recent Levon Vincent-esque POT single may want to venture elsewhere to get their fix. It's as if the equipment Huerco S used to create last year's Colonial Patterns LP was forgotten in a backyard all winter, only to have the snow shaken off it months later and re-plugged in for a second round. These are four cuts of dance music in the loosest and wooziest interpretation of the word, but there's certainly something of substance in here – their initial seemingly impenetrable nature makes them all the more engaging to revisit over and over.
"A1" begins with a steady ambient thrum, reminiscent of holding your ear to someone's chest to take a heartbeat. An arpeggio quietly speckles the track, calling to mind images of tiny beams of refracted light from a disco ball dancing on cold damp concrete. It's slightly reminiscent of Beautiful Swimmers' "Spezi" with a much darker and subdued tone – you know all the components, but its relentlessly repetitive, slightly shifting oscillations never allow you to get a good grasp on what's going to happen next.
Similarly, "A2" is a shimmering piece of meditative electronic repetition – think Basinski's Disintegration Loops reconceptualised as a Basic Channel 12″. Trudging through the same maddening loop, this writer felt a tiny bit of disappointment at the five-minute mark, upon realizing that the track isn't leading up to a sudden pull-the-chair-out-from-under-you moment of shock and awe. But one gets the feeling that Huerco isn't interested in showboating here, and instead is trying to manipulate a single feeling or moment to what he personally feels is its logical conclusion.
The dulled roar of a siren and what sounds like a dollar store drum machine kick off "B1", which showcases percussive patterns that seem to trip and stumble over each other like a gangly teenager. It gives the unsettling feeling that two records are being played ever so slightly out of sync with each other, while closer "B2" provides the closest thing to serenity that Huerco's going to let you access on this EP, a mangled organ gasping for intermittent breathfuls of air.
When this writer first spoke to Huerco S back in early 2013, the artist described himself as "a mannish, hairy beast feeding on the traveller that ventures just a little too close." On A Verdigris Reader, that beast has retreated to the shadows, but whatever this release lacks in dancefloor muscle, it more than makes up for in its capacity for subtle psychological manipulation. These days, Huerco seems more content to infiltrate your unsettling dreams instead of devouring you whole.
Brendan Arnott
Tracklisting:
A1. Untitled
A2. Untitled
B1. Untitled
B2. Untitled