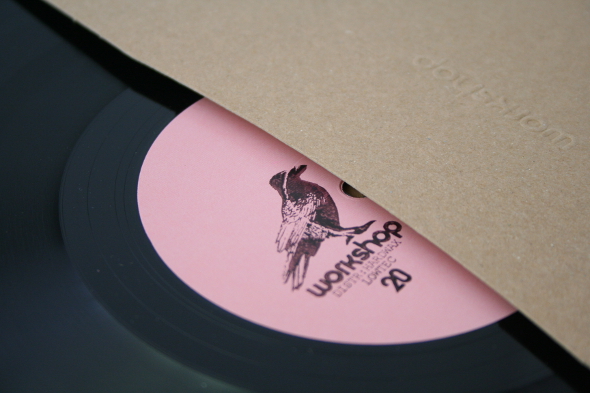 Considering his position as one of the foundational figures in the Workshop mythos, Lowtec hasn't actually released a whole EP on the label since 2008's Workshop 06, while instead he has been busy spreading his non-conformist house style to labels such as Nonplus and Brainmath. It's always a rewarding experience hearing an artist on their home turf, whether the context of the tracks has any actual bearing on the sounds pressed to wax or not. It's simply that when an artist chooses to release their own material it suggests that they have utmost faith in those particular tracks, overriding any artistic temperament and self-criticism.
If you're a fan of Lowtec's sound, then Workshop 20 will undoubtedly be a joy to behold, as it finds Jens Kuhn drawing on the strongest qualities in his musicianship and delivering three utterly exemplary tracks. Over the years there have been times when the oddball qualities have reached a little too far, or lost some sense of what makes a great tune, but here every idiosyncrasy is perfectly placed to make a head-turning jam.
The A-side is a voluminous ten-minute epic that packs the most immediate punch, starting with some scratchy, fluttering samples that flirt with a finely chiselled kick drum. You know you're wandering deep into Lowtec territory when the snatch of vocal and half-realised piano chord emerge, spring-boarding off of the ethos of micro-sampling without the itty-bitty precision and taking a more instinctive, soul-minded approach. These elements get ridden hard throughout the track, but they never tire, for surely Kuhn has demonstrated over the years how to handle fearless repetition and make it work. Aside from that central hook, the other distinctive trait that makes this classic Lowtec material is the woozy synth that hovers overhead, warbling and detuning but most importantly adding a sense of romance and mystery to the track.
At the six minute mark though, a real curveball gets thrown as the supposed single track splits off into a completely new composition, tempo and all. It's a diversion that nods even further to Kuhn's hip hop influences, working round a sticky slow-mo beat and looping licks of vocal, but it's the delirious pads that once again shape out that otherworldly sound that keeps us coming back for more. Quite why it got billed as a continuation of the A1 track is unclear, as it bears not even a whisper of continuity from the first section, and it may scupper an unprepared spinner when the track switches halfway through the side, but then we'd be disappointed if Kuhn played by the rules.
The B1 is a more bewitching affair that gleefully drifts off into downtempo techno territory, carrying the kind of warbling whale-call synths that loomed large on Richard H Kirk's Virtual State LP, mixed with a punchy line in bass tones, fluttering drum machine rhythms and spellbinding arpeggios. It's a rich and wondrous listening experience lifted from the pages of early ambient techno fairytales, and in many ways serves to demonstrate just what makes Kuhn such a profound artist. Where this track links in with pioneers of the early to mid '90s is in the fearless sense of adventure, where tracks seem guided by an unconscious attitude as playful as it is serious. In an age of repetition and formula, it's hard for an artist to make anything so innocent and uncontrived.
As for the B2, well it seems unthinkable that Kuhn would leave a record without some kind of a slow-lurching weirdo groove, and here it is in all its freaky finery. A sluggish 4/4 throwdown plastered with leaden kicks and frayed claps, off-key chimes, ring modulated low-end tones and something evil rumbling in the sub department; all stewing together in a perfect melee of rhythmic unease for undead dancers to revel in. It's the perfect footnote to a Lowtec EP, as well as being a remarkable track in its own right.
So, once again Jens Kuhn has delivered a record that proves why he is a unique and powerful voice at the vanguard of contemporary house and techno, building on a strong production identity without sounding repetitive, and laying waste to tradition without forgetting the fundamental ingredient that made this music important from the beginning – soul. There can never be too much of this kind of groove out there, keeping things exciting and weird for the furtherment of all deviant dancefloors.
Oli Warwick
Tracklisting:
A1. Untitled
B1. Untitled
B2. Untitled