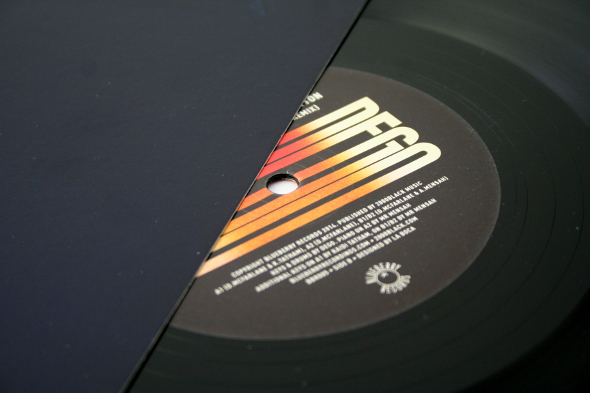 There's no underestimating the legacy that Dennis McFarlane has lingering behind him, from the formative days of 4 Hero through a myriad of aliases and projects (amongst them Nutmeg and the highly sought after Cousin Cockroach releases), always pushing the boundaries of broken beats where others would be scared to syncopate. As such it's been heartening to see the likes of Eglo championing one of the great rhythmic innovators of UK electronic music, and so with a renewed vigour Dego is back in action with a release that finds him spreading his wings across three tracks for FaltyDL's blossoming Blueberry imprint. Considering Drew Lustman's affinity for soul-inflected broken beat styles, it's a logical fit that finds McFarlane drawing on his foremost talents and delivering a record that sounds unmistakably like him.
This is no more apparent than on opening track "Nuts", which hits a midtempo stride peppered with a distinctive sample from the intro to seminal electro banger "Al-Naafiysh (The Soul)" by Hashim. Aside from that particular trick, everything else tumbles out with that quintessential roll that could only come from the West London broken beat scene. The beats rasp in the right places but generally keep it clean, content to contort in bugging configurations that rub up perfectly against the punchy Moog bass, leaving ample room for soulful chords to hum out over the top. There's no great complexity to the track save for the percussion, finding a groove and happily locking into it, and as is typical of the style it's a short and sweet experience.
"Could Murder A Burger" ups the tempo to a more urgent pace, while the bass synth comes in a more runny manifestation, and the additional melodics are alien bleeps rather than hand-played expressions. It's here that McFarlane's gift for eliciting energy out of his productions shines through, as an irresistible forward thrust barrels you into the unexpected piano chords that shape out the second half of the track. It's a welcome soul injection that could melt an Easter Island head, rich in compositional might and utterly easy on the ears.
Keeping up the trend of no specific trend on the record, "Celestian Ditton" heads off into more esoteric territory with a scattered drum set that brushes its way in between sci-fi techno intricacy and brush-drummed instinct, setting the scene for a sweet and contemplative downtempo experience that loses none of the kinetic bite that defines McFarlane's work. It's surely the most progressive of the tracks here, winding through different synth rich phases, delighting the mind with sheer musicality and that ever-present rhythmic dexterity.
After such displays of prowess, FaltyDL was always going to have a tall order bringing something to a remix, but he tackles "Celestial Ditton" with the perfect pitch of respect while bringing something worthwhile to the table. It's certainly a subtle touch that keeps the nature of the track intact while freshening up the drum set and working a few more playful synth touches into the mix, but one gets the impression that Lustman was keen to work in deference to an artist one can only assume was a big influence from an early stage in his career.
Some might argue that there's nothing new about what Nuts! has to say, as this isn't necessarily breaking new ground in the field of broken beat, but it never feels like a trick repeated. Perhaps it's the cult status the music carries these days versus the over-exposure of other older electronic styles, but more likely it's that the genre in itself has always been buoyed by an irrepressible vitality and freshness that, to these ears at least, never dims with time. When all around are questing for dirty, malevolent sounds (no bad thing by any means), it's refreshing to let the brain trip out to something a little more nourishing, and that's exactly what Dego brings us here.
Oli Warwick
Tracklisting:
A1. Nuts!
A2. Could Murder A Burger
B1. Celestial Ditton
B2. Celestial Ditton (FaltyDL Remix)