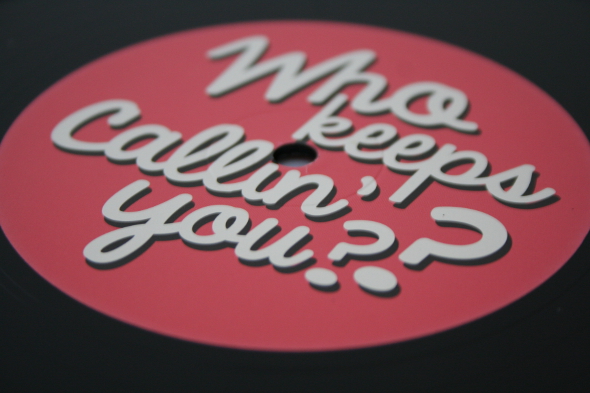 It's probably fair to say that the overuse of the R&B vocal sample in contemporary bass music was one of the most painful things to witness throughout 2011 and 2012. It's no coincidence that the peak of this aesthetic coincided with the move of producers like Blawan, Joy Orbison and many others towards house and techno, as the limited stock of Cassie and Aaliyah vocals were wrung out by a hundred faceless producers like a damp tea towel. Despite pirate radio samples giving R&B vocals a run for their money of late, you know that when even Jamie xx has taken to sampling Fiorucci Made Me Hardcore that the R&B tap has run well and truly dry.
All of this makes Finn McCorry's debut record for Local Action all the more of a revelation, mainly because it's pretty much nothing but R&B samples, sharply cut with none of the edges softened, pitched down or drowned in reverb. Much like DJ Milktray's refix of Cassidy & R. Kelly's "Hotel" from last year, "Keep Calling" is pretty much just a deceptively simple edit, in this case taking on Ginuwine and Aaliyah's "Final Warning," turning the original from a sultry R&B number into a frantic club weapon. Despite the track having little aesthetically to compare it to much of the emerging contemporary grime – with a rapid approach that feels more like footwork despite its more modest tempo – it makes sense that it should have become something of a staple at London grime night Boxed, having much in common with the short-lived offshoot of grime known as R'n'G.
The other two productions may follow much the same formula, but they've got just as much of an earworm quality to make them as grin-inducing as the title track. "Dangerous" reduces its source to even less, clutching onto one vocal and layering claps over angular stabs and well deployed brass blasts, with the results recalling the funk-indebted moments on Bok Bok's recent Your Charizmatic Self EP. "Only Boy" alternates between frantic forward momentum and slow jam territory, and were the percussion a little more slippery, it could be mistaken for some of Taso's slow/fast footwork beats. There's nothing particularly radical about what Finn does, but that hardly seems to be the point – unlike those who use R&B samples as window dressing for drab ideas, his strength is to isolate the sweetest morsels of his source material and turn them into something even more delicious.
Scott Wilson
Tracklisting:
A1. Keep Calling
B1. Dangerous
B2. Only Boy