Best reissues and archival releases: June
Precision electronics, Saharan synthwave and outsider pop made up June's best reissues and archival releases.
We might have reached the annual season of summer record drought, but June's collection of reissues was remarkably strong nevertheless, with a few contenders for best of the year, including L'Amour from the mysterious Lewis on Light In The Attic, and the incredible Tplay 1.5 from SND. While most of these are vinyl reissues, it has to be noted that Archives Intérieures win the prize for being the first solely CD-based reissue to feature in this column with their version of 2010's Imaginary Softwoods album The Path Of Spectrolite. Although there's nothing quite like a lovingly crafted vinyl reissue, the opportunity to walk around listening to this overlooked John Elliott classic on headphones has been very welcome indeed.
SND – Tplay 1.5 (Extended edition) (SND)
The first thing that strikes you when listening to Mark Fell and Mat Steel's debut record as SND – originally released in 1998 – is just how familiar the whole thing sounds. Even if, like me, you've never heard it before, the SND sound has remained so distinct over the years that there's not much on the surface to differentiate Tplay from their later material. Despite this, Tplay is certainly unique in its own way, and well worth reappraisal despite the wealth of SND material that has followed since. Furthermore this version also includes an extra 30 minutes of material, so if you're one of the few to own an original copy, this version is still going to trump it.
If the accompanying blurb from the record's distributor Boomkat is to be believed, then UK garage was a big influence on the duo at the time. It's not exactly obvious when listening to Tplay – minimal techno is probably what you'll hear initially – but once you start looking for it, it's easy to hear the swing of 2-step embedded very subtly throughout the record. Without any vocal hooks the music of Tplay is certainly more clinical than early UKG, but the precise design of the woodblock snares and shackling percussion is quite unmistakably inspired by the genre.
The final track on Tplay is perhaps the most remarkable. It's comprised of the kind of super-reduced UKG-influenced rhythms and glistening melody that characterised the first section of Kieran Hebden's still brilliant Fabriclive mix from 2011. It might sound like a stretch to compare SND's practice to that of Hebden's, but it's clear from listening to Tplay the same reductionist principles apply to both, whilst still keeping hold of some emotional warmth. SND may have gone on to be associated with the more academic sounds of the Mille Plateaux and Raster-Noton labels in later years, but Tplay shows that it was obviously this original grounding in urban UK dance music that has kept their music so connected to the dancefloor.
Listen/buy vinyl
Lewis – L'Amour (Light In The Attic)
The story behind L'Amour is surely the kind that the dreams of documentary film makers are made of. A private press record from 1983 by an artist called Lewis was found in an Edmonton flea-market by a collector called Jon Murphy, and released by Light In The Attic. The main rumour that transpired was that Lewis was a little-known musician and former stockbroker called Randall Wulff who disappeared before paying for the photoshoot that took place in Los Angeles at the time.
Only a nephew of Wulff's could be tracked down, but even he hadn't seen him in years. Perhaps more intriguing than the artist's disappearance is the incidental detail surrounding the album and Wolfe's life: the dedication to Sports Illustrated supermodel Christie Brinkley on the original sleeve, the fact that the photographer remembers that he drove a white convertible Mercedes and dated a girl who looked like a model, and Wulff's nephew who was tracked down and describes Wulff as living in an apartment with all-white furniture.
The story is quite incredible, but the music on the LP is even more so. Lewis' vocal delivery has much in common with Arthur Russell; soft, fragile and crooning in a manner that approaches a near-falsetto, it highlights an emotional vulnerability that doesn't require lyrics to convey. Despite the obvious similarities with Russell, Lewis actually has more in common with Nick Drake's haunting brand of folk, albeit fed through a surreal '80s filter, evoking a world of run down cabaret bars and Brat Pack movie montage sequences.
Listen/buy vinyl
Mamman Sani – Taaritt (Sahel Sounds)
The combination of a desert landscape marked only by a rickety wooden tower and psychedelic blue spaceship that adorns the cover of Mamman Sani's Taaritt seems half inspired by the kind of fantasy artwork on countless prog-rock records from the '70s, and perhaps also by the art direction of David Lynch's adaptation of Dune. It's a fitting image for an album recorded by a Niger-based artist between 1985 and 1988, and it's easy to imagine its odd combination of arid desert melody and synthetic textures as being a West African take on cosmic synth music.
It stands to reason this LP should be released by Portland label Sahel Sounds, who have been documenting the music and culture of the Sahel region since 2009, and will be known to most for the Music For Saharan Cellphones compilation from a few years ago. What's most surprising however is this represents the first time this collection of tracks, recorded between 1985 and 1988, have been made available anywhere. In fact, it's one of only two releases attributed to Sani.
Despite Sani's lack of recorded output, he's far from an obscure figure in his home country. After buying an Italian "Orlo" organ as a young man, he recorded an album in 1978, and even had his own show on Niger TV called Mammane Sani et son Orgue Électronique. Some of his music still features on intermissions on his home country's national TV station. Knowing this information, it makes sense his compositions have something of a library music feel to them, though a more contemporary reference point would be Heatsick's Casio constructions, sitting somewhere between lounge music and hypnotic disco constructed in the most basic way possible. The music of Taaritt may not be as wildly futuristic as the cover suggests, but it fits into that strange, imagined intergalactic fantasy as much as Italo disco did.
Listen/buy vinyl
Imaginary Softwoods – The Path Of Spectrolite (Archives Intérieures)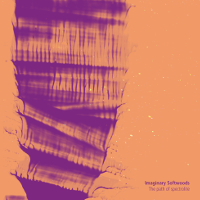 For anyone intimately familiar with the nuances of the catalogue of defunct Cleveland trio Emeralds and the music of its members' various solo projects, the development of their sound from delicate abstraction to full on fist-pumping stadium prog was either an entirely logical course to take or something of a travesty. Personally, my favourite Emeralds release was a limited tour-only cassette called The Overlook. Comprised of two 15-minute tracks which sounded like the musical equivalent of a never-ending peyote trip, it was one of the trio's most evocative moments.
I'd never heard Emeralds member John Elliott's album The Path of Spectrolite until this reissue from Peter Van Hoesen and Yves De Mey's Archives Intérieures, but it's the first thing I've heard from any of the Emeralds trio with the same sense of gently unfolding psychedelia as The Overlook. Being a solo effort from Elliott, it's a much more minimalistic affair, but it packs more drama into its six tracks than you'd imagine possible. With just Elliott's synths, "Entrance Through Selenite Pillars" for example is less a piece of music and more an auditory version of the electromagnetic spectrum, an exercise not in melody but of being something to suspend yourself in.
These tracks date from 2010, and around that time it was a common sight to see Elliott playing his synthesisers with the kind of gusto you'd expect from the lead guitarist of an '80s rock band. However, it's hard to imagine Elliott composing The Path of Spectrolite with anything other than a zen-like concentration. One might question the logic of a four year old album being reissued on CD by Archives Intérieures, but it makes sense alongside the similarly mellifluous yet fiercely incisive sounds of De Mey's Frisson and Sendai's A Smaller Divide. Liker those records, The Path Of Spectrolite feels a step out of phase with the concurrent developments in experimental electronic music: deeply familiar, yet still refreshingly modern.
Listen/buy vinyl
Various Artists – Traces Three (Recollection GRM)
Editions Mego's Recollection GRM sub-label is a continual joy for enthusiasts of early electronic music, and its Traces series is easily one of the label's most under-appreciated set of records. While the label's focus is usually on individual artists within the field of musique concrète and electro-acoustic music, the Traces series aims to highlight some of the "short, forgotten or ignored" pieces of music from the GRM archives. Previous editions in the series have focused on music from 1960 – 1976, and Traces Three brings things up to the period between 1976 and 1980.
Being a chronological survey, there isn't a lot to connect the four pieces on the record thematically, but it makes for a much more surprising listen when Claude Clapaud's "Ruptures" starts things off with a chaotic, fractured and prickly composition which emerges out of an almost symphonic, a sharp contrast to Janez Matičič's "Hypnos", a delicate exercise in tonality and confusion-inducing phase shifting supposedly "based on the process of sound as a solid material." The centrepiece of Traces Three if there is one feels like Egeniusz Rudnik's "Moulin Diabolique" from 1979, which according to the label's accompanying notes consists of military orders given in different languages, and other sounds by a group of soldiers. The piece is edited in such a way as to erode "the sense of military discipline" from the sentences. The original commands may be difficult to discern, but the overall effect is captivating enough to put it alongside the better known works in the Recollection GRM catalogue.
Listen/buy vinyl
Scott Wilson