Juno Plus Podcast 90: Credit 00

We return to Dresden as Uncanny Valley artist Credit 00 lays down a 75-minute mix that demonstrates his influences and acts as an introduction to the Rat Life Records label.

"A lot of times we played places that got fear in 'em, where some fear went down. East Germany, you know Dresden, places that ain't particularly happy." This was the quote attributed to UR's Mad Mike which first introduced Rat Life Records, the latest offshoot of Dresden label Uncanny Valley overseen by Credit 00, an imprint which is trying to channel some of the rawness and imperfection that characterised EBM, industrial and nascent forms of house and techno. Rat Life Records may have only released two 12″s so far, but they've been some of the most visceral dancefloor tools you will come across this year, with the Mick Wills edit of Autonervous a particularly brutal highlight.
With the label now placed firmly in our collective affections, we felt it only right to invite Credit 00 – aka artist and producer Alexander Dorn – to contribute to the Juno Plus podcast series, with an open invitation to put together a selection of tracks that might act as a guide for listeners to get some insight into the inspiration for Rat Life Records. Dorn's mix captures that mood perfectly, confidently jumping from Nitzer Ebb and Heaven 17 to Kassem Mosse and JD Twitch over 75 full throttle minutes; the moment where Jeff Mills and Bookworms meet is perhaps one of our favourite blends in a podcast so far this year. Dorn was kind enough to answer some questions to accompany the mix including some unexpected insight into how Rat Life came into fruition and what we can expect from the label in the coming months. Read on and enjoy a superb mix.
Hi Alexander, how are things?
Not too bad, feeling good actually.
You just played at the Golden Pudel correct? How was that?
That's right, played there last Tuesday. It was Great! The Pudel is such a one of a kind place, you can go there every day of the week and experience all kinds of interesting music and a open minded crowd.
Thanks for this mix, we sort of set a vague outline for you to try and convey the musical inspirations for Rat Life Records – would you say you achieved this?
I was thinking of your words while selecting tracks and noticed my whole collection is actually inspiration for Rat Life. A big point for me is trying to play different kind of styles and changing the vibe here and there, not the same stuff going on and on.
That Prince track is a superb way to finish too!
Yeah Prince is always good to start, finish or keep a mix going.
What was the motivation behind starting up the label?
Well, it kind of found me. The story began few years ago actually, when I was working for a friend in Aberdeen, Scotland. We were renovating houses and rented one of those dumpsters to throw all the old junk in. One morning I dumped another wheelbarrow full of crap and found this nice drawing by an unknown artist on the side of the dumpster (see picture below). I thought if I ever get a tattoo or start a label this is going to be it (I don`t have any tattoos to this day).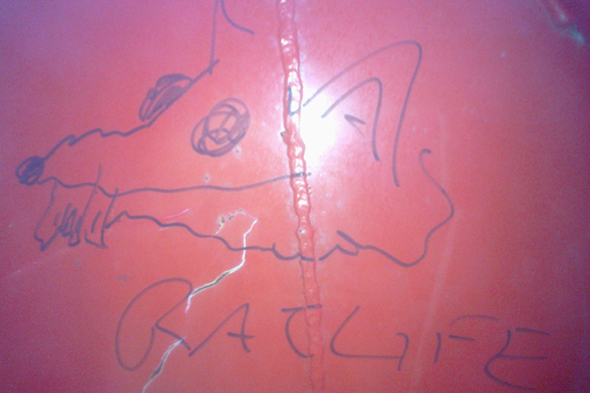 The original announcement for Rat Life painted 1980s Dresden quite vividly. What are your own memories of this time?
I wasn't living in Dresden then, but I remember visiting the city with my parents once in the late '80s, it looked like everywhere in the G.D.R. Old rotten buildings with trees crowing on the rooftops, like WWII was just over a few months previously. A big sight back then was Frauenkirche in ruins, I just found the below old photograph my parents made back then.
And how does the city compare now?
Well I can hardly tell where exactly the picture was taken. Now that all the old buildings got reconstructed it looks like Disneyland.
Though the series is curated by yourself, it feels as if you'll be actively encouraging others to participate, correct?
Of course! would be bit boring to just release my own tracks. Also big thanks here to my Uncanny friends for giving me the opportunity to run Rat Life as a U.V. sub label, without their help I think I would not have managed to put the first record out yet.
How many more releases do you have planned and can you tell us who is involved?
For now the next three releases are kind of set but you never know what happens, so I won't mention any names here. But what I can say is there will be all kinds of stuff, not only edits or what someone might think – it's gonna be hard to pigeonhole Rat Life records!
It's fair to say the Mick Wills version of "Enfant Terrible" by Autonervous is quite brutal. What was your reaction when he submitted it?
He didn't submit anything. Traxx was playing it to me and we both thought its a great flip side for the Neue Wohnkultur edit. When I was asking Mick if I can put it out, he was at first like "Really? You wanna release this?"
And how has it gone down when you've played it out?
Dirty!
Will there be some more Credit 00 material on Uncanny Valley anytime soon?
Yes sir! My next EP for Uncanny Valley is almost finished, coming out in fall I hope.
Outside of your music production work, you are a fully fledged artist, correct? Are you currently working on any exhibitions?
Yes, I have a diploma in Fine Art. My last exhibition was a while ago but I am working on visual art stuff all the time (at least in my head) but soon I'm gonna have a bigger space to work in so new projects will materialise!
Do you find it a pleasant struggle, shall we say, to grapple with these various creative urges?
During my studies some people told me to focus one thing. Art or music. I was seriously thinking about it for some time but then I realised that would be like deciding to whether see or hear. Sure you can't do everything at the same time always on the same level, but for me music and art go hand in hand. The best example is the cover of a 12" record.
And I believe you are also involved in the Ideal Fun radio station in Dresden – can you tell us some more about this?
Funny that you ask that. There is no radio yet (just redesigned the Facebook page
when I was bored the other day). Ideal Fun used to be a party series I organised with
friends in Dresden but we stopped that years ago. Just recently I had the idea to start
some kind of online podcast radio show (or what you call that) and use the Ideal Fun
name for it. Well, the first show still needs to be recorded but stay tuned!
Tracklisting:
1. Georgie D – Die Kunst Wird Mal Durch Abschlachten Groß
2. Leron Carson – Mechanism
3. Alexander Robotnick – Made In China (IBM Edit)
4. Nitzer Ebb – Let Your Body Learn (instr.)
5. Gene Hunt – Living In A Land
6. Erol Alkan – Bang (Beau Wanzer Adjustment)
7. Erika – Gardeners (Israel Vines Remix)
8. Kassem Mosse – Untitled
9. Drexciya – Black Sea
10. Octave One – The Symbiont
11. DJ Milton – Hood Rat (RX)
12. Basic Channel ‎– Phylyps Trak II/II
13. Bookworms – African Rhythms
14. Jeff Mills – Alarms
15. JD Twitch – JU JU
16. Traxx – Mysterio
17. Sir Freddie Viadukt – Let Me Out & Slow Train To
18. Three of you – Drum Electronic Sound (Paul du Lac Edit)
19. Heaven 17 – Penthouse & Pavement
20. Lil Louise – Music Takes U Away (Vibrant Mix)
21. Prince – Purple Music