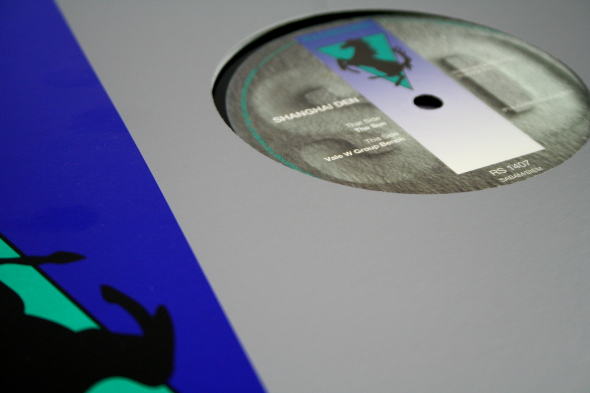 It's new talent time once again at R&S, as the veteran label invites hitherto unknown artist Shanghai Den to deliver his debut release with nowt to go on but a previous guest spot on Falty DL track "King Brute". While there may be no frame of reference in which to place the artist, the music seems to be just fine with that, as this short but sweet two-tracker blurts out a wild and dizzying torrent of singular ideas and approaches that will be turning heads anywhere it gets played.
Ostensibly the lead track, "The Sun" moves all too fast as it finishes up in just three and a half minutes, but there is a lot packed into that time. For a start there is a red-herring intro that sets off a minimal house beat and subtle fuzzy synth touches for some thirty seconds before a total switch up to some luscious blue note chords, which in turn lead the way into a slow and crafty broken beat groove. Around said groove flirt some grubby bass belches and other sonic interference, each sound wrought from distinctive signal paths to further the unique qualities of the music. Equally noticeable is Mr Den's commitment to hassling the track into erratic diversions of filtering and chopping, interrupting the flow of the cut to keep the mind sharp. While this may sound a little too hectic, in fact the overall mood of the track is quite a laid back one, helped no end by those aforementioned chords but equally by the soft-hitting impact of the beat.
"Vale W Group Bench" has more time over which to spread itself, but there's no let up in the rapid-fire exchange of ideas, from strange vocal hums to dramatic string samples, not to mention a hands-in-the-air pad that comes on curiously like the early 90s rave swooner "Midnight" by Orbital. There are brief moments of heavyweight Reese bass and some squelchy drum refrains, but the nightmarish string sample proves to be the ever-returning hook in a track that happily dies off only to re-emerge at unpredictable points. It's a wild ride but it hangs together, just.
That so much ground can be covered in a relatively short debut single speaks volumes for the ideas Shanghai Den has at his disposal. In many ways his emergence is reminiscent of Gerry Read's, suggesting there may be some refinement and perhaps a little maturity due in the creative process, but this must come on naturally and not at the cost of the thrilling ideas spilling out of the music.
Oli Warwick
Tracklisting: 
A1. The Sun
B1. Vale W Group Bench