Roll The Dice – Until Silence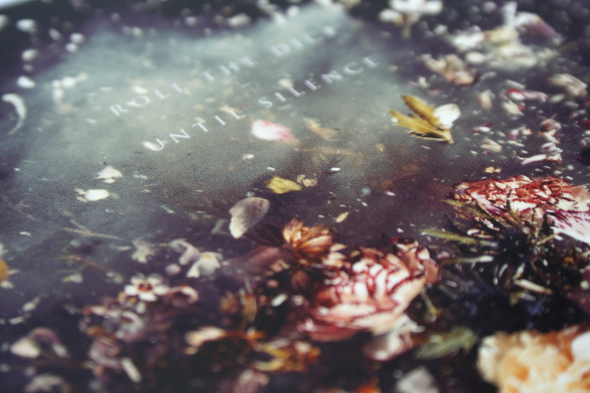 With their third album proper, Swedish duo Roll The Dice are once again moving on from what they have done before. Peder Mannerfelt (better known as The Subliminal Kid) and Malcolm Pardon have never stuck to one formula with their collaborative project, moving from their delicate beginnings on Digitalis to the more rounded analogue synth work of their last album In Dust on The Leaf Label. It's been some time since that release and in the mean time their focus has shifted to a more dramatic musical outlook, drawing on both orchestral assistance and political and social jump-off points to arrive at this ambitious statement of a long player. There are many stated issues to consider with Until Silence, largely focused around the existential crisis of humanity in the 21st century.
The opening salvo of "Blood In Blood Out" and "Assembly" make for fitting starting points to this tale. Using mainly classical instrumentation, repeating phrases are worked into nail-biting arrangements that spell out oppressive times ahead more evocatively than any speech could ever do. A tumultuous murmur of electronics sits in between the lingering piano notes of the first track, barely audible between the beautifully rendered ivories but a fitting addition to the building intensity. The second, meanwhile, slow-marches forwards with a funereal inevitability, borrowing cinematic bombast and bolstering it with touches of electronic processing so subtly you can barely sense the joins. As you might well gather, things are not looking bright according to Roll The Dice.
As a move away from those lofty orchestrations "Coup De Grâce" heads into more avant-garde territory, and it's a welcome diversion. There's still plenty of traditional instrumentation inhabiting the track, but here the staccato piano notes clash with brusque stabs of strings in a wonderful discordance, sharpening their respective repartees as the track progresses in a wild time signature made all the more thrilling and unhinged by a thrumming arpeggiated synth that comes piling in underneath. In just four minutes a staggering amount of ground is covered whilst all revolving around a looping phrase that simply builds in its viciousness as it progresses. The same rhythm is picked up once again in "Perpetual Motion", where the drama ramps up even further through ever more frantic slashes of violin and an increased percussive presence.
There are more reflective moments as well of course, not least on the plaintive composition of "Haunted Piano", while "Wherever I Go, Darkness Follows" makes for one of the most even balances of electronica and classical on the album with its micro-pulsing rhythms and considered chords. These moments give the thematic thrust of the album space to breathe, and it's here that the narrative scope of it really shines through. Quite honestly, it's hard not to picture some kind of looming disaster movie scenario of a very real kind playing out in front of Until Silence, so apocalyptic every moment feels on the record.
There are no prizes for guessing the state of mind of Mannerfelt and Pardon as they made it, and no-one can be sure if the process worked as a cathartic tool in alleviating some of their concerns about our future, but in listening yourself you too will find it hard not to be plunged into the ill-fated prognosis this highly evolved creation speaks of. It really is that powerful a listening experience.
Oli Warwick
Tracklisting:
A1. Blood In Blood Out
A2. Assembly
B1. Time and Mercy
B2. Coup de Grâce
B3. Aridity
C1. Wherever I Go, Darkness Follows
C2. Perpetual Motion
D1. Someone's Land
D2. Haunted Piano
D3. In Deference