Samuel Kerridge joins Blueprint with Deficit Of Wonder

The Manchester-born techno producer will release his next EP on James Ruskin's label.
Since debuting on Horizontal Ground with the murky, experimental techno sounds of the Auris Interna EP, UK-born Samuel Kerridge has found himself catapulted into the upper leagues of crepuscular techno producers, appearing on the revered Downwards label with three records, including his debut album A Fallen Empire. It clearly isn't just Karl O'Connor who has been impressed with the young Kerridge's talents, with news emerging that veteran techno figure James Ruskin has tapped up the producer for an EP on his Blueprint label.
Entitled Deficit Of Wonder, the EP's appearance on Blueprint makes perfect sense given Ruskin's involvement in the Jealous God label alongside O'Connor and Juan 'Silent Servant' Mendez. Marking Blueprint's 40th release, the record fits into the increasing trend for oblique techno titles that sound as if they could have come from an online Downwards title generator, and features four tracks as cheery in sound as the dark title suggests.
Blueprint Records will release Deficit Of Wonder by Samuel Kerridge in July.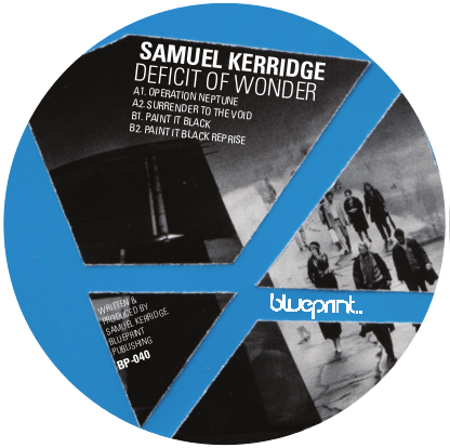 Tracklisting:
A1. Operation Neptune
A2. Surrender To The Void
B1. Paint It Black
B2. Paint It Black Reprise