VHS Head – Persistence of Vision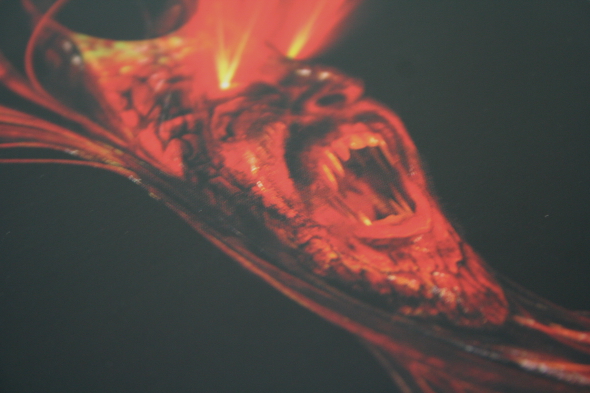 It's been a fair while since Ade Blacow last donned his VHS Head guise for an outing of deranged IDM-goes-electrofunk madness on Skam. In fact, the Blackpool-based producer's last material of note – the skittering, warped electronic insanity of the Midnight Section 12" – dropped some three years ago. Given that it's been four years since he wowed critics with the dense intensity and tongue-in-cheek charm of his debut full-length, Trademark Ribbons of Gold, this second album is well overdue.
There is, though, a good reason for this three-year hiatus; Blacow's infamous working method is incredibly time consuming. Famously, he creates his tracks entirely out of music, samples, speech, beats and noises he finds on old VHS cassettes, mostly from the format's prime years during the 1980s. While these samples – mangled, manipulated, chopped, looped and twisted beyond all recognition – give his music its' trademark edginess and fluorescent funk, they have to be found first, which no doubt means countless hours spent trawling through videos snaffled from charity shops, bargain bins and thrift stores.
However intense the process, the results are rarely less than thrilling. Musically, his trademark-take on IDM – glitchy and cut-up in the manner of Jackson & His Computer Band, "Windowlicker" era Aphex Twin and micro-house stalwart Akufen, but shot through with the kind of P-funk inclined synths you'd expect to find on early Funkineven and Dam Funk records – is certainly experimental, but feels fun, funky and fresh. Even when he pushes the envelope and touches on Autechre-style wonkiness – as on the Boards of Canada-on-amphetamines vibe of "Gas Human Number 1" – there's a melodic beauty and attractive accessibility that belies the music's experimental nature.
As a result, Persistence of Vision – a title which offers a nod to his militant approach to the production process – fairly rattles along at breakneck speed, with highlights coming thick and fast. There's the mutant funk insanity of standout "Don't Look In The Closet", the starburst throb of '80s AOR-inspired head-nodder "Camera Eyes", and the shimmering, wide-eyed blast of the decidedly Balearic – or rush-inducing, at the very least – "Dead To Morrow". There are darker moments – see the warped vocal samples, discordant electronic rhythms and scalpel-wielding intensity of "Tracking The Moon Beast", the Autechre-ish mentalism of "_lect_city", or the sludgy cyber-funk of "Red Ocean Apocalypse" – and moments of sublime, near ambient calm (check the chiming melodies, glistening guitars and fuzzy electronics of "Farewell Africa", and the uncomfortable wooziness of "Do You Understand?", where a robotic voice blathers on incoherently on top of Reichian melodies and darkroom textures).
Throughout, sample-spotters will have great fun trying to pick out his sources. Given the sheer volume and diversity of the samples on show, it's a near impossible task. Repeat listens reveal new sounds, cranky vocal hits, twisted melodies and curious instruments buried deep in the mix. For all the attractiveness of the melodies – not to mention the heavyweight funk Blacow ekes from the sharpness of his scattergun edits – Persistence of Vision is a dense album. The fact that it never feels that way is testament to Blacow's skill as a producer, and the attractiveness of his particular strand of rainbow-coloured IDM.
Matt Anniss
Tracklisting:
1. Enter The Devil
2. Don't Look In The Closet
3. Gas Human No. 1
4. Mutant Nights
5. Camera Eyes
6. Red Ocean Apocalypse
7. Dead To Morrow
8. Tracking The Moon Beast
9. Frozen
10. Body Magic
11. Farewell Africa
12. Do You Understand
13. _lect_city
14. Jealousy
15. Angels Never Sleep