Martyn – The Air Between Words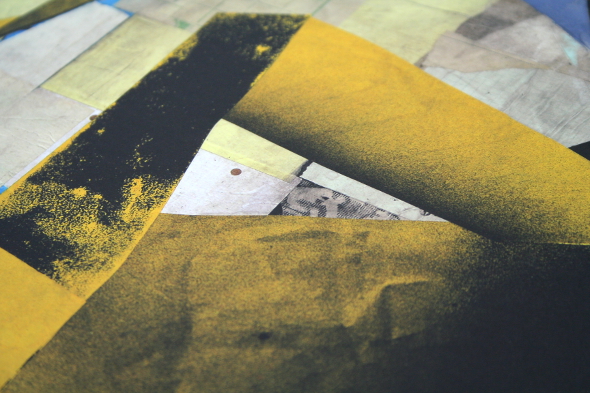 Its album number three for Dutchman-in-America Martijn Deykers, once again plotting the trajectory of an artist who has neatly encapsulated a particular corner of the electronic music zeitgeist since the second wave of dubstep lured him away from drum & bass production. Great Lengths was undoubtedly one of the first great albums of the wider dubstep community outside South London, blossoming just at the point when influences beyond garage and grime started to modify the DNA of the music, and likewise on the decks Martyn certainly represented one of those DJs that first started bridging the gap towards critical house and techno from bassier music forms.
Ghost People followed up two years later with a sizable switch in focus towards gritty, over-driven 4/4, where the hectic sound world made a logical fit on Brainfeeder. Now the third step sees parent label Ninja Tune scoop up Deykers to capture where he's at three years down the line. As was evident from the way Martyn represented house and techno when few of his contemporaries were daring to, a love of 4/4 is something that has been with the artist a long time, but even so it was hard not to feel a whiff of following-the-crowd when Ghost People dropped as all and sundry were turning to hardware production in the 125 tempo range.
Considering a mere two years had passed since Great Lengths, it felt like a pronounced departure from a sound that still warranted exploration. What is instantly pleasing about The Air Between Words is that it feels like it pulls back together two previously disparate streams of creativity. "Forgiveness Step 1" is loaded with the kind of soul-searching melancholia that Martyn can do so well, and as an ambient album opener it sets a welcome emotional tone. From there the Four Tet collaboration "Glassbeadgames" follows suit with a shuffly house beat supporting more of that winsome synth work, and the sonic balance feels clear and breathable. copeland collaboration "Love of Pleasure" too brings plenty of accessible melodics to the fore, with the former Hype Williams singer injecting an interesting sideline in electronic pop into the Martyn repertoire.
Album closer "Fashion Skater" makes for the neatest crossover of Martyn's styles, featuring as it does some plaintive piano and a sturdy line in drum machine beats. Whether the track title is a pointed statement remains to be seen. Elsewhere, there is plenty of dirt to be found for those who prefer the Ghost People angle. "Empty Mind" snarls just like an edgy acid track is supposed to, while "Drones" makes for a compelling fusion between red-lining electronics and sublime jazz samples with a technoid thrust. "Two Leads And A Computer" gets into a primal electro jack, turning out a perfect exercise in outboard simplicity and hence delivering great results for the dancefloor, while "Like That" takes a more developed path into peak time house music with heady samples, gnarly bass and complementary piano lines making for a thrilling rush of a track.
There is certainly no duff moment on The Air Between Words, as has always been the case with Martyn; the producer has a great quality control when it comes to what makes the final cut. While this album does pull together two different strands to his artistry and in a sense bring validity to what has come before, it doesn't necessarily fuse the two, so we're left with something of a Jeckle and Hyde artist. The melodic, crisply produced Jeckle feels like a more distinctive creator compared to the slightly more familiar output of the dirty, primal Hyde. Some artists choose to split their music into aliases and projects, and some don't. There's clearly no right or wrong way, although when wedged onto the same album it perhaps does a disservice to the music contained within. Take any track on its own terms and it's hard to find fault, but as a body of work The Air Between Words leaves you with mixed feelings, even if nothing is particularly wrong.
Oli Warwick
Tracklisting:
1. Forgiveness Step 1
2. Glassbeadgames (with Four Tet)
3. Empty Mind
4. Drones
5. Love of Pleasure (with copeland)
6. Two Leads and a Computer
7. Forgiveness Step 2
8. Like That
9. Lullaby
10. Fashion Skater