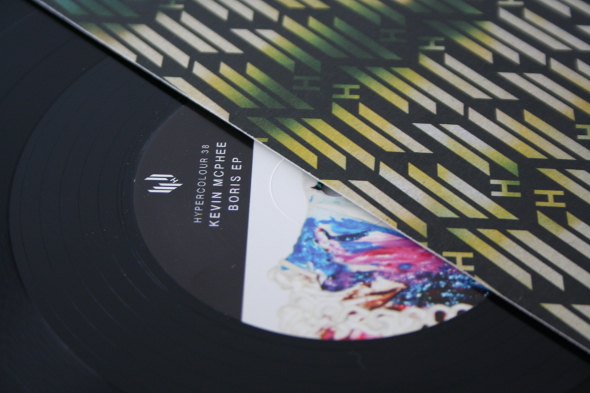 Kevin McPhee's latest 12″ on Hypercolour may have landed just as sunburns and Piña Coladas are becoming common summer staples, but sonically, the Boris EP owes just as much to the frostbite-inducing winter that the young Toronto-based producer has just emerged out of. With one of McPhee's most recent 12″ on Idle Hands last summer featuring a peak-time house jam in the form of "Unwind", this writer's initial thought was that an outing on a label like Hypercolour that flirts with mainstream artists such as Maya Jane Cole, George Fitzgerald and Groove Armada would mean that McPhee might tailor his sounds accordingly.
While "Unwind" showed that McPhee can aptly channel Soundstream and Jersey garage into his own tapestry of house sounds, last year's release was as close to a mainstream offering as McPhee is willing to venture for the moment. Instead, his latest EP (comprised of two tunes constructed back in 2011 and one created on the heels of his 2012 UK tour) touts a sound that's decidedly sludgier and more sinister than anything he's released yet, as if someone scraped the mixture of wet snow and industrial grime from the underside of a taxi and pressed it onto vinyl. While the EP's title Boris may lead to thoughts of frozen-tundra-swept Russia, or the Japanese drone metal group of the same name, it's actually a homage to McPhee's cat. But that's the closest you'll get to any sunlight on this release.
"DD YYY ZZ OOOOO" and "CC XXX YY NNNNN" were both created roughly three years ago, and McPhee mentioned that after recording them on software, he ran both tracks through a guitar preamp called the INTERSOUND IVP, which adds a bit of a harsher element for drums and melodies. Running stems through a preamp, McPhee glued the tracks together using an FMR compressor which, while maintaining audio fidelity, gives both cuts a notably ragged quality.  This is especially true when it comes to the jagged growls coursing through "CC XXX YY NNNNN" which sound like someone's playing a record with a tetanus-infused drywall nail instead of a turntable needle. Backed by efficient clanking percussion, the track varies in intensity throughout as a looped yelp echoes out over the drums. "DD YYY ZZ OOOOO" takes it a bit slower, a minimalist techno piece with reverb clattering off every texture in the piece until the anxiety bubbles over in some frothy, intermittent rave stabs.
Speaking about the tracks, McPhee admits that they're part of a series (including currently unreleased AA and BB counterparts). Created at the same time that McPhee obsessively was working on a series of "Version" tunes (one which has been released on 3024's Toronto-Centric Dovercourt EP, the other on a Naked Lunch 12″), these tunes show a dedication to approaching  techno "versions", which McPhee characterizes as coming from "similar sounds, hardware/software use, and short time span between making them." The final original track "Branch" similarly finds McPhee playing around with minimalist elements in his productions, and the final product sounds just as brittle and ready to snap as its title implies – an incessant clicking sound accompanied by soft-spun washing machine oscillations makes it a slow-burning clap-along track that starts off subdued, but picks up speed as it progresses.
But the real gem is Trevino's rework, which succeeds in drudging up some seriously foreboding feelings. Marcus Intalex siphons the same unease that characterized the producer's later drum & bass output such as "Cabin Fever" here, and pumps "Branch" up with a barely-there, toy-store piano sound effect, its minimalist plonk offset by the whirring machinery sounding off behind it. Those who may accuse Hypercolour of pushing watered-down house tunes will have a hard time defending their claims in this case. McPhee's eccentric release history has proved he can tackle many different styles, but lukewarm is one genre that's not in his repertoire.
Brendan Arnott
Tracklisting:
1. CC XXX YY NNNNN
2. CC XXX YY NNNNN (Trevino Mix)
3. Branch
4. DD YYY ZZ OOOOO