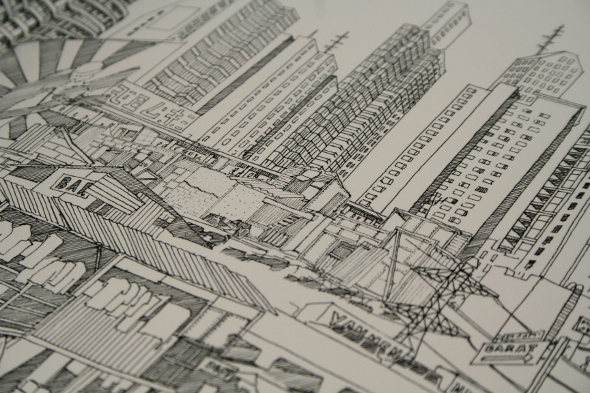 Aroy Dee's label M>O>S Recordings has put out impressive long players from Morphosis and D'Marc Cantu. Now it's the owner's turn with Sketches – can he also deliver? One of the most notable aspects of Sketches is that it doesn't deliver any surprises. It is informed by the same classic sonic sources as Dee's other releases and at almost every turn there are references to Detroit techno's sense of melody and melancholy, the rough drums of Chicago house and shimmering film soundtrack synths.
While these elements all work seamlessly in unison, it's the subliminal influences that ensure Sketches is a refined and evocative work. Dee, real name Steven Brunsmann, has spoken to Juno Plus before about his interest in Asian cities and his photographs of sprawling oriental environments provide the cover art for his releases. On his debut album, he manages to capture that urban sensibility in sound on "Pure", where tonal frequencies and muggy textures transport the listener – in this writer's case from a suburban living room – to downtown Bangkok in the rain.
Similarly, "City of Others" with its serene pads and scattergun percussion, could be soundtrack for the descent from the skies over Hong Kong's cityscape. This leads us to the other powerful force at play here; Brunsmann's involvement with the urban environment. It is clear that the music on Sketches is a by-product of the artist's affinity with city living and also his profession as an architect.
The percussive shapes on "Afterlife" – a reference presumably to Ron Trent's production timeless of the same name – are tailored effortlessly to support doleful synths, while the drum-led intro, airy melodies and doubled up claps on "Ashes to Ashes" sound like they were designed in detail before Brunsmann set foot inside his studio.  Sketches contains some brooding ambience – "Night Sky" and "Dust" – that lend this collection of tracks a cohesive album feeling, but its articulation of city life, both real and imagined, provides the full picture on Aroy Dee's debut.
Richard Brophy 
Tracklisting:
A1. Night Sky
A2. Pure
A3. Decay
B1. Blossom
B2. Until The Music Dies
C1. Descent
C2. City Of Others
C3. Afterlife
D1. Ashes To Ashes
D2. Dust