Bok Bok – Your Charizmatic Self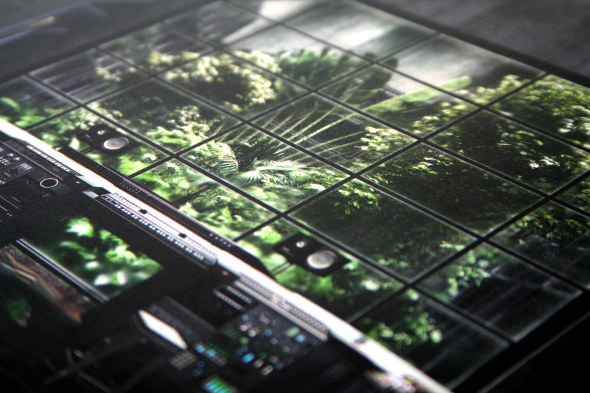 Since its first release, the music of Night Slugs has always had a direct connection with the label's design aesthetic. In the label's infancy this manifested itself in the relationship between the angular rhythms and isometric cover illustrations, but in recent years the imagery has started to get more high resolution. Jam City's Classical Curves and Egyptrixx's A/B Til Infinity have both depicted strange computer generated scenes on their covers, with music with a depth of field to match. Egyptrixx even went a step further, working in parallel with designer ANF to make music that was a reaction to his alien environments. "I think that's the way to go, with us," label co-head Alex Sushon explained of the label's direction to FACT in a recent interview, "to develop that relationship between the art and the music in tandem."
Sushon's latest set of productions under the Bok Bok name present possibly the most left-of-centre example of this fusion of design and music so far. Your Charizmatic Self isn't just the most impressive set of tracks Sushon has released, they also form a concept EP of sorts, with each track supposedly being made to sound as if they were produced in the studio depicted on the cover, with reverbs and delays programmed to reflect how the sound might bounce off this imaginary space with concrete walls and glass windows that look out into a verdant greenhouse. Given Sushon's noted enthusiasm for vintage gear, and his recent work producing for Kelela, this imagined studio feels like a particularly apt environment for Your Charizmatic Self to be set.
Sushon's music has always been nominally connected to grime, but there's always been an element of funk and boogie simmering under the surface that gets missed, and it's the tracks that put the focus on this element that provide the EP's highlights. Kelela collaboration "Melba's Call" evokes the '80s production work of Quincy Jones, but with an angular, brutalist edge. "Howard" begins with the kind of mechanical exhalations you'd expect from a Jam City rhythm, and the deep wobbling subs might sound like dubstep, but the glittering keys and synths are pure funk. "Da Foxtrot" is another track indebted to vintage 80s pop and funk, but it's still effortlessly lithe in a way few other Night Slugs tracks are. The reference points might be plain for all to see, but in Sushon's hands these sounds are chopped up, reorganised and shaken up in a way that's both reverent, and thrillingly futuristic.
If there's one thing that these tracks demonstrate, it's that Sushon makes such impressive music when he's got some hooks to work with, and the instrumental tracks feel a little thin in comparison. "Greenhouse (Day)" and "Greenhouse (Night)" are clearly intended as interludes to explore the sonic environment of his imagined studio, and he deploys each glittering key and stray 808 cowbell in a way that makes you feel as if you could be standing right in the humid atrium depicted on the cover. But without the more instant pop approach of the other tracks, they don't linger in the mind for quite as long.
"Funkiest (Be Yourself)" is a much more robust club instrumental with stylistic links to his older material, but still feels like it needs just something a little more to hang off its huge bassline, twitchy rhythms and angular synth chords. Next to the material on the Southside EP from 2011 these instrumental moments are still a significant step forward for Sushon's abstract yet accessible style of club music, adding depth to the intriguing fusion of design and audio elements – but fall a little short of the high standards he sets himself with "Melba's Call", "Howard" and "Da Foxtrot". "I want to play around with ideas of what is pop, what is music for love, what is music for progression," Sushon also told FACT, "and just implode them into each other." On the basis of Your Charizmatic Self he's already halfway there – but halfway is still miles ahead of the competition.
Scott Wilson
Tracklisting:
1. Melba's Call
2. Howard
3. Greenhouse (Day)
4. Funkiest (Be Yourself)
5. Greenhouse (Night)
6. Da Foxtrot
7. Melba's Call (Instrumental)