Dusted Down: The untold story of Brain Machine

Scott Wilson unravels the misdirection and tracks down Brain Machine, the duo behind one of the last decade's most unique and underappreciated electronic albums.
"It was totally by accident," Thisisnotanexit label boss Simon Carr explains of how he came across the sounds of little-known electronic duo Brain Machine. "It was back in the day when MySpace was a wonderful rabbit hole that you could fall down and spend hours wasting listening to all sorts of weird and wonderful demos. I can't quite remember how I got there but once I was on their page I knew it was a cut above the other stuff I was being sent."
There are no shortage of labels today willing to embrace dark and esoteric sounds: Blackest Ever Black, Spectrum Spools, RVNG Intl, L.I.E.S. and many others share an open-minded approach in which moody dancefloor sounds can co-exist with music that could almost pass for pop. These are labels which fit into a lineage which can be traced back through DFA and Output, back to Factory Records and Mute, labels who constantly seem to have one foot on, and one foot off the dancefloor at any given moment. One such label in this category – who may not be so widely remembered, but was no less adventurous than these imprints – was the now defunct Thisisnotanexit run by Simon Carr, who was as interested in the post-punk of an act like Detachments as the Italo synth-pop of Parallels or neo-Balearic sound of Hatchback throughout his label's short lifespan from 2006-2010.
Thisisnotanexit's output was marked by its diversity, but one record from the label still stands out even today: the self-titled debut LP from Brain Machine. It was a record that shared the contemporary kosmische approach of Delia Gonzalez and Gavin Russom, but also felt like it shared some DNA with minimal techno and the more experimental end of the Scandinavian disco scene of the last decade. The six tracks that made up Brain Machine felt like a journey through an imagined '70s version of space and time deeply indebted to psychedelia, something reflected on the exquisite gatefold sleeve, which depicted what looked like a mountain range on an alien planet with a sulphurous atmosphere. The album received very little attention from the press at the time, and there were no interviews with the duo, comprised of two individuals known as Guido Zen and Juan T Trippe. Outside of a few blog posts, Thisisnotanexit's press release and the music itself, there was little proof that Brain Machine even really existed at all.
The only real piece of evidence to go on was a cryptic press release, which stated that the record was recorded "in their spiritual home, the islands of The Federate States of Micronesia". A quote from Zen at the time read: "My father, a fine musician, worked as a pilot for Alitalia. Once, there was an accident, and his plane crash-landed in the South Pacific Ocean. He was rescued by islanders, and during the many months it took him to recuperate, he taught many of them how to write music. The Micronesians were suddenly able to write down the music they had been making for hundreds of years…Many of the rhythms and melodies that we use in Brain Machine come directly from the Micronesian tradition."
At the time it felt as if the press release was a conscious piece of misdirection; an attempt to create a hauntological mythology around the duo akin to that of the Ghost Box label's fictional town of Belbury. The music on the album seemed to support this; although only six tracks long, its 44-minute running time was a cosmic journey every bit as fantastical as the mythology suggested. Track titles like "Eternal Night", "Massive Dying Stars Vibrating Like Giant Speakers" and "Capricorn Rising" suggested a kind of cosmological obsession or quasi-mysticism at play bleeding into the music itself, which combined elements of late period minimal techno, free-flowing ambient kosmische and the dense chug of the kind of post-acid hardware jams being released by Andy Blake's Dissident label at the time. However, a year or so after the release of the album, the mystery around the duo began to crumble, going on to perform a few live shows together and proving there were two real individuals behind the music.
Despite some degree of misdirection from the pair, it turned out that at least some of the information presented was true. Guido Zen was in fact the real name of an Italian producer who had various ambient records under his own name in the 1990s, whose longest running project was as part of a duo called Gamers in Exile, also working on film and TV soundtracks and music for installations. Juan T Trippe was a little more oblique, being one of the several aliases of Lo Recordings boss Jon Tye, perhaps best known for his production work under the Black Mustang and Milky Globe monikers, and now as one half of the Seahawks duo with artist Pete Fowler.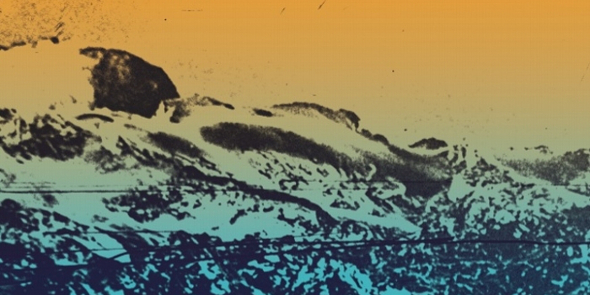 Speaking to the duo over email, Tye and Zen tell me that they originally met in 2001 when the latter was living in the UK, keeping in touch after Zen moved back to Rome. The genesis of Brain Machine eventually came in 2004, when Zen visited Tye at his home in Cornwall. The story behind their collaboration was a simple one familiar to many producers deciding to spontaneously collaborate on music. "After a few pints we had a jam session in his garage where he had some instruments," Zen explains. "We liked how the recordings sounded and we started on more music after that."
Despite the Brain Machine sound seemed to have been born almost totally fully-formed, there was in fact four years of sending music back and forth before the release of any material. "What I enjoyed the most was that the fact that it was a new project from scratch and I could try anything on it," Zen explains, "I could perhaps use some musical elements from the past or any other ideas that came to my mind without worrying that it would be inappropriate. The music evolved over the course of four years before the album was released and we did not plan the way it would have sounded eventually."
The pair used a host of tools, vintage and contemporary, including analogue and digital synths, guitar, bass, drum machines, reel to reel tape machine, guitar pedals, farfisa organ and computer editing software and plug-ins to create their sound. For Tye, working with Zen it was just as much of a chance to freely experiment with sound as it was to arrive at such a fully formed concept. "I'd just moved to Cornwall at that time and my setup was really limited," Tye explains. "I had the Realistic Moog, an Electric Mistress flanger, a Watkins Copicat and a strange Kay guitar with built in effects – I really enjoyed the limitations." The pair's workflow was highly improvisational, with both sending tracks back and forth until they were just right. "I remember a lot of jamming which I'd then edit before sending to Guido and then edit again when he sent it back," Tye explains, "we spent a lot of time getting the flow of tracks right. It's something particularly evident when you listen to "Massive Dying Stars Vibrating LIke Giant Speakers" segueing seamlessly into "Pulsations" in an overlapping interlude of gurgling synth blips and heavenly pads.
Although Brain Machine's sound could be aligned with the music of acts like the aforementioned Gonzales and Russom, Emeralds and various other bands emerging from the US underground at the same time, the project was largely created in a vacuum separate from contemporary movements, and more influenced by '70s electronic music. "I was aware of the Gonzales and Russom's work and liked it, although my references were more in the 70s," says Zen. "My main influences for Brain Machine were electronic music from the '70s like Tangerine Dream and ambient but something that influenced me a lot over the years has been dub music, although it may be less obvious to spot."
Tye's influences were similarly kosmische-inspired, citing what he calls the "really immersive German sounds" of Popul Vuh, Manuel Gottsching, Eloy and Tyndall, but also heavy organ pieces by Messiaen and albums by George Rodi and Cecil Leuter. These influences are clearly audible in "Alchemia", where pastoral birdsong combines with naive organ tones and twinkling chimes, and the epic closing track "Capricorn Rising", whose analog textures swell and billow like a lost Cluster track.
What set Brain Machine's sound apart from similar kosmische revivalists was their use of rhythm in a number of tracks. On the 12-minute opener it was a simplistic kick and subtly oscillating pulse bass pulse that sound like they could easily have been inspired by a Superpitcher record, while on "Heaven 8" it took the form of a more organic drum groove and slap-bass groove that felt like it was pitched somewhere directly between the occult analogue disco of The Emperor Machine or Padded Cell and the kind of no-nonsense acid revivalism of Andy Blake's Dissident label, whose records from Gatto Fritto and The Off-Key Hat combined low slung disco and mechanical acid to similar effect. Sitting somewhere between the dark Italo disco of Bernard Fevre and some of the more experimental Balearic-inspired productions that were proliferating at the time, I ask if the duo ever saw themselves as reacting to, or against the nu-disco scene of 2008.
"We did not make Brain Machine to fit in the "cosmic disco" scene but it turned out that some of the tracks could be related to this genre," Zen notes. "I like some of the cosmic disco stuff, but I think Brain Machine was less linked to club music, and was more something that you would listen to at home or while driving the car at night."
What Tye describes as the "all-consuming, obsessional movie aspect" was just as much of an inspiration, with Zen citing visionary films of the 1970s such as The Holy Mountian and Aguirre: Wrath Of God alongside books like Mount Analogue by Rene Daumal and Labyrinths by Borges. "It comes back to the idea of creating something where the music, the titles, and the artwork all gel to create a world you can get lost in – a kind of meditation. We wanted to transport the listener to another time and place." Zen explains.
This idea of transporting the listener was something that didn't just come from the music, but the art, and it would seem, the original cryptic press release. Despite the music not being made in The Federated States of Micronesia, it turns out that at least part of the mythology was true. Zen admits that his father was an airline pilot, and for Tye, the strange press release was "an equal part with the imagery and sound", the former of which came in the form of a beautiful gatefold sleeve in a luminescent green hue that added to the otherworldly, sci-fi qualities of the duo's music, designed by Tye and his friend and noted designer Pete Fowler.
"It was very much a collaborative project, Tye explains. "He was looking to experiment more with collage and photographic images and we both like a lot of the same films and music so it worked well. We were able to sit and work on ideas in real time whilst being immersed in the music. It's not something that often happens, and it worked out perfectly. We thought it would be much better for people to hear the music with only obscure listening references, it was an attempt to create a 'whole' immersive world with sound, vision and words." It was the most exquisite sleeve Thisisnotanexit were to put out, and although it undoubtedly still stands as a shining example of design, it was also the most expensive sleeve the label ever put out, which caused major financial headaches for the label.
"It cost a fortune and lost the label money on every copy sold, " Carr explains. "It was our Blue Monday release. Brain Machine would only let me release it if it was mastered a certain way, if Pete Fowler did the art and it was on gatefold LP on 2 x 12-inch. I was convinced it would sell out easily yet there are still a load of copies in my loft. I might even burn the 100 copies I have to increase the value of the 300 that exist!"
It may be 2014, but the Brain Machine legend lives on. The pair released the Alpha Beta Gamma single on Titan's Halo in 2011, and the pair claim that they are sitting on trove of unreleased material which they hope to release "soon". Earlier this year a remix EP which was meant to be released on Thisisnotanexit saw the light of day thanks to Emotional Response, collecting reworks from Steve Moore, Spectral Empire, Unit 4 and Majeure on the appropriately titled The Lost Machine. Incredibly, Carr still has roughly 100 copies of the original album for sale at his webstore, which begs the question, do those involved think the record would have been better received in today's music climate?
Carr isn't quite so optimistic. "Knowing the luck we had with Thisisnotanexit Records probably the same. A few people would love it and the rest would shrug with indifference." Tye on the other hand is more positive. "I don't think the press are ever going to be particularly receptive to an album like this but I think there are always listeners who respond to deeper vibrations. We connected with a lot of good people then, I think we would now." Given that Brain Machine's notable fans included JD Twitch and Simian Mobile Disco, it doesn't seem out of the question that it would find favour with similarly respected figures today.
Do the duo feel any disappointment that the record seemed to pass most people by at the time? "I was certainly hoping that it would have had more attention when it came out," Zen says, "but as we are doing this interview now, six years after its release, it means that the record is still sounding fresh, so it's never too late." Tye is similarly philosophical. "I think in a way it has worked out better this way," he explains. The idea was to create something that we were totally happy with – there were no compromises, the format was right, the art, and the text, and I like the way it just slipped out and now it's 'there'…wherever 'there' is."
Interview by Scott Wilson
Brain Machine is still available through the Thisisnotanexit webstore.