IZWID to release Al Dobson Jr. album
Sounds from the Village Vol​.​1 by the South London-based producer is due next month. 
Despite being only a few releases old, Kutmah's IZWID label is subtly cultivating a status as a barometer for taste. Last time round IZWID dipped into the early archives of Seven Davis Jr. for the illuminating collection The Lost Tapes Vol. 1, laying down a marker for the sounds the Los Angeles-based musician went onto explore with his well-received release for FunkinEven's Apron label. Another Junior is the focus of IZWID's attentions next, with South Londoner Al Dobson Jr. lined up to issue Sounds from the Village Vol​.​1 next month. News of the 15-track collection arrives soon after the announcement that Dobson Jr. has been lined up to inaugurate the Rhythm Section label from Boiler Room's Bradley Zero, and follows a couple of low key releases including a Japan-themed beat tape for One Handed Music, and a white label split release with Tenderlonius issued through the Sounds Of The Universe shop.
Described by the label as "alternating between cosmic vocal rips and a myriad of loose, soul-infused beat tape-style sketches with its digital flourishes," Sounds from the Village Vol​.​1 will probably resonate with anyone who enjoyed the self-titled debut long player from affable half-English, half-Mauritian Mo Kolours. Indeed, the pair are close associates and friends, with Mo Kolours referring to Dobson Jr as a "sound manipulator" of the highest degree in his podcast for RA earlier this year. As with previous IZWID releases, Kutmah himself is responsible for the cover art which is set to be hand-printed on chipboard jacket by Los Angeles-based collective HIT+RUN.
IZWID will release Sounds from the Village Vol​.​1 by Al Dobson Jr. on June 17.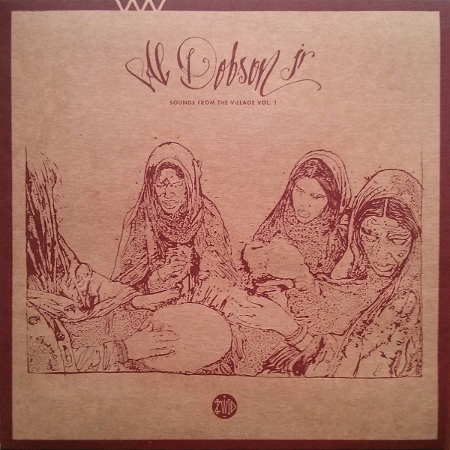 Tracklisting:
1. Garifuna
2. Everybody
3. Dunza Blues
4. Maiysha
5.Silvercrest
6. Sensi Block
7. South East Clicks
8. Work Together
9. Rain Down
10. Tiger Dunza
11. Inner City
12. The Circle
13. Everyday
14. Tomorrow
15. Obeah