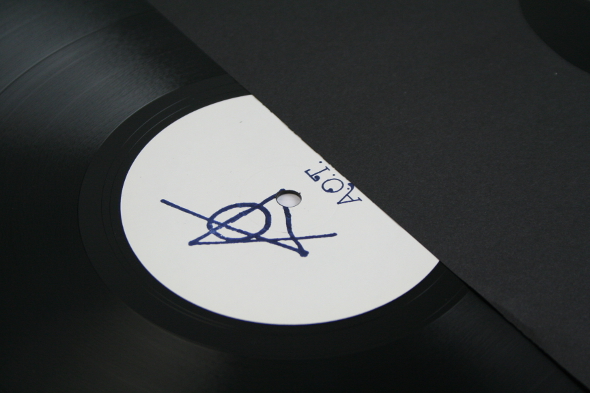 It's not hard to tell that there's a Swedish connection to Vosnos Records when listening to the first release by A.O.T. Coming out of Malmö despite being a subsidiary of Barcelona's Subwax imprint, The Echo comes caked in gnarly sonic muck, trading on that Scandinavian knack for channelling industrial techno into a wildly creative and imaginative end result that takes as much inspiration from layers of rust as it does the hitting of metal objects. For from the pristine monotony of more standard jackhammer wares to be found in other parts of the world, Skudge, Kontra Musik and more besides have demonstrated that the tougher end of the 4/4 spectrum needn't mean a trade off when it comes to interesting sound design and playful track dynamics, and A.O.T. seems fully attuned to this mentality.
This is no more apparent than on the title track "The Echo", which demands attention from the get-go. It's a terrifyingly dense sound, so clamouring and cloying in its sonic make up you would think the producer was agoraphobic, and for that reason alone it's a brilliant techno track. On one level the rumbling undercarriage of booming kick surges forth while a locomotive of top end percussion comes chopping in overhead, but in between these markers come contortionist synth gremlins, a smattering of speech and a positively confrontational siren hype-up. The latter of these elements perhaps defines the appeal of the track the most, sounding conspicuous in its presence (how often do dubwise party sirens appear in serious techno tracks?) but ultimately lightening the mood while stirring the cauldron of chaos all at the same time.
"Sure Man I Follow" is a slightly less raucous beast, although there's still no let-up in the crackling detail with which the track is rendered. The rhythms are simmered into a lean whole that twists and turns but knows its place, leaving ample room for shapeless texture to fill the space in between, but here the hook is achieved from a bewitching pad seemingly crafted from the angelic coo of a woman's voice. In the midst of a decidedly murky, reverb soaked workout, it's an inspired juxtaposition that positively chills as it soothes.
Of all the tracks "Grava Dike" is perhaps the most industrial, expertly crafted to have the disposition of a chugging machine chewing its way through discarded car parts. Compared to the other tracks there's also a bit more breathing room left in the track, and without the weighty pads and tones the finer surface grit on each and every percussive hit comes into glorious high-definition. After all, this is not dirty techno as played out on budget equipment with low production values, but rather an exercise in crafting the most tangibly grotty sound possible and letting the mind revel in every minute touch of sonic depravity.
Some may find A.O.T's approach a little too much, and the intensity of the sound palette will certainly make a few DJs nervous, but this is techno not made with a play-it-safe mixable attitude. Rather this is electronic music for twisted souls and techno deviants, and if you're that way inclined 12"s do not come much more exciting than The Echo.
Oli Warwick
Tracklisting:
A1. The Echo
B1. Sure Man I Follow
B2. Grava Dike