Todd Terje – It's Album Time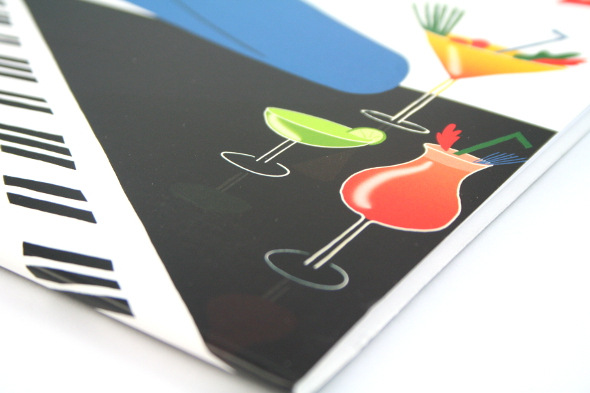 Glance at the illustrated Terje on the cover looking despondent in his leisure suit with a plunging neckline, fancy cocktails strewn about his piano, and it's obvious that we are in the realm of parody. Todd Terje has always been a bit self-deprecating, placing himself willingly in the nu-disco camp (a genre-tag that many think has the same inherently negative qualities as a word like "hipster")  and agreeing wholeheartedly at Norwegian state-funded radio's  assertion that "Inspector Norse" sounds like elevator music. According to a recent interview, album opener Opener "Intro (It's Album Time)" was chosen with "It's Money Time" losing out as a close second.
So, even though Terje comes across as apologetic and apologetic to a fault, it's clear that he gets a kick out of mocking his own pathos. "Intro (It's Album Time)"starts things off in the most hyperbolic way imaginable – with a voice (perhaps Terje's own, judging by the Norwegian tinged inflection) repeating the album's title over and over, ending with a dramatic explosive flourish. It's fair warning that chin-stroking intellectualism isn't the goal here. "Leisure Suit Preben" and "Preben Goes to Acapulco" are technically two tracks, but Terje stitches them together effortlessly. They both seem to take some inspiration from the tropically-minded "Since I Left You" by The Avalanches, with tinkling, ethereal piano keys, ascending strings, and unexpected variations, evoking images of bearded Terje dressed in cocaine-white two piece suit walking off an airplane in slow motion. The only shame is that with both tracks only weighing in at four and a half minutes, they only hint at Terje's potential to draw the most out of them – "Preben Goes to Acapulco" ends on a tantalizing bongo breakdown that's begging for a 10-minute, drawn out 12″ version.
Hearing Terje work within the limitations of an LP is interesting considering his production history. Responsible for a deluge of edits over the last five years, his area of expertise has traditionally been extending pop songs into marathons of build-up and release, sustaining an idea until it pushes through to a maximalist finish. In this sense, his decision to condense previously released track "Strandbar" into half its original runtime robs the production of some of its cathartic release, while still showing Terje can dispense euphoria quite efficiently.
"Delorean Dynamite" is Terje's Moroder-esque Speed Racer theme, an optimistic Kavinsky riding through Miami at dusk, tipsy off wine coolers. While it doles out the same instantly-catchy sentiments as "Strandbar", Terje makes a wise choice to slow things down for the Bryan Ferry featuring cover of Robert Palmer's "Johnny & Mary". Production wise, it's the most reigned-in Terje has ever been, letting Ferry's aging, liquor-stained vocal chords drift woozily across the song, almost as if they're being whispered. Sounding like a guy who lost everything at the races, Ferry's aching sense of loss is heightened by angelic female voices harmonizing in the background. It's a gorgeous slow number, fitting for an end-of-night closer, and it makes one wonder what other collaborations Terje could get involved in.
"Alfonso Muskedunder" attempts to wrench the mood 180 degrees in the opposite direction; a song that sounds like a Monty Python sketch in both name and melody – live jazz instrumentation, chirped vocal harmonies, and chunky, rollicking synth piano lines played like Terje is improvising a guitar solo at a stadium rock concert. It's a pleasant distraction, but feels better suited to the opening credits of a frenetic Ren & Stimpy-esque TV show. Here, this writer's enthusiasm for It's Album Time dips slightly – anyone who's heard his It's The Arps EP in full may be disappointed by the fact that "Swing Star pt. 1 & 2" are both included – and although they're both the kind of bubbling, optimistic shimmering pop numbers that sound right at home in the album,  Terje acknowledges that his partner's pregnancy affected the amount of time he could devote to the LP, recently telling Juno Plus "I think it's boring when you buy a new project and it's full of old tracks. Now it's one-third old tracks, so I feel slightly ashamed…"
Still, one can't be too mad at Terje for trying to feed his family, especially in light of the final new offering, "Oh Joy", a careening cosmic ballad that takes its title quite unironically. It's the joy of Gino Soccio's "Dancer" mixed with Lindstrom's spaced-out pacing, a thoroughly satisfying ending to affairs that stays true to Terje's 12″ work, extending over seven minutes. After that, we're just left with "Inspector Norse", which you've most likely heard at a summer festival, on the radio, drifting out of a neighbour's apartment. It's one of the most ubiquitous dance floor tracks of the last few years for good reason, the breakdown at the four minute mark never failing to open the endorphin gates and drench listeners in positivity. The only difference is that this version of "Inspector Norse" ends with thirty seconds of a festival crowd cheering and singing the song's rhythm – a good reminder that even if It's Album Time relies on Terje's previously released productions to buffer the final product, he's got plenty of laurels to rest on.
Brendan Arnott
Tracklisting:
1. Intro (It's Album Time)
2. Leisure Suit Preben
3. Preben Goes To Acapulco
4. Svensk Sås
5. Strandbar
6. Delorean Dynamite
7. Johnny and Mary (feat. Bryan Ferry)
8. Alfonso Muskedunder
9. Swing Star part I
10. Swing Star part II
11. Oh Joy
12. Inspector Norse