Software announce Sculpture album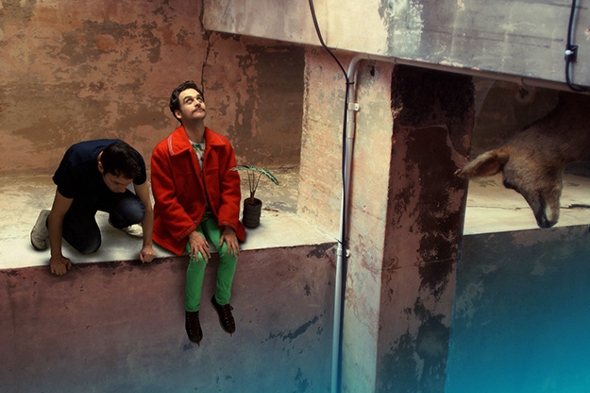 The self-described "sound and vision conglomerate" will issue Membrane Pop through Software in May.
Formed of British musician Dan Hayhurst (who will be familiar to They Came From The Stars (I Saw Them) fans) and New Zealand animator Reuben Sutherland, Sculpture have been creating what they describe as an "unstable agglomerate of fractured post-techno dancefloor mutations, cybernetic electronics, and pop" for quite a few years. Though the pair have issued a couple of picture disc albums through the Dekorder label, it was really their Slime Code cassette release for the Limited Dubs series from patten's Kaleidoscope label that brought the work of Hayhurst and Sutherland to wider attention.
Originally released on Valentines Day back in 2012, Slime Code was subsequently given a much needed vinyl press courtesy of Brad Rose's Digitalis label, and it has now been revealed Daniel Lopatin's Software label have scooped up Sculpture for a new album. Due in May, the nine-track Membrane Pop is the fifth Sculpture LP to date, and is described on an excitable press release as a "phenomenological approach to sound and performance". Hayhurst himself expands on the album, stating his aim to make a "coherent, adventurous electronic pop record with its own voice and identity". Those unfamiliar with Sculpture's unique sound can bask in the video for the wonderfully chaotic album track "Polymorphic Operator" below.
Software will release Membrane Pop by Sculpture on May 12.
Tracklisting:
1. Materialising
2. Multi-Faith Capsule
3. Symbolic Molecule
4. Unhitch Your Program
5. Polymorphic Operator
6. 5 Seconds In The Future Is A You Made Of Pure Thought
7. Hackle Scam Populator
8. Distraction Display
9. Lingual Junk