The Sky Is Yours according to 40 Thieves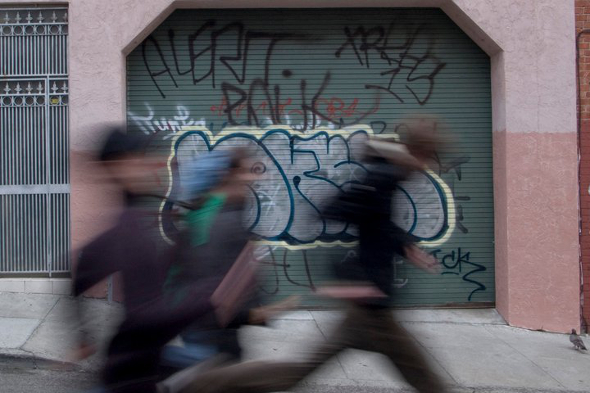 The Rong Music collective will release their debut album on Leng Records next month. 
Formed of a core crew of Layne Fox, Corey Black & Jay Williams, 40 Thieves have nonetheless been a constantly fluctuating collective since their emergence a decade ago, calling on the talents of local San Francisco-based musicians and producers where neccessary. If you got caught up in the whole disco-punk explosion led by DFA Records then you invariably own at least one 40 Thieves 12″, and since their debut on Redux way back in 2007 40 Thieves have chosen their output wisely. A close bond with the underrated Rong Music label has been formed, whilst 40 Thieves have also graced Permanent Vacation, Tirk, Strut, Public Release and Claremont 56 offshoot Leng in one form or another. The 2009 Beats In Space EP for Rong Music remains a particular favourite of the 'edit era' at Juno Plus HQ.
Having released a couple of 12″s for Leng, it has now been revealed 40 Thieves will issue their debut album through the label next month, with The Sky Is Yours a rather weighty 20-track set that should offer the collective the space to cram in all their various influences. Indeed, a press release for the forthcoming album states "whether they're creating cosmic odyssey soundscapes or lazy mutant house, 40 Thieves like to interweave live instrumentation with programmed electronics, their sound would be equally at home at the Mudd Club circa 1983 or in the headphones of an Ibiza beachgoer circa 2083." Given the length of the album, Leng have elected to issue the vinyl edition in two separate gatefold double LPs each containing ten tracks, while there will also be a CD edition containing all twenty tracks.
Leng will release The Sky Is Yours by 40 Thieves on April 7.
Tracklisting:
1. The Sky Is Yours feat. Alona
2. List of Two
3. Rhythm Queen
4. JP Soul
5. Les Planétes feat. Qzen,Alona
6. Face Full of Fur
7. Escape
8. Steady feat. Alona
9. Backward Love
10. Drum Sum
11. Outer Mission
12. Carousel feat. Alona
13. Automagic
14. In Your Space
15. Zott Enough
16. Crystal Mountain Thunderlude
17. Yamobeecha
18. You Wanna feat. Alona
19. Being in Love
20. The Sandpiper