Prostitutes – Truncheon Cadence (Part One & Two)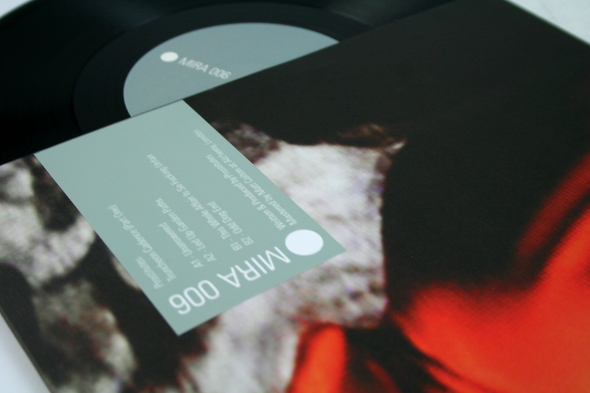 Truncheon Cadence is the latest transmission to emerge from Cleveland-based James Donadio, also known as Prostitutes, and released on Avian's Mira offshoot. Headed by Shifted and Ventress, the Prostitutes release marks a welcome addition to a consistent label, coming in the form of two 4 track EPs, released in succession over the course of two weeks. Under the Prostitutes guise, Donadio has previously released on Digitalis and Diagonal, as well as his own StabUdown label, which according to its website, "specialises in uncompromising sounds and thoughts." With this spirit in mind, Donadio makes rigid techno structures, where crushing minimal beats meet lo-fi synth experimentation.
In some ways, the tracks on Truncheon Cadence present perhaps a more stripped down approach to previous Prostitutes releases, but plenty of ground is covered by the brooding basslines that stagger throughout this double EP set. "Unanswered" introduces a track of primitive drum patterns, executed with icy mechanical discipline, minimalism that has become associated with the Prostitutes project throughout its releases. In the same vein, ""Led Up Golden Paths" is propelled by stark percussion, with drums that are drenched in billowing drone, perhaps evoking feelings of some of Prostitute's noisier works. Crisp percussion is surpassed by snarling textures; that slowly evolve into swells of mutated electronics. Crunchy bass engulfs "The Whole Fucking Affair is So Unfair" with hollowed-out synths that expand over the scuzzed-up percussion that lies beneath. Taking on a more upbeat tone, "Odd Dog" feels brighter than the other tracks, dwelling in the higher frequencies, while also retaining frosty undertones that can be found throughout the rest of the EP.
With part two of the EP release, "An Enormous Door" opens with harsh clattering drums that are claustrophobic in force. Along with similar industrial tones that were found in the first EP, this initial track feels more jagged and raw in quality. "Bomb Splintered" stands out, spurring an endorphin fuelled frenzy that brings to mind the relentless force of Helena Hauff's Actio Reactio release. The aptly named "Smouldering Wilderness" is slightly terrifying, with highly strung synths providing the perfect horror film soundtrack. "Rigid Pathetic Heaps" provides some relief from the tension, though not for long, with creaking percussion and a snakelike baseline, slightly jarring drum patterns that close the second EP. Uncompromising in both force and intensity, this double release refuses to stagnate in the comforts of a tried formula, challenging the listener with harsh minimal structures that deconstruct previous noise-drenched work.
Chloe Frieda
Tracklisting:
A1. Unanswered
A2. Led Up Garden Paths
B1. This Whole Affair Is So Fucking Unfair
B2. Odd Dog End
C1. An Enormous Door
C2. Bomb Splinters
D1. Smouldering Wilderness
D2. Rigid Pathetic Heaps