Arturia – KeyLab 49 controller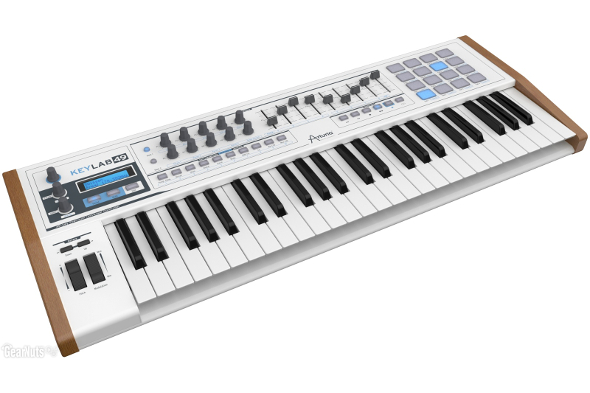 Rob Lee looks at the KeyLab 49, French software specialists Arturia's first foray into the world of keyboard controllers.
Although on first glance there is little to distinguish Arturia's KeyLab from major controllers from Novation, M-Audio and Akai, the French company have taken a different approach in almost every other aspect of their new line. Firstly, they have designed their controllers for use with their very own Analog Lab soft synth, featuring all of the best programmes from their impressive line of  classic analog synth recreations, such as Moog, Prophet V, CS-80, Jupiter 8, Arp 2600 and more, all in soft synth form. Secondly, they have given their new line a distinctly feminine veneer with lots of white, blue and a hint of a wood finish that makes it decidedly chic in the looks department. Finally, they have given it the sort of sound build quality that renders it so robust that a platoon of green berets would struggle to defuse it.
On unsheathing the KeyLab we are presented with a 49 note keyboard (also available in 25 and 61 key versions) that features velocity and after touch. The keys are described as semi-weighted, a definition that can be somewhat confusing as these keys are most certainly not like those found on a piano, and indeed, such a design on a controller of this type would be both impractical and undesirable. These keys are the kind that you would find on most synthesizers, including Arturia's well turned out MiniBrute analogue synth. These days a keyboard controller is expected to do a whole lot more than handle just the pitch information and to this end the KeyLab also presents 16 touch and pressure sensitive pads. In addition, there are nine faders that have been labelled "Filter ADSR" and "Amp ADSR" (with one to spare), not forgetting the ten endless encoders that, along with the pitch bend and modulation wheel controls complete the tactile controls presented at first glance. All of the controls are then effectively doubled by the inclusion of two bank buttons that allow you to quickly switch between the two levels of control.
Feedback comes from a 32 digit LCD screen that is simple but effective, and gives you an immediate indication of what area of the controller you are manipulating as soon as you change a parameter. There is a dedicated volume knob and two parameter change control knobs along with 10 assignable buttons and six transport buttons for controlling your DAW of choice. If you are after a longer range than 49 keys then you are in luck, as it is possible to change the octave position by  three octaves in either direction. All of the controls, including the keyboard, feel just right, especially the blue backlit pads that have a solid feel to them and offer additional feedback by illuminating when played. The 49 key version tested here has the pitch and modulation wheels placed comfortably at the side, though the 61 key version sees them placed troublesomely above the keyboard. However, there are plenty of old classics that have experimented with pitch and mod wheel types and positioning, none to their detriment.
It would be impossible to talk about the KeyLab without mentioning, in depth, the tight integration that it has with the Analog Lab software that comes as a free download when you buy any of controllers from the KeyLab line. After downloading, installing and registering your software on your Mac or PC, you are ready to make use of some of Arturia's more well known sounds. Arturia are perhaps best known for creating the most realistic emulations of classic analogue keyboards using their TAE (True Analog Emulation) technique for modelling the behaviour of analog circuits on a computer and with the Analog Lab they have taken all of the best patches from their mini Moog, Moog Modular, CS-80, Arp 2600, Prophet, SEM, Jupiter 8 and Wurlitzer 200A emulations and presented them in a soft synth with some very handy tricks up its sleeves.
"With the Analog Lab they have taken all of the best patches from their mini Moog, Moog Modular, CS-80, Arp 2600, Prophet, SEM, Jupiter 8 and Wurlitzer 200A emulations and presented them in a soft synth with some very handy tricks up its sleeves"
First of all, browsing and choosing patches can all be done from the hardware controller as the keyboard maps directly to the software. All of the control surfaces on the keyboard are assigned to parameters in the software for immediate tactile control and it is of course possible to save any edited patches for recall at a later time. You can organise multi-layers using two different patches or create keyboard splits for convenient live use or choose from the 200 layered multi-patches that come out of the box and mix them in different ways, including adding FX. For live players, there is a simple drag and drop arena that has been created to ease the burden of searching through pages of menus to find the right patches. You can organise them all pre gig with the live editor. The Analog Lab software has a chord mode that gives you the option of using the pads to play specific chords, thus freeing up more head space and fingers for tweaking the controls. It's also possible to assign favourite patches to be instantly pulled up by programming any of the easy touch buttons. If you want to change what a single control surface is commanding then editing is simple as the layout of the KeyLab is emulated in the software so all you have to do is find the offending control surface in the software and use the dropdown menu to change, for instance, the filter cut off control to an LFO rate.
Having all of these patches at your fingertips is all well and good, but what if you already own some of the soft synths featured in Analog Lab? Those who already own some of Arturia's extensive range of soft synths are also catered for, making it possible for Analog Lab to detect those soft synths, as well as making it possible to incorporate any of your own creations under the Analog Lab umbrella, allowing you to make splits or interesting layers or for organizing into a live set, or even for further editing using the tight integration with the KeyLab 49. One drawback with the software is that changing a patch mutes the previously playing patch and any FX that might be in use, making for a less than smooth transition between sounds. But, its powerful editing and real time performance controls are faultless and more than make up for this minor detail.
As a MIDI controller over USB, it goes without saying that it is possible to use the KeyLab 49 with any software you might choose, including DAWs such as Ableton Live or Logic Studio. For more in-depth MIDI control mapping and editing, Arturia have made their MIDI control centre software available to download, free of charge. The software will work as a standalone program or you can open it up in your DAW and it comes in 32 & 64bit RTAS and AU formats. The hardware is powered by the USB bus but also has a DC power input if you need to use it away from a computer. It also comes with a breath control input as well as the more standard sustain pedal, expression pedal and auxiliary control inputs. The KeyLab series also features traditional MIDI I/O ports for integration into non computer based setups.
Overall the KeyLab 49 is a flexible controller that has tight integration with Analog Lab software as well as the ability to map to any software you can think of. The solid build quality makes it the ideal candidate for taking out on the road, and its reassuring (but not overbearing) weight will make sure that it isn't accidentally knocked from a keyboard stand. Its main competition comes in the form of the Novation Launchkey keyboard controller that also features pads, knobs and faders, but is more suited to the control of DAWs such as Ableton Live. With larger pads and a layout suitable for working in the studio with your DAW, or equally out on the road in a band situation, the KeyLab 49 from Arturia is a powerful MIDI controller that ships with some inspiring software designed to improve your work flow. If you are need of a solid all-round keyboard controller that is flexible enough to be suitable both in and out of the studio and ships with some great sounding software then the KeyLab series from Arturia is well worth further investigation.
Rob Lee
More info/Buy
Specifications:
| | |
| --- | --- |
| Power | DC 5V (or USB bus power) |
| Pads | 16 backlit touch and pressure sensitive pads |
| Faders | 9 x faders |
| Buttons | 10 x soft touch buttons |
| Rotary Encoders | 10 x rotary encoders |
| Keys | 49 touch sensitive, semi-weighted w/after touch |
| Wheels | Pitch bend and Modulation |
| Connections | MIDI I/O, USB, Breath control, Sustain pedal, Expression pedal, Auxiliary control |
| System Requirements (PC) | Windows 7/8 32bit/64bit, 2GB RAM; 2Ghz CPU (multiple cores required) |
| System Requirements (Mac) | OS X 10.6 or higher Intel only, 2GB RAM; 2Ghz CPU (multiple cores required) |
| Screen | 32 digit LCD screen |
| Dimensions (cms) | 79.1 x 29.6 x 70 |
| Weight (kgs) | 6.2 |