PAN outline upcoming release schedule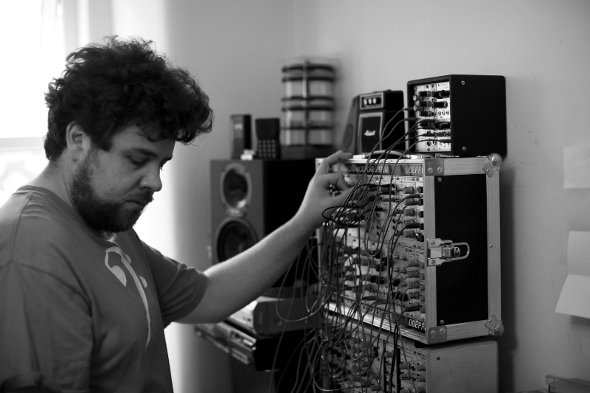 New material from Bass Clef, Beneath, Black Sites amongst the next few months releases from PAN.
The Berlin-based label overseen by Bill Kouligas always seem in the midst of a torrent of releases and following the arrival of The Hollow Organ from Luke 'Helm' Younger, a veritable extravaPANza of upcoming material has been revealed through the medium of RA and private Soundcloud links. First up, next month will see the excellent Bass Clef (pictured above) make his PAN debut with Raven Yr Own Worl, a four track EP that looks as if it will embrace the dancefloor in a manner similar to his excellent Punch Drunk album Reeling Skullways if the track "Self-Perpetuating" is any indicator.
Subsequent to this, Italian producer Valerio Tricoli will return to the label with a full solo album following his 2011 split LP with Thomas Ankersmit. Those with pockets deep enough to grip the split cassette of exclusive material with Bill Kouligas that Boomkat were offering over the festive period will have an idea of what to expect from the eight track LP Miseri Lares. March will see another label debut in the shape of London-based producer Beneath, whose self-titled EP follows releases on Tectonic, Keysound and his own No Symbols label and was first hinted at in Bill K's XLR8R podcast last year.
Perhaps most exciting for us is Unit 2669, the welcome return to PAN of Golden Pudel duo Helena Hauff and f#x as Black Sites which is pencilled in for an April release with the title track a scorching example of their extended straight to tape electro. Beyond that, RA report the Berlin newcomer M.E.S.H. will make their PAN debut with a five track EP though there is no confirmed release date for it.
PAN will release Raven Yr Own Worl by Bass Clef on February 17, and the Miseri Lares LP by Valerio Tricoli on February 24, The subsequent releases from Beneath and Black Sites are scheduled for March and April respectively but PAN release dates tend to be a malleable concept.
Bass Clef – Raven Yr Own Worl EP Tracklisting:
A1. Self-Perpetuating Fun Loop
A2. Fluorescent City Shining City
B1. Euphoric Nihilism
B2. Adventures Unventured, Tenderness Untendered
Valerio Tricoli – Miseri Lares Tracklisting:
A1. La Distanza
A2. Hic Labor Ille Domus Et Inextricabilis Error
B1. Error
B2. In The Eye Lf The Cyclone
C1. Das Schräg Haus
C2. Le Qoheleth ✚
D1.. Miseri Lares
D2. In Your Ruins Is My Shelter
Beneath – Beneath EP Tracklisting:
A1. Bored 2
A2. Occupy
B1. One Blings
B2. Stress 1
Black Sites – Unit 2669 EP Tracklisting:
A. Unit 2669
B. Москва