Shackleton – Freezing Opening Thawing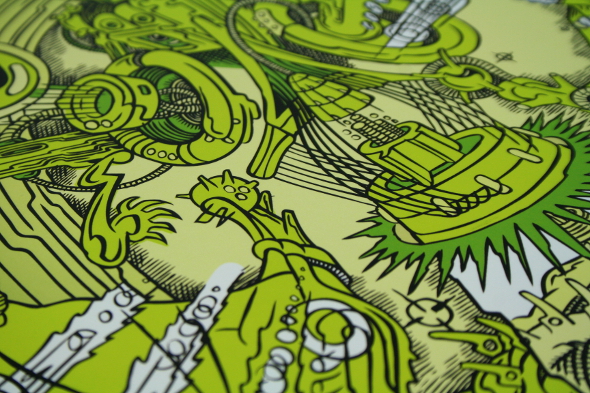 It's pretty impressive that nearly 10 years after the inception of Skull Disco, there's still nobody that sounds quite like Shackleton. Traces of his polyrhythmic flutter and dubwise atmospherics can be found in the recent output of Livity Sound and a host of other producers taking dubstep's DNA into ever stranger realms, but there's nobody that has ever matched his ability to create such an all-encompassing whirlwind of inverse rhythmic pressure. Unlike former collaborator Appleblim – who recently made a foray into effervescent house music – Shackleton has never been one to completely switch up his sound. Having said that, with each record there's the distinct sense of a producer creating new rules within his own discrete system – the difference between his Deadman and Fireworks releases for Honest Jon's for example is pronounced, although they both fit very comfortably within his established style.
Shackleton's Woe To The Septic Heart label has allowed the producer to take these concepts to ever more unusual places. In 2012, The Drawbar Organ saw him use an old electric organ he had acquired used to create three EPs, while the accompanying Music For The Quiet Hour saw a single 60 minute composition spread across five tracks. In Freezing Opening Thawing, Shackleton engages in his simplest, but perhaps most radical experiment: the use of synthesis. The producer's move towards synthesis methods may not have changed the structure of his music that much, but the difference in tone is pronounced, resulting in an EP whose minimalism sounds more like early computer music of the 1970s than anything rooted in dubstep.
Anyone expecting reverb-soaked forays into malignant landscapes will be in for a shock. The vivid marimba tones that ripple throughout the title track are perhaps most reminiscent of Laurie Spiegel's 1975 computer music composition "Drums" or Heatsick's more recent forays into Casiotone house, with a freneticism and timbre that mirror the music of Soweto's Shangaan electro scene. Despite these reference points, everything is very much steeped in Shackleton's structural signature, with the arpeggiated MIDI melodies and writhing square wave propelling the sound into a turbulent rhythmic wormhole. "White Flower With Silvery Eye" is similarly caffeinated, combining a succession of glassy tones with a synthetic chorus that blooms out from the background like digitally added lens flare. It's not a million miles from the material that made up The Drawbar Organ, but it sounds much more sharply drawn into focus.
It's only "Silver Keys" that offers the sort of ominous bass swell we might have come to expect from Shackleton, but it's less an engulfing blackness and more the gaudy multi-tentacled being present on Zeke Clough's cover, complete with melodies that sound like the background chatter of a tropical rainforest. It's obviously no coincidence that longstanding visual collaborator Zeke Clough's cover art has become more vivid as the Woe To The Septic Heart label has grown, as it reflects the very subtle shift in his music away from blacker, more paranoid moods, towards something more explicitly psychedelic. If Shackleton continues along this trajectory, Freezing Opening Thawing could be only the beginning of an exciting new phase in his career.
Scott Wilson
Tracklisting:
A. Freezing Opening Thawing
AA1. White Flower with Silvery Eye
AA2. Silver Keys