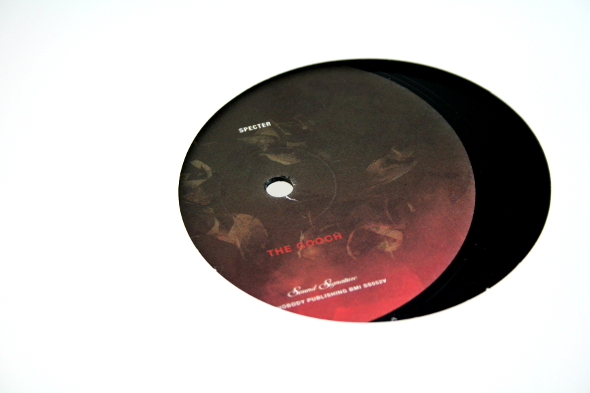 The Gooch sees Chicago native Andres 'Specter' Ordonez make a welcome return to Sound Signature with a more conclusive offering of his quite mind-bending slant on techno, having debuted on Theo Parrish's label in distinct fashion with that most unsummery of summer hits Pipebomb. The story goes that "Pipebomb" was a personal weapon of choice for Ordonez for some four years before Parrish signed it to his label in 2010, and whilst the track's intense fusion of booming techno, unhinged acid and Sheffield style bleep might have shocked Sound Signature fans weaned on a diet of muddy deep house it remains a track filled with potent psychedelic qualities.
Though Ordonez has hardly been quiet in the subsequent period, contributing music to NDATL and Semantica releases, he's one of those producers whose select output tends to get lost amidst the sheer volume of new records released on a weekly basis. A new 12" for Sound Signature is a good place to check in and see how the Specter sound is shaping up and the three tracks here find Ordonez in a particularly unhinged wormhole. This is no more apparent than on the A-Side title track which has mixtape opener written indelibly into its sonic DNA, commencing in a manner that is both unfriendly to fans of beatmatching and has you second guessing what the correct speed is.
It takes the appearance of a muddy bass kick for "The Gooch" to make rhythmic sense in your head, though what follows is hardly straightforward club music. Anchored by a sole deviating key line tinged with just the right amount of acid, the remainder of the production consists of garbled vocal samples, hissing percussive touches and faltering machine sounds. Weirdly it feels similar in execution to the first Copicat Tracs release from Watkins & Almadovar released early last year, though tipped more in favour of the floor than that particular oddity.
The flip side finds Ordonez putting aside the garbled strangeness of "The Gooch" in favour of two shorter productions. His predilection for acid is most prominent on "Zodiac" where classic Roland manipulation is the constant around which Ordonez's drum machines of choice are given a concerted work out. Whereas that DJ tool is characterised by its tracky forward momentum, the closing production "Body Blow" seems to be aimed upwards, taking on an urgency similar to someone trying to escape being buried alive. Little more than a cavalcade of scurrying percussive textures and rubbery keys, it's a production that you feel could have come from Parrish's own mind.
Tony Poland
Tracklisting:
A1. The Gooch
B1. Zodiac
B2. Body Blow