Scratching The Surface: Overlooked gems of 2013

Scott Wilson looks outside the end of year lists to collect some of the year's more overlooked records.
To some degree or another I imagine everyone who writes about music must suffer some kind of post-list anxiety at this point in the year, when the "Best Of" lists have all been published and you start to kick yourself for not including – or even having time to listen to – records which probably should have been chosen over that big release you didn't really enjoy that much but felt you needed to pick just to go with the general consensus. This year has been worse than ever, as a few of my personal labels of 2013 released enough to fill a best albums list alone, while the sheer amount of quality music released simply meant that keeping on top of it all was near impossible. In all honesty, there are people out there I interact with on Twitter on a regular basis who don't even write about music and have probably listened to more than I have.
When this column started nearly two years ago, it was originally meant as a means to collect albums and 12"s that for whatever reason or another we simply didn't have the time, or the words, to give full reviews to. Although that has changed to incorporate overviews that are more thematic or conceptual, for the last Scratching The Surface of 2013 it felt right to take things back to its roots, and highlight a few things  that for whatever reason got overlooked either in our lists or this year in general.
Jar Moff – Commercial Mouth/Financial Glam (PAN)
It's not clear quite whether Jar Moff has done anything to upset Bill Kouligas, but on the basis of the timing of his two releases of 2013, it seems that he is at least the unluckiest member of PAN's roster this year in terms of scheduling. Commercial Mouth, the Greek artist's first LP of the year arrived in darkest January, while Financial Glam arrived in the tricky period after the lists have been decided and before Christmas, but truly, these records occupy an uneasy space – long enough to be LPs, but with only one (very long) track per side. Like the longform compositions of WANDA GROUP, Jar Moff's music is a sonic collage, though unlike the work of that prolific artist, who stretches his sounds into a tender approximation of infinity, Moff's approach is much more hectic, slicing up sound and music into fragments that propel themselves through time and space with the speed of a shattered mirror being propelled through a vacuum tube.
Despite the 12 minute running times of both of the tracks on Commercial Mouth, they don't feel as if they progress through movements as such, rather they feel locked in a chaotic and often terrifying stasis of panic and anxiety, and feels like the logical postmodern counterpart to Moff's Greek countryman Iannis Xenakis' work. Speaking with The Quietus earlier this month, Moff explains how he starts with a large archive of sounds and cuts it up, whittling it all down and adding only the pieces that correspond to the greater whole. It's a process that creates music that seems impossibly detailed and as scattered as the human mind's average thought processes when the brain is idling, and listening to Moff's music is something that demands full concentration. These demands are even higher on Financial Glam, the follow up that supposedly reflects the political turmoil of his Athens home. It's not easy to make such abstract music with an explicit political dimension, but the anxiety induced by both tracks (which are over 20 minutes in length) reflects the confusing and paranoid nature of existing in a time of great financial turmoil – whether you're based in Greece or anywhere else in the western world.
DYNOOO – Mesh N2 Air (Astro:Dynamics)
It didn't even really occur to me how interesting Astro:Dynamics have been in 2013 until Digitalis boss Brad Rose named them one of his favourite labels of the year on Twitter. The label's aesthetic has really started to crystallise into something very tangible since the release of the excellent debut EP from 1991 at the end of last year, and everything put out this year has continued in the same adventurous vein – Dave Saved's Prisoners Of Gravity and Best Available Technology's Excavated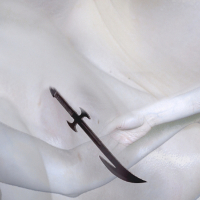 Tapes 1992-1999 Vol 1 delivered some exquisitely woozy and stuttering analogue techno that stood apart from the noisier paths being ploughed by some labels, while Brooklyn-based Lotide's Moonless provided some mindbending electro-acoustic tones that come across like the perfect combination of WANDA GROUP's atmospheric sound collages and shimmering, experimental West Coast hip hop.
My favourite release from the label this year however was the Mesh N2 Air EP from Belgian producer DYNOOO. Even among the label's varied offering this year it stands out, displaying a high resolution sound that is reminiscent of both Japanese video game soundtracks, late '90s trance and hip hop. In a sense it's not that far removed from the aesthetic of most current chart R&B, but Mesh N2 Air takes that aesthetic and turns it into a prismatic array of muted colour and sharp focus textures. Given the sheer amount of lo-fi house music, industrial techno and jungle revivalism I've listened to this year (and enjoyed a lot of, it must be said) Mesh N2 Air came as the welcome breath of fresh air I didn't really know that I needed.
David Kanaga – DYAD (Original Game Soundtrack) (Software Recording Co.)
One of the unexpected upsides of Daniel Lopatin releasing his latest album as Oneohtrix Point Never on Warp this year has been that his Software imprint has been allowed to breathe a little more. Like Astro:Dynamics (with whom it shares some similarly vivid aesthetics), this year has seen Software coming into its own with a strong and diverse collection of releases from Autre Ne Veut, Co La, Slava, Pete Swanson and of course Huerco S, whose Colonial Patterns was one of the year's best LPs.
Software's most unusual record this year however was David Kanaga's soundtrack to the PS3 video game DYAD, an abstract puzzle shooter with hints of the cult Dreamcast game Rez and classic Super Nintendo racer F-Zero.
In Japan, video game soundtracks are generally held in higher regard than they are in the West – the Final Fantasy series and games like Ico are some of the best examples of genuine composition that show there's more to the artform than 8-bit textures – and David Kanaga's DYAD soundtrack receiving a full release on a label like Software is something to be applauded. Loosely speaking, its hyperactive, trance riddled fusion of early '90s rave, techno, drum & bass and Eastern pop motifs slot into the same hyperreal musical category as recent records from James Ferraro, Egyptrixx and Logos, presenting a self-contained musical environment of loading screens, menu jingles and music turned on its axis by 90 degrees. If Lopatin were to release more video game music in 2014, it would be no bad thing, especially if it's as much of a rush as DYAD.
Barnett + Coloccia – Retrieval (Blackest Ever Black)
When you give your label a name like Blackest Ever Black, you're practically inviting yourself to become pigeonholed, but the operation had one of its best years by taking that idea and exploring it a seemingly infinite number of ways. The label let in metal from Raspberry Bulbs, introspective bedroom pop from Secret Boyfriend  and an unexpected issue of the Red Riding soundtrack, while Dalhous and Tropic Of Cancer offering more illuminated takes on the label's key concept, letting some much needed light shine on things. The one release that has unexpectedly become probably my favourite BEB release, not just of the year, but possibly ever, is Retrieval, the debut LP from Barnett + Coloccia. I'm not going to pretend I'm familiar with the duo's solo work, but from what I can gather, Retrieval is pitched somewhere between their respective work in the underground noise and experimental spheres. That background really doesn't prepare you for just how unique Retrieval is within the Blackest Ever Black canon.
"Harbor" opens the album with an almost baroque procession of harpsichord-like synth keys and synthetic strings which unexpectedly morph into the kind of rising analogue dread most commonly favoured by John Carpenter. It's a theme continued on "Switch", whose glassy tones and lumbering rhythms could easily be used as a soundtrack for any number of early '80s horror movies. Despite that, Retrieval is not a reverent exercise in going over well-worn tropes. The sublime "Hallway", whose slowly evolving pads and sparking keys gradually simmer off into a higher and higher pitch range is more reminiscent of Bee Mask, while the title track, with its pastoral chords evokes Cluster & Eno's collaborations in the late '70s. Although the LP was made in just three days with an array of vintage equipment, Retrieval never feels fetishistic or overly reverent, and despite the inevitable darkness that you'd expect from a BEB release, it's the delicate balance of gravelly bass and thin shafts of audible light that make this the ideal listen for those who may have previously felt the label too impenetrable.
Ital – Throbbing/Nodding (Lovers Rock)
Since he inaugurated 100% Silk with the excellent Ital's Theme back in 2011, Daniel Martin-McCormick has been one of the more difficult figures of the US house underground to pin down, with last year's skewed sample-based productions on Planet Mu giving way to a deeper, more hypnotic sound on this year's fantastic release for the equally esteemed Workshop Records. Last month Ital revived his Lovers Rock label with the Throbbing/Nodding 12″, which was unfairly overlooked at the time given that the two tracks on it are just as good as – if not better than – Workshop 18.
It's difficult to know whether Martin-McCormick is having a joke at the expense of music writers with the track titles on this 12" – both "Throbbing" and "Nodding" could feasibly be the most used words to describe his frenetic yet sleepy brand of dance music. If there's any such thing as "peak time" Ital however, then these tracks are probably it, outdoing his recent collaborations with Jamal Moss for sheer forward momentum. It's Martin-McCormick's unmistakable delicacy that makes these tracks though, manifesting itself in chords that drape themselves like velvet over the rhythms in "Throbbing" and the swooning pads that provide the backdrop for the "Nodding", whose chirping textures sound like interstellar radio waves bouncing off space junk. Martin-McCormick has plans to expand Lovers Rock with releases from other producers next year, and given the strong aesthetic his music has developed, it will be interesting to see how that feeds into his curation of the label.
Scott Wilson