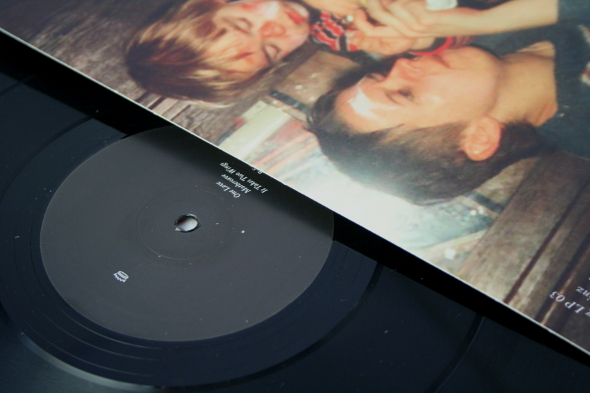 The last two bodies of work from the one producer met with as much fervour as this year's Prince Of Denmark and Traumprinz albums was probably Andy Stott's iconic Passed Me By and We Stayed Together double pack for Modern Love. And while Traumprinz Of Denmark's two LPs didn't signal a change in musical direction like it did Stott in 2011, it well and truly put the reclusive German on the map.
In our interview with Giegling co-founder Konstantin earlier this year he explained how Traumprinz, "has his own dream about American house music, about how things were when he wasn't around, so I think that's where he gets his inspiration." Mothercave, however, isn't the house version of Prince Of Denmark's The Body. In fact, only two of the nine productions on this LP capture the spirit of Traumprinz's original deeper house releases. They are the album's title track, where drubbed percussion is lightly sprinkled over a low fidelity vamp of sampled chords, and, the soundtrack to a cloudy magic carpet ride that is "I Found Truth in a Soft Night of Confusion but I Lost It".
Clues to the Prince Of Denmark alias were there as early as Traumprinz's debut EP Freedom, where a crown and scepter adorned the artwork, and the artist laid down further subtle self referential hints too. The kick drum and dubby metallic jangle on Traumprinz's "Big Baby Jesus" from Paradise With A Lobotomy was used in parts on the opening track of The Body, while both aliases featured on Giegling's Futur II compilation. So it's nice to hear on Mothercave, Traumprinz repaying Prince Of Denmark with some references of his own, specifically "Kiefermuskelkater", a skittered remake of The Body's euphoric "(In The End) The Ghost Ran Out Of Memory".
Hip hop plays an influential factor in much of Traumprinz's music, which he airs to a further degree on Mothercave. "One Love" is a dubby German adaptation of J Dilla's beat-making techniques, matched by the housey Wu-Tang loops of "It Takes Two Wings" (note the aforementioned "Big Baby Jesus" references an Ol' Dirty Bastard alias), and then there's the jazzy drums and Moodymann Detroit-ness of "The Monkey". The LP's most recognisable track, "There Will Be XTC", looks closer to home for inspiration with some UK garage and drum and bass, while Mothercave's most emotionally affecting track, the album's synth driven closer, "Ambient 006", is so swollen with heart warming melancholia, largely induced by samples of children playing, it's like experiencing the aural equivalent to what a parent might feel watching Super 8 filmed family home videos.
It's "Believe", though, that best sums up Traumprinz's approach to Mothercave through its combination of hip hop vocals and house music. It's similar to Galcher Lustwerk's "Tape 22", only there's more of a homely, upbeat feel in what's said, rather than a streetwise spoken word – verifying Konstantin's following comment that Traumprinz (like Galcher Lustwerk) "has a lot of fun when he produces music."
James Manning
Tracklisting:
A1. One Love
A2. Mothercave
A3. It Takes Two Wings
B1. Believe
B2. There Will Be Xtc
C1. The Monkey
C2. Kiefermuskelkater
D1. I Found Truth In A Soft Night Of Confusion But I Lost It
D2. Ambient 006