Bee Mask – Pear Growers' Series 01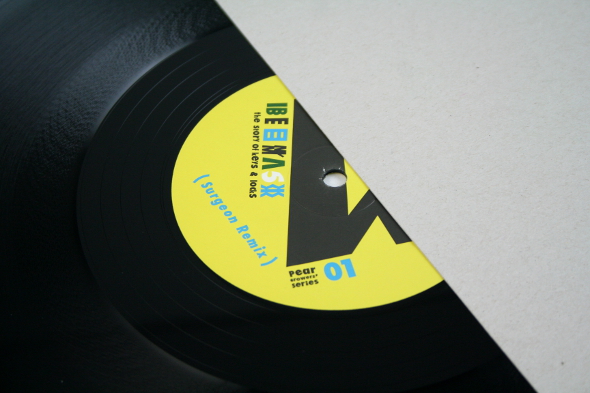 After the seismic splash created by the full-length Donato Dozzy remix package, it's little wonder that Chris Madak is keen to return his Bee Mask creation to the hands of remixers to see what other results might arise. So it is that he launches Pear Growers' Series, an "irregular private press 12-inch series" that commences proceedings with remixes from a sizable pair of producers to set out the standard the label intends to operate at.
The source material for this particular release is Madak's When We Were Eating Unripe Pears LP for Spectrum Spools last year, marking one of the most prominent releases for an artist with a dizzying back catalogue. Of course, in the hands of Surgeon a track like "The Story Of Keys & Locks" could go in any number of directions (not least with Anthony Childs' recent displays of ambient-proficiency for NNA Tapes), but in truth the track already had a sonic intensity and patient execution that gave the surgical one a healthy spread of tools at his disposal.
As it happens, Childs' opts for a heated dancefloor discourse, pouring the undulating swathes of melody into a steaming broth of filter sweeps while steadily rolling a chunky, breakbeat indebted set of drums in underneath. The hats cut like razors as they course through the tidal chords, the snares shout over one another and the kicks come in thudding and malicious in their broken march. Most notably though, the groove never lets up, never fluctuates or deviates, and simply builds in intensity in a way very reminiscent of the original's own evolution.
It's just that in this instance Childs has spoken the same message through the language of drums and aggression where Madak was focused on tones and tenderness. In another interesting reflection of the original, Childs has his own curveball end section that ditches the track altogether for a seemingly unrelated exercise in cavernous drone and jangling key sounds, as if he was keen to point out how he has worked with the utmost of respect to Madak's craft.
As something of a polar opposite in the remixing process, Swedish upstart Abdulla Rashim takes on "Unripe Pears" and leaves as little of the original track standing as possible in his quest for techno nirvana. His way is an austere vision of modern techno, richly detailed, resolutely staccato and icy down to the depths of its soul. The stuttered kick drum doesn't budge once in the proceedings, while the rest of the percussion moves with equally purposeful strides, but still within this strict rhythmic framework there is space for a rise and fall of intensity as spelled out by the fearful string that comes pealing out in the mid section of the track. That this eventually simmers back down to the starting point speaks volumes for the cyclical nature of Rashim's work, and in that sense it makes for another valid and distinct interpretation of Madak's music in the process.
Oli Warwick 
Tracklisting:
A. The Story Of Keys And Locks (Surgeon Remix)
B. Unripe Pears (Abdulla Rashim Remix)