Stefan Jaworzyn album due on Blackest Ever Black

Early '80s synth recordings made by the former Whitehouse and Skullflower artist in 1982 are collected on the forthcoming Drained In Connotation album.
With the Secret Boyfriend album This Is Always Where You've Lived the final release of 2013 from Blackest Ever Black, the label have wasted little time in announcing how the next calender year will take shape. Typically, their focus falls on a musician who might not be that familiar to the wider audience but has a discography that commands respect. A detailed and typically verbose press release from Blackest Ever Black paints Stefan Jaworzyn as "a notorious and energetic presence in the UK underground of the 1980s and '90s" who enjoyed stints in acts such as Whitehouse, Ascension and Skullflower, as well as overseeing the Shock Records label.
Having withdrawn from music in 1996, Jaworzyn remained off the grid until earlier this year when the Shock Records label was reactivated and he set to work on sifting through his personal archives of recordings for the KINO reissue/compilation series. It was during this process that Jaworzyn chanced upon a set of "driving, faintly sociopathic and supremely zoned pieces" made at his Cardiff studio in 1982 using a Korg MS10 or 20 and a Dr Rhythm drum machine. Seven of these compositions will now see release on the album Drained Of Connotation, which is perhaps the most BEB-appropriate title in some time! Brief clips are available to stream below for an idea of what to expect ahead of it's release next month, while you can check this interview with John Doran in the The Quietus for a more detailed overview of Jaworzyn's musical career.
Blackest Ever Black will release Drained Of Connotation by Stefan Jaworzyn in January.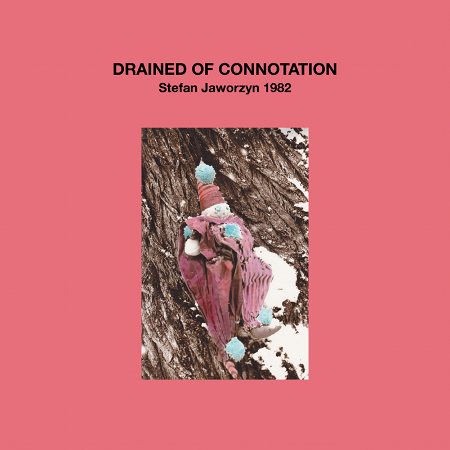 Tracklisting:
A1. Sinister Eroticism In Oslo
A2. The Nightclub Toilet
B1. I Am Not Going To Make This Mistake Again
B2. Druid Crystals
B3. Pillars Of Excrement
B4. Psychoanalytically Speaking, You're Fucked
B5. Crack City
Digital only: Why Must We Rot