Prostitutes to debut on Mira in 2014

Next up on Mira is a two-part EP by James Donadio's Prostitutes project entitled Truncheon Cadence.

Established last year in distinctive fashion with a brace of Bleaching Agent 10″s, the Mira offshoot of Avian has surfaced irregularly over the course of 2013 throwing up some interesting releases, introducting the Worn and Burma Camp aliases of Avian co-founder Ventress and The KVB's Nick Wood respectively. Looking towards next year, Mira have revealed Cleveland noise veteran James Donadio will join the fray in January under his increasingly prominent Prostitutes guise.
First emerging as Prostitutes with a self-titled debut album on his own stabUdown label in 2011, Donadio's cross pollination of techno and noise can be compared to US peers Container, Metasplice and Carlos Giffoni. This year saw the Prostitutes name put to albums for like-minded labels Opal Tapes and Digitalis, as well as an EP for Powell's Diagonal Records and an appearance on the recent Feral Grind compilation from Perc's Submit label.
This makes Donadio a more than worthy candidate to further expand the industrial, coarse, and melodically muddy range of techno that has featured on Shifted and Ventress's Mira label thus far. Entitled Truncheon Cadence, the eight tracks that will appear across two separate 10″s – Part One and Part Two released a fortnight apart from each other – are perhaps the most minimal of productions we have heard from Prostitutes so far, with more emphasis seemingly placed on arrangement and drum patterns than harsher sonics.
Mira will release Prostitutes' Truncheon Cadence (Part One & Two) in January 2014.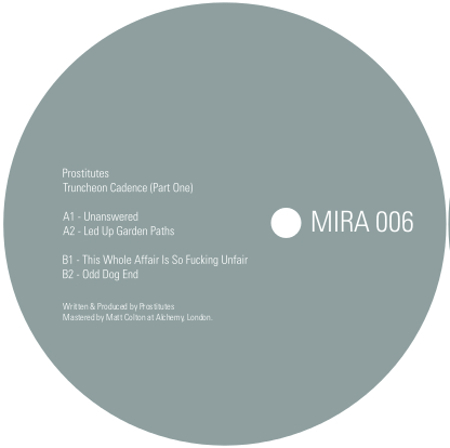 Part One Tracklisting:
A1. Unanswered
A2. Led Up Garden Paths
B1. This Whole Affair Is So Fucking Unfair
B2. Odd Dog End
Part Two Tracklist:
A1. An Enormous Door
A2. Bomb Splinters
B1. Smouldering Wilderness
B2. Rigid Pathetic Heaps