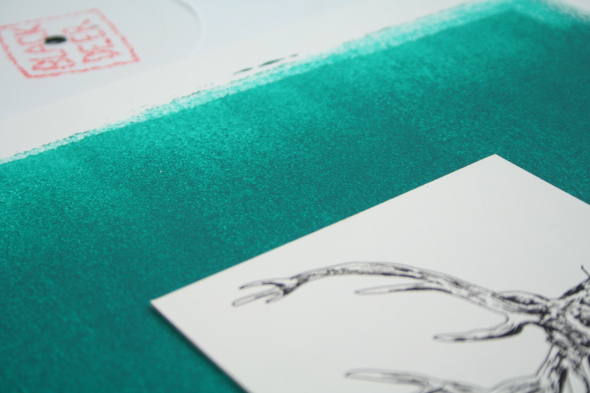 William Burnett, the producer behind this Black Deer album, claims that the alias is a patriotic one, reflecting the true nature of being an American. If venturing through the great sonic unknown is an integral part of being an artist from the USA as opposed to driving a pick-up and swillling on Bud, then Burns and this project perfectly fit the bill.

And yet Burnett himself draws on an unmistakably European aesthetic. Shifting between aliases, never quite settling into one easily-definable sound for too long, his refreshingly shambolic approach leads him on adventures that his peers will never experience and reminds this writer of Legowelt in attitude if not sound. Certainly there are more than enough diversions on Black Deer to keep even the most attention-poor listener satisfied. It starts with the sixteen and a half minute epic "It's Like The Way It Used To Be", a sprawling arrangement that pits chiming, tinkling guitars with icy, Autechre-like synths. Fluid and constantly morphing, it takes the jam-till-it's-finished aesthetic of Can to its logical conclusion. Then there's "Rambing Rumble Stone", which is shorter but whose guitars glisten with all the beauty of the Durutti Column and are delivered in an Aphex-style ambient filament.
Burns heads towards the dance floor on "New Break", but the Japan-influenced drums and mellow modular synth lines maintain a level of restraint. The same cannot be said of "First of September"; again, Burns conjures up swathes of chiming guitars but aligns them to a dance floor groove, a gloopy bass and a series of killer drum rolls. It sounds primed for a release on DFA.
Then there's "Holiday". Beginning with a chiming groove, Burns then veers close to Danny Wolfers territory with a bruising buzzsaw bass. As a parting shot, Burns drops "Strike"; featuring an epic synth, it flits and flickers over lithe, crashing snares and relentless acid-soaked bass pulses. If this is the American way, then cover me in the stars and stripes.
Richard Brophy
Tracklisting:
A1. It's Like The Way It Used To Be
A2. Rambling Rumble Stone
B1. First Of September
B2. New Break
B3. Holiday
B4. Strike 3