Egyptrixx – A/B til Infinity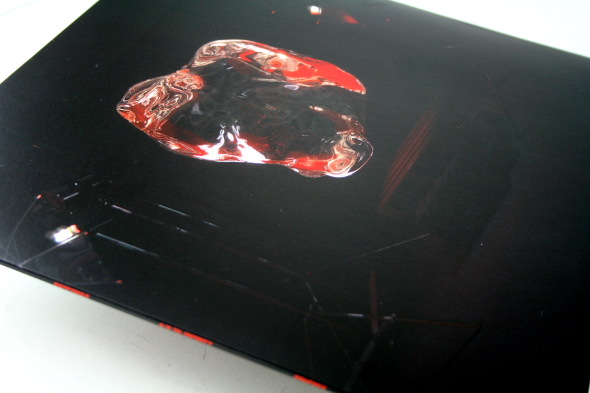 Just before the release of A/B til Infinity, his second album as Egyptrixx, David Psutka contributed the fourth entry into the Night Slugs mix series, and its tracklisting showed just how much his interests have changed since he emerged in 2008 making bass-heavy party tunes. Wolf Eyes, Planetary Assault Systems, Perc and Blackest Ever Black duo Moin all went together in a mix that also incorporated the more vivid club styles of himself and fellow Night Slugs producer Hysterics (aka Girl Unit). In a sense, this mixtape heralded A/B til Infinity better than any press release ever could, neatly encapsulating the combination of dark moods and occasionally brutal rhythms that make up this album.

That's not to suggest Psutka's sound hasn't always had elements of the gothic to it. 2011's Bible Eyes had its share of darker moments – the apocalyptic piano backdrop of "Start From The Beginning", the gravity well techno of "Liberation Front" and the maudlin dub of "Fuji Cub" all stood out due to their smooth fusion of dark mood and Night Slugs-style pop sensibility, but these moments were frustratingly few, resulting in an album that just felt a times like a bit of a slog to listen to. A/B til Infinity on the other hand constructs almost an entire album out of these moments, resulting in one of the most vividly arresting full-lengths of the year, which, if anything, is the most infinitely listenable Night Slugs release to date.
That this is the case isn't entirely surprising; according to the record's press release, A/B til Infinity is part of a multi-media collaboration with Berlin-based visual artist Andreas Fischer, and involved a process in which they introduced "meaning-through-reduction" principles to sound and video, with repetition, texture and atmosphere given precedence over narrative and song structure. The alien environments created were in turn soundtracked by Psutka, with the end result being less an album of club tracks, and more akin to a high concept sound installation designed for a club space.
On "Ax//s" for instance, glassy tones and rattling snares reverberate around their own interior space, segueing seamlessly into a title track which introduces a succession of pure bass tones anchoring a melody that cascades like digitally rendered fluid. "Bad Boy" takes this concept even further, with room-filling chords that sound as if they're gradually evaporating into the atmosphere, while "Disorbital" features elegiacal vocal pads whose synthetic nature make them akin to being sung to sleep by a chorus of androids. Psutka has always traded in this kind of hyper-real surface sheen to some extent, but here it's infinitely more beguiling.
Like Fischer's videos, Psutka's music is tactile; it feels as if it's been rendered rather than played, with all the rough edges so smoothed out that it sounds as if it could have come from 3D printed sound waves that have been rescanned back into the computer and bounced down a second time. Psutka isn't the only one to have explored this aesthetic in 2013 – Oneohtrix Point Never, Laurel Halo and Logos have all offered similarly vivid soundscapes in their respective LPs, but A/B til Infinity perhaps best nails that sense of walking through a three dimensional space like no other.
Psutka nevertheless makes a few concessions to straight dance music: "Alta Civilisation", whose beats intensify suggestively as translucent skin slithers around them, and "Water", whose tunnelling bassline and rigid rhythmic matrix sound like Planetary Assault Systems with the texture mapping removed. Compared to the rest of the album, they feel almost retrogressive, especially next to the tracks that use beats in a more suggestive way, such as the searing 8 bar structure of "Adult" and brooding halfstep of "My Life Is Vivid, My Eyes Are Open", which flirt with rhythm just enough to blend imperceptibly with the rest of the LP.
Perhaps the most impressive thing about A/B til Infinity is that by the time you reach the end, you'll swear blind you just listened to a full-on club album, but when you go back looking for the beats, they just don't seem to be there. For the most part A/B til Infinity is an imagined experience, using its enigmatic, illusory quality to trick your brain into forming shapes that aren't there. In a year in which retro narratives felt more prevalent than ever, A/B til Infinity is one of the shining examples of club music being pushed far into the future.
Scott Wilson
Tracklisting:
1. Ax//s (intro)
2. A/B til Infinity
3. Alta Civilization
4. Bad Boy (reduced)
5. Adult
6. Disorbital
7. Water
8. My Life is Vivid, My Eyes are Open
9. A.C.R.R.