Separate Mind: Keeping It Deep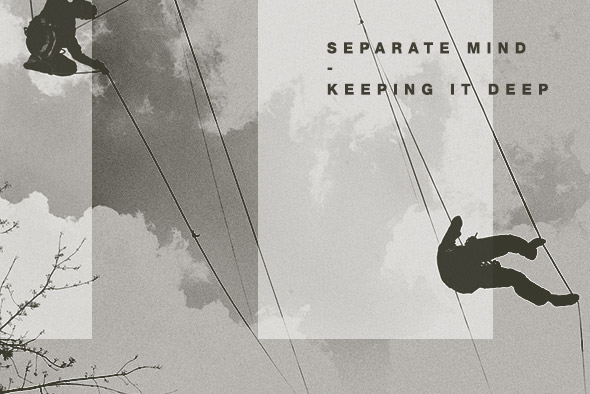 This month's edition sees Richard Brophy discuss an array of artists whose off the radar presence complements the deepness of their sound, with Jonsson/Alter, DJ Skirt and Echo 106 amongst those featured.
We have never been more connected, and information is more freely available than ever. While this is welcome in the wider world, in electronic music's microcosm it has had the regrettable side-effect of allowing self-promotion to go into overdrive. Twitter and Facebook feeds are deluged with posts about upcoming shows and retweets from wide-eyed fans and there is an increasing pool of obedient online media on hand to cover and promote whatever artists are on the PRs' books.
It seems that maintaining a low profile is no longer the done thing, or as Function put it earlier this year to this writer, 'selling out is the new underground'. Yet some artists choose to remain under the radar. The reasons for doing this vary, but in this month's Separate Mind we look at those whose music is as deep as their off the radar existence. That term is an overused one; 'deep house', 'deep techno', 'deep tech-house'. Any track with some string samples and even the hint of a melody is automatically presumed to be imbued with depth. But in this context, keeping it deep is more about an attitude than a sound. Release music only when it feels right as opposed to when it's a necessity. Don't pimp yourself out on social media. Avoid the temptation to get big-name remixers on board to boost sales. Most importantly, stay true to the sound you believe in, no matter what 'the market' dictates. These are key attibutes.
With just five releases in the past four years to her credit, no one could accuse Bethany de Moss, aka DJ Skirt, of churning out records to gain the public's attention. Wish in the Maze on Semantica follows last year's release with label owner Svreca and sees her look further inwards. The title track is set at a dead pace, with stark beats and frosty melodies rising up like breath on a wintry day. The presence of what sound like fragmented vocals whispering in the background makes the composition even more mystical. Skirt seems to have had an effect on remixers Ancient Methods. Leaving their dense techno temporarily to one side, the remix begins with a dubbed out take on Skirt's melodies before a tight but broken rhythm and a purring bass give the listener a sideways take on AM's brutality. It's only a fleeting glimpse however, and after a few minutes the backing track fades away, leaving the listener once again with those dubby, reflective melodies.
The most impressive contribution here is Inigo Kennedy's remix. It seems like the UK producer has made it his mission to re-introduce '90s techno's sense of wonder at a time when the form is up to its neck in furrowed-brow seriousness. As such, Kennedy's levity is welcome. Here, his take on "Maze" draws on those influenes. Amid bursts of whooshing, filtered noise and helicopter-blade rhythms, he conjures up the forlorn, haunting melodies that made Autechre's Amber such a benchmark release. Sure, it could be said that Kennedy is merely treading old ground, but when the results are as sublime as this remix, it's hard not to be moved.
It's also difficult to resist the charms of Submersible Machines. For those who missed out, here's a quick recap. Hailing from Texas, he has only put out one release to date, a self-titled EP on Dublin label Lunar Disko back in 2010, which threaded together Drexciyan electro with tearjerking Italo melodies and warbling acid jak. That record sold out quickly and is the only document of his work – unusually he doesn't play live or DJ, nor seems willing to do so. Fast forward three years and he provides a follow up with the release of Isobaths, also on Lunar Disko. On this occasion, Submersible Machines dives deeper than before, even though paradoxically, much of the release is more dance floor-focused than his debut.
There are of course exceptions; "Ebbing" is a brief electro interlude, its brittle rhythms overlaid with the kind of spacey synths common to the work of fellow Texan E.R.P./Convextion. By contrast, there's the tight claps and hyperactive, jazz-inflected groove of "Data Flows", reminiscent of UR's Codebreaker, and the playful title track that skirts at the grey area where house and techno meet, but which rises above monochrome mediocrity thanks to the producer's melodic swirls and twists.
Unusually, "Amni" sounds like an outtake from a Modern Love release, its swirling dubby chords rising like a narcotic fog, but soon afterwards, Submersible Machines vanishes beneath the depths again with "Fusiform", a gentle techno pulse married with the kind of mysterious, Moog solos that Drexciya used to drop during more reflective moments.
Boris Bunnik pushes electronic music to its frostiest borders on Blue Hour, his second release as Hexagon on the Transcendent label. There are echoes of Bunnik's better-known Versalife project here, primarily on the resonating bassline of "Absentum". Set to atmospheric synths and eerie tonal shifts, it could be an addendum to the Vantage Point album from earlier this year. 'Spectral Analysis" has some connection to Bunnik's other project, Conforce. Certainly, it's the most dance floor friendly track on this release, with dubbed out drums supporting an acid line that twists, turns and disappears into an ether of woozy filters. However, when the Dutch producer departs from the narratives he is best known for, Blue Hour really shines. "Forecasts" is fragile and beautiful in equal measures, its crystalline synths like late afternoon sun rays reflected across a glacier, while "Physical Dimension" sees shards of brittle percussion cast over splintered rhythms, as a menacing 303 plays out underneath. Neither can match "Illuminated Atoms" for sheer atmospherics. Led by pinprick bleeps that light the way through billowing chords, it is as exhilirating as a trip across a frozen lake, that sense of fear accompanying each step on the treacherous path.
Even a cursory look at charts and pre-order lists from the past few years confirms that pretty much every release at a certain tempo that lacks a L.I.E.S-style coat of analogue dust is called deep house. It's hugely misleading because none of it has any relation to the catalogue of labels like Prescription, Guidance or Cajual, or even later releases on Classic, 20/20 Vision or Paper from the UK. This lazy classification method welcomes every second-rate tool track with a few bursts of a squealing sax into the fold, blithely ignoring the contributions of producers like Ron Trent, Chez Damier and Gemini, who shared their lives through this medium.
It's doubtful that Jonsson & Alter are hurting in the same way as some mixed-up kid from Chicago's southside and the duo's name suggests they run a mid-sized solicitor's practice in central Stockholm. In reality this low-profile pair have released a succession of great records for Kontra Musik. En Melodi is an eloquent, studied release and is taken from the duo's second album, 2, the follow-up to the superlative Mod debut from 2011. The title track features the interplay between tough beats and stacatto drums, which provides the basis for banks of foggy textures and a series of polished, jazzy piano lines. Frosty and detached yet soulful and human – as opposed to the preset tripe – "En Melodi" mixes Scandinavian sangfroid with the rawness of US house. "Tribunen" is more Sean Deason than Ron Trent, as an ominous organ line rides a dense, rolling rhythm and rasping drums. It begins to sound like a big room track, but then Jonsson & Alter slip in a daft vocal sample – like an inebriated Billy Connolly muttering something in Swedish. Frak, who are known for making teased-out, distorted techno, deliver a less cluttered groove than usual, the pounding drums and relentless dub bass adding some muscle to Jonsson & Alter's refined sound.
Simone 'Simoncino' Vescovo is another artist who has flown under the radar, despite releasing two albums and 20 EPs in the past few years. If you haven't checked releases like International Smoke Signals on Mathematics, then you're missing out. Loath as this writer is to afford anyone the title of 'synth pioneer' lest it forges an association with ELP embarking on half-hour solos while wearing star-covered capes, this Italian producer has a different way of presenting house music to most of his peers. Indeed, the Hardwax description of Signals is especially apposite, with the Berlin store describing it as 'somewhere between classic Larry Heard & Ron Trent. Outstanding'. Simoncino's latest release, For My Father on Crème Organization, inhabits a similar space. There's the ultra-deep "Tape II" and "Tape III", where pulsing basslines and staccato drums provide a basis for the kind of evocative melodies that would make Larry Heard records sound atonal. Then there's "Tape 1", a raw track based on crashing snares, dense claps and a brooding bass, but which also features soaring, sweeping synths. Simoncino is certainly not breaking any new ground, but the manner in which he marries his love of dramatic musical elements – also audible on the brooding but beautiful opener, the beatless "Interval 1" – with a primal undercurrent marks him out as an impressive curator.
Mark Du Mosch also seems to have come under the influence of classic house. Like many of his peers, the Dutch DJ/producer has a long association with Italo high camp and energetic grooves, but Bay 25 opts for a different tact. Maybe this shift has something to do with the fact that the label that it's released on, Dekmantel, is primarily a house label. Whatever the explanation, the title track starts with a rumbling bassline that resembles those unmistakable tones from Jaydee's classic "Plastic Dreams.
Admittedly, Du Mosch is a subtle producer and there's no chance of him making a tribute track. Instead, he copperfastens subtle chimes to the backing rhythm at the start, hooks it up to high-pitched wispy hooks during the middle and lets a muddy version of the bass take over near the end. By its end, the arrangement hums and crackles like a disconneted cable.
Despite this, it's hard to escape the past and similar drum breaks to the R&S classic come crashing in at regular intervals. By contrast, "Living Up" seems anti-climactic. While its rasping percussion and driving rhythm provide the basis for a spacey, dreamy synths, it lacks the unpredictability and roughness of "Bay 25". Both of these qualities are abundant on Gesloten Cirkel's take on the title track. Supposedly coming from Russia, this low-profile producer has put out just three records, and everything he does is golden. For this remix, he strips back the groove, douses it in acid and turns Du Mosch's melodic flourishes into a droning approximation of a mosque's call to prayer. Not content to leave it at that, he proceeds to get busy on the crossfade – like the recent DJ Sprinkles remix of The Mole – as he simultaneously introduces steely drums.
While the internet has allowed everyone to become a self-publicist, it also allows producers like Geloten Cirkel and Echo 106 to connect to labels that will release their music. It doesn't really matter anymore if the former isn't from Russia or the latter doesn't comprise two brothers from Switzerland because technology gives them the freedom to express what they want from wherever they want. In this new environment, there is the danger that local identities and flavours will be lost, but the upside is that it levels the playing field for artists who are removed from cultural hubs. Anyway, it's not like Echo 106 are spamming people on social media to get ahead. Infernal Regions on Lux is an unusual release. There's a playful approch to production throughout and at times an undercurrent of pop nous at play. "Frozen and Faint" starts off as a standard jacker before a gentle synth melody and vocodered vocal sweep it into a catchy direction, while the downtempo "All is Heard" is like an acid-soaked rendering of an early New Order dirge.
Elsewhere, Echo 106 gleefully make light of established tropes. "Wild Savage Forest" turns Efdemin's bell-chiming obsession into something more sinister as detuned riffs ride roughshod over the subtle peaks and troughs, while cartoonishly bleak synths, mock-horror riffs and burning acid segues of Hardfloor-esque proportions are audible on "Gate of Hell" and "Wretched Souls". These elements are underpinned by the kind of doubled up claps and kettle drums that have become the weapon of choice for retro-house producers, but when aligned to these preposterously exaggerated elements, they quickly melt into the background. It's hard to know exactly whether Echo 106 are having a laugh or not, but this lack of clarity makes Infernal Souls all the more intriguing.
On that note, Marco Shuttle opens up his Eerie label for the first time to an outsider with the release of Healing Force Project's Ecliptic View. The work of Antonio Marini, who has previously put out material on Acido and Sequencias, it takes the notion of ignoring trends and hype to the extreme. This is borne out by the fact that for the most part, Ecliptic View has little dance floor focus. In the main it seems that Marini prefers to express himself through textures and soundscapes. On the occasions that he does break out from this approach, the results are unsettling and unpredictable. It would only be possible in a weird parallel world to hear the out of time beats, crashing drums and howling analogue riffs of "Dusty Time Machine" getting played – maybe the bar in the first Star Wars – while "Tunnel Rat" also starts with layers of steely but abstract drums and deranged, screeching horns.
Only midway through, as if by accident rather than design, Marini decides to add a straight kick drum. For the rest of the release, he abandons anything approaching a dance floor focus. "Average Perigee" features waves of electronic sounds swirling menacingly around an iron fist made from spiky hi-hats, while "Perceived Equidistance" inhabits similar ground to a Jeff Mills soundtrack, its chattering, and jittery percussion underpinning droning synth patterns. It's a brave release and is unlikely to get the social media equivalent of a high five – but this is unlikely to bother a deep explorer like Marini.
Richard Brophy