Best of 2013: Top 10 Reissues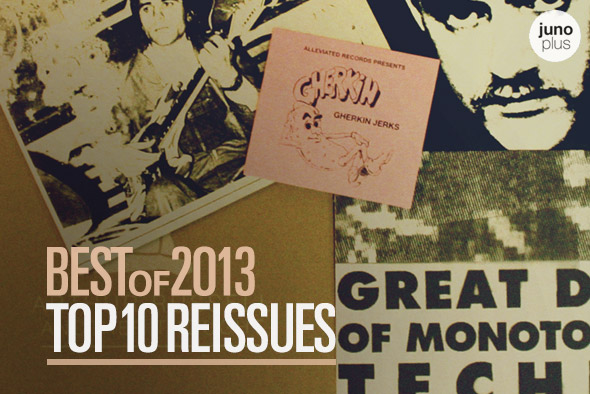 Given the cyclical nature of trends in music, especially electronic, it's no surprise that reissues have become such an integral part of our everyday listening in 2013. The volume of reissues currently being released isn't quite at the same level as new music, yet it's apparent that a lot more care and attention is put into the former than the latter, which reflects the unquenchable enthusiasm of the people responsible for excavating past material for contemporary re-appraisal.
We hope the following list demonstrates how diverse reissue culture has become, with early works from seminal figureheads of Chicago house and Detroit techno nestled in alongside private press recordings of Romanian synth bands, Greek firewalker music and one of the US underground's best kept secrets. Reissued works from Suns of Arqa, Patrick Cowley and Arthur Russell, meanwhile, represented those editions where compelling music was matched perfectly by presentation.
10. Psyche / BFC – Elements 1989-90 (Planet E)

Originally released back in 1996 on Planet E and compiled by respected Motor City Soul professor Brendan M Gillen, Elements 1989-1990 drew together a collection of early productions from Carl Craig released under the Psyche and BFC aliases for ART and Transmat. Some seventeen years on, Planet E deemed the collection worthy of re-appraisal, and it's as close to perfection as you could imagine, demonstrating that as far back as the late '80s Craig was edging ever closer to the original Detroit grouping in creative terms. "Chicken Noodle Soup" rightly features; its wonderful collage of vintage breakbeats and life-affirming synth work is Craig's best known track from this early stage, yet it's by no means the only highlight of a nine track collection that still sounds futuristic all these years on.
9. Various – ANAΣΤΕΝΑΡΙΑ: Music Of The Fire Walkers (ΚΕΜΑΛ)

Unlike its older brother Berceuse Heroique, the ΚΕΜΑΛ sub label exists to reissue older music together with remixes from contemporary figures, specifically chosen for their ability to illuminate the source material in unusual ways. As reissue label concepts go, it's a risky one, but ΚΕΜΑΛ managed to prove themselves with their first release. Originally co-released on CDr between the Echomusic and Editions Zero labels in 2008, ANAΣΤΕΝΑΡΙΑ: Music Of The Fire Walkers is comprised of Greek folk music from 1979. Recorded in the village of Agia Eleni, in Serres, Greece, the ten tracks are the ritual music played during the preparatory phases of a fire walking ceremony, and provided one of the boldest (and financially risky) reissue concepts to be committed to wax in 2013. Even without the excellent remixes from Vatican Shadow and Pete Swanson, the record serves as a document of something that sounds so completely out of time it deserves to be explored.
8. Gherkin Jerks – The Gherkin Jerks Compilation (Alleviated)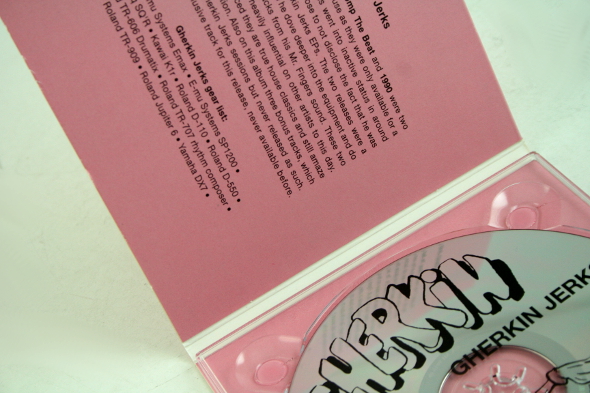 Whilst newer generations of Detroit techno enthusiasts were spoilt with Planet E's reissue of Carl Craig's early productions as BFC and Psyche, this year saw the inquisitive new deep house historians equally well served with some of Larry Heard's most prized work from a similar period remastered and reissued. Working anonymously under the Gherkin Jerks alias, Heard issued two 12"s through the iconic Chicago label Gherkin Jerks in the late '80s, treating them as a creative experiment. Revealing himself to be responsible for the material some years later, both the Stomp The Beat and 1990 EPs have rightfully entered house music folklore as prime examples of hypnotic, mind-altering drum trax with Jamal Moss vocally crediting them as an influence. Working in collaboration with Clone Distribution, Heard's Alleviated Records relented to years of repress requests and issued fully digitally enhanced editions of both 12"s. It was however the label's subsequent decision to offer an overview of the Gherkin Jerks project with an expanded CD edition featuring bonus unreleased Gherkin Jerks material that really helped to convey why this short-lived experiment remains one of Heard's finest moments.
7. Arthur Russell – Another Thought (Arc Light Editions)

It would fair to say that there have been a lot of Arthur Russell reissues and collected works since his untimely death in 1992, but Another Thought is surely among the best. Originally released on CD in 1994, it provided a posthumous collection of theNew York artist's material recorded between 1982 and 1990, taken from over 800 tape reels by Mikel Rouse, and produced by Don Christensen. A lot of the work is unfinished – but somehow the album has a complete quality to it many other Russell retrospectives don't – with the title track, "This Is How We Walk On The Moon", "A Little Lost" and "In The Light Of The Miracle" all ranking amongst his most affecting songs. This reissue also marked the inaugural release of Arc Light Editions, a label curated by The Wire's Jennifer Lucy Allan, and run in collaboration with Bristol's Multiverse Music. Aside from the bespoke artwork which puts this above most other reissues, this is simply an essential album whether you know Russell's work or not.
6. Ü – Great Dose of Monotonous Techno (Digitalis)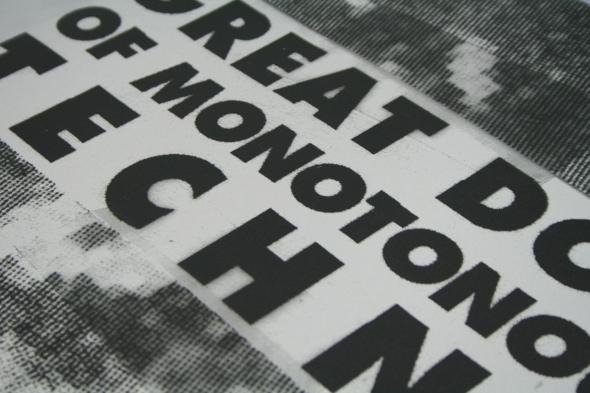 As far as reissues go, you have to hand it to the Digitalis Recordings for digging deep. This year they resurrected a hidden gem buried far into Börft Records' esteemed back catalogue, which began in 1987. Entitled Great Dose of Monotonous Techno – don't let the name fool you – both tracks of lo-fi, dubby, acid techno that appear on the LP were originally released on cassette in 1992. The late Joel Brindefalk, who sadly passed away earlier this year, provided the release under his Ü alias; he was also known for releasing music for the UFO Mongo sub-label as Egglady, Sort Joey, and our favourite: Pissfuckhead. Digitalis employed the capable hands of Andreas Tilliander (aka TM404 and Mokira) to re-master the 2013 vinyl edition, while paying homage to the 21-year-old original by adjusting the cassette release's artwork to fit a 12" package, which includes Brindefalk's original liner notes.
5. John Carpenter – The Fog (Death Waltz Recording Co.)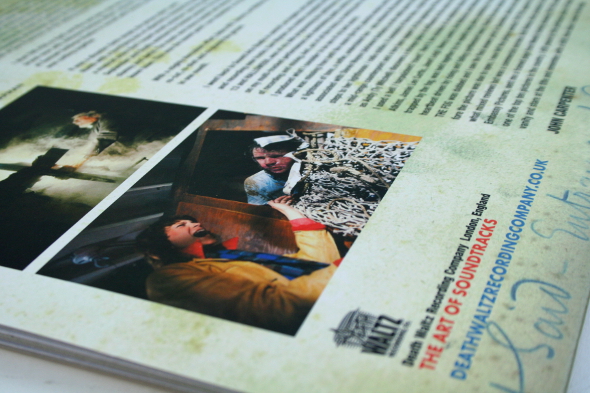 Since their inception last year, Spencer Hickman's Death Waltz Recordings have established a following that goes beyond cult – perhaps fevered would be a more apt description. Although the label expanded their remit this year to include contemporary soundtracks, it was a reissue of the soundtrack to The Fog, one of John Carpenter's more overlooked films that seemed to strike a nerve with record collectors and horror aficionados everywhere, with the label's own website crashing under the weight of those eager to get their hands on a copy. It was easy to see why; as well as a deluxe gatefold sleeve designed by noted contemporary artist Dinos Chapman, Carpenter's music for The Fog was some of his most chilling. Built on the more simplistic piano melody and synthesiser combination of his iconic Halloween score, his effort for The Fog was nevertheless much more abstract and foreboding, reflecting the story of a small North California fishing town terrorised by a glowing supernatural fog containing the vengeful ghosts of six murdered lepers. Assault On Precinct 13 may have been the Carpenter reissue with the most mainstream appeal this year, but The Fog was undoubtedly the one to get your hands on.
4. Suns Of Arqa – Muslimgauze Re Mixs (Emotional Rescue)

Since the formation of Suns of Arqa in 1979, a rotating collective known for their ambient, dub and electronic take on indigenous, tribal and classical folk music, or World Beat, more than 200 people have been a part of this super group. Over the years, musicians to have played for Suns of Arqa have included Simply Red drummer Chris Joyce, British comedian "Professor" Stanley Unwin, and even 808 State's Graham Massey. Another artist integral to the sound of Suns of Arqa is the late Bryn Jones, aka Muslimgauze. Much of Jones' own music was influenced by conflicts in the Muslim world, with an emphasis on the Israeli-Palestinian conflict. Three years before his untimely death, Jones gave 13 of the group's songs a polyrhythmic, dubby makeover under his Muslimgauze guise, resulting in the Muslimgauze Re-Mixs album issued on CD in 1996. This year saw Stuart Leath's Emotional Rescue label honour the group and Jones with a typically sumptuous looking vinyl edition of Muslimgauze Re-Mixs which was made all the more memorable by the distinctive hand screen-printed cover art courtesy of Firecracker Recordings founder, and equally respected designer, Lindsay Todd.
3. Rodion G.A. – The Lost Tapes (Strut Records)

Fronted by the half-Hungarian, half-Romanian Rodion Ladislau Rosca, the Cluj-based band Rodion G.A. were active between the years 1978 and 1984 with officially released output sparse, recording only a few tracks on the one state-owned label, Electrecord. Despite the restrictions placed on the band during a time of significant political repression in Romania, Rodion G.A. managed to amass a respectable catalogue of private recordings. Highlights from these archives are what makes up Strut's retrospective The Lost Tapes; a 10-track collection compiled with the help of Romanian DJ and production collective Future Nuggets that helps to add further detail to the ever-growing map of European primitive electronic movements bubbling under during the late 1970s and '80s. The Lost Tapes also fit snugly into the general sonic direction that Strut took in 2013, complementing the brilliant retrospective of the Celluloid label as well as a focus on early '80s Italian synth music curated by Alessio Natalizia and further adventures in Metal Dance from Trevor Jackson.
2. Charles Cohen – The Middle Distance (Morphine Records)
Although Rabih Beaini's Morphine label has treated us to some particularly interesting music in 2013, with Metasplice, Madteo, and Container all delivering material that seemed to exist outside most established musical narratives, it was some vintage electronic music from a veteranPhiladelphiasound artist that perhaps provided the label's most otherworldly sounds this year. Performing his music almost entirely with the rare Buchla Music Easel synthesiser (of which only 25 were made), Charles Cohen's recorded work is sporadic at best, with a focus on improvised live performance that makes recordings of his work incredibly rare. Across three releases Morphine explored Cohen's output from between 1978 and 1989, touching on his compositions for theatre, music from art installations and other solo compositions. Like Beaini's work as Morphosis, Cohen's pulsates and shimmers with a deeply psychedelic intensity not seen in other electronic music from the same period. Sharing a similar minimalist approach to Steve Reich and Terry Riley, Cohen's works somehow fit that imagined space between the live symphony and the machine that few have achieved with such soul.
1. Patrick Cowley – School Daze (Dark Entries)

Those who approached School Daze without a full grasp of the story behind it would be in for a shock that not even the warning sticker that states "DO NOT OPEN IF YOU FIND SEXUALLY EXPLICIT MATERIAL OFFENSIVE" can prepare you for. Some might feel that the gay pornographic images that literally spill out as you open the gatefold sleeve go a little too far, but the curators from Dark Entries and Honey Soundsystem have done so to provide the necessary context for the manner in which this startling collection of Patrick Cowley productions initially emerged. Invited to contribute material to soundtrack films of famed Los Angeles gay porn company Fox Studio thanks to his noted work with disco artist Sylvester, Cowley dug into his archives of personal recordings made between 1979 and 1981 which here reveal him to be a producer capable of so much more than the Hi-NRG sound he pioneered. Honey Soundsystem have been long term advocates of Cowley's work and the work and dedication that has gone into School Daze is apparent from the off. It only takes one listen to realise how revelatory this collection is, touching on various strands of electronic music that sound wholly relevant today. The triplet of productions that stretch past ten minutes serve to highlight Cowley's talent for arrangement in the best way possible.