Marine Technology: An interview with Fishermen

In advance of a debut album, the Fishermen pairing of Martin Skogehall and Thomas Jaldemark speak to Oli Warwick about how the mystery of the planet's great oceans informs their music together.
There is no escaping the evocative power certain themes and subject matter inspire. In cinema these ideas can be portrayed with the dual devices of sound and image, creating captivating moments that spell out the director's creative intention exactly as they intend it to be perceived. Much like a movie adaptation of a novel often falls short of the world an author can describe, so music can weave a hauntingly perceptible sense of time and place. This principle lies at the heart of Fishermen, a project steeped in conceptual reference points and vivid sonic imagery, as wrought out through doom-laden techno of the most visceral kind.
As far as their thematic cues go, Fishermen are, unsurprisingly, spurred on by the sea, and the mystery of the planet's great oceans informs every moment of the clamouring electronica they create. "I grew up near the sea and I always had a big respect for it," says Martin Skogehall, one half of the Swedish outfit. "There can be storms, it can be calm and beautiful, it can be deep. It's like space but here on earth."
There is not much of the calm and beautiful to be found in Fishermen, either in their initial singles for Skudge White and Kontra Musik, or in their debut album Patterns And Paths. Instead the listening experience veers between riding a tugboat flinging around on towering waves and the eerie gloom of a working harbour in the hour before sunrise. Martin is the first to admit he and partner in grime Thomas Jaldemark were reaching for something more oppressive with their music.
"I was a real metal head as a kid," Martin explains, "so I like dark and hard stuff and I choose to do that kind of music from the sea, not the beautiful small lakes or waterfalls. The big waves and submarines and warships are more appealing."
"I listen to more dark music also," Thomas adds, "so it's natural you know? It's not fun to make happy music."
To get a sense of how much importance the duo place on the themes behind their music, you need only look to the track titles, which range from album intro track "Greenhorn" (a newbie on the deck of a ship) to "Scurvy" (a maritime disease from a lack of vitamin C). The intention is for these titles to feed into the listening experience, guiding their emotional response rather than leaving it open to interpretation as many electronic artists are wont to do.
"We discuss a lot of emotions and pictures before we start doing tracks," Martin reveals. "Sometimes when I make a melody and say to Thomas, 'this is how I would feel trapped under ice', he understands that feeling. It's panic, it's cold, and then he adds some drums on it and he puts that freezing feeling in it."
Fishermen is a relatively young project, having only surfaced in the autumn of 2012 with their first single and already scoring its first long-player. From the moment they first emerged it was clear that Martin and Thomas' project was aimed at more than just dancefloor consumption. The dense layers of sound, the entrancing atmospheres and the feckless tempo choices all pointed towards a listening experience more insular than extrovert, and yet behind all of this a beating heart of techno drives the project. The album shrugs off the two contrasting concerns of the electronic artist album, to either indulge in more mellow, reflective fare, or to string together a series of singles. Instead, Martin and Thomas have delivered a collection that pounds more than it purrs, and yet this is hardly a collection of straight-up club tracks, making for an unconventional proposition that takes you by surprise on first listen.
"We hope the album is unique. That's our intention," states Thomas. It's an interesting point, as Fishermen is undoubtedly a product of its time, aligned with the resurgence in gritty, analogue, industrial methods in techno music. Thomas is happy to admit:
"On this album, for me two or three years ago I couldn't make a lot of the drums I do now because I didn't listen to the music that I do now, like Cabaret Voltaire, Joy Division; stuff like that."
It begs the question then: what is it that makes Fishermen so noteworthy in the wake of the new industrial revolution? In seeking an answer it helps to look at the context in which their music is made. Martin is based in Stockholm, while Thomas lives in Gothenburg, some five hours away on the train, and the music released so far has been created entirely remotely. While they make for a prime exponent of Swedish techno, the geography means less than it might with other acts.
"The first time we met in real life was this spring," Martin reveals. Prior to this, their friendship had been struck up some eight years ago through Myspace and then on MSN Messenger, sharing their ideas about music and everything orbiting around it until one day they decided to try sending parts back and forth to make a track."
"We both wanted to do something slower, something more industrial, something darker," says Martin. "We named the first loop 'Fishermen', and then we made our first song."
This isolated layering of ideas is removed from the stripped-down rawness that has been pervading the surge of grim and grungy techno happening in the last few years. With two separate studios under separate control fueling the music, a more complex, dense end product has been yielded, which goes some way to explaining why Martin and Thomas stand out.
"I like dark and hard stuff and I choose to do that kind of music from the sea, not the beautiful small lakes or waterfalls. The big waves and submarines and warships are more appealing"
Despite the distance, the ensuing tennis match of tracks yielded results quickly. While not all of the Fishermen output has come together instantly, there is a certain uncomplicated ethos to their working practice. "I make a drum loop maybe and I send it to Thomas and he dismantles it and adds a bassline. We do that a couple of times and then we have a track!" Martin exclaims.
"We can do whatever we want," adds Thomas, "and if the other one doesn't like it, often we just cut it up and only have a small bit of it. The process is really free."
The ruthless forward march of their creative mission can see whole tracks ripped apart, some parts discarded, others re-appropriated for new experiments, and yet the pair claim to never stall through disagreement. It's a rare partnership that can take such uncompromising approaches from either side and not engender bitterness, but then Martin and Thomas are both in recognition of each other's strengths.
"Thomas is very good with atmosphere sounds and evil sounding, strange noises," Martin points out, "and I'm kind of the melody and the beats guy."
In their music careers prior to Fishermen both Martin and Thomas have had experience of other production partnerships. Thomas was part of Donk Boys (not related to the Bolton-born phenomenon of The Blackout Crew) with Martin Abrahamsson, a bouncy twist on the more energetic end of minimal techno with releases on Trapez, Dirtybird and Frankie among others. Martin meanwhile was linked up with Elias Landberg, better known as one half of Skudge, for one single as Halland. His experiences then contrast with the flow of ideas that he and Thomas have found. "I'm really good friends with Elias since years back," Martin recalls, "but we didn't find that magic making music together. We're too alike (of) each other. To make a track with two people you need someone who likes this and someone who likes that, otherwise it doesn't work. We had a lot of half-done tracks and said, 'okay what should we do now?' and we didn't have a clue so we just threw them away."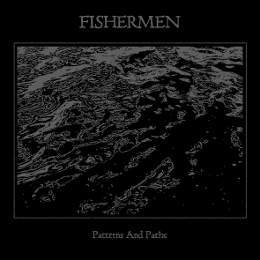 Martin also shared production duties with Robert Elster for Kritical Audio, an electronica project that released on Detroit Underground, as well as producing under his own name, but perhaps his most successful venture prior to Fishermen has been MRSK. With notable releases for Rush Hour and Skudge as well as a lauded remix of Anthony 'Shake' Shakir, it's the project that allows Martin to delve into more clearly defined house and techno. Fishermen, though, is an instinctive kick back against that notion, even if MRSK is still very much active.
"I really got tired of feeling, 'is it Detroit techno, is it Chicago house, what is it?'" Martin bemoans. What resulted initially from that fatigue was "Anchor Buoy," the first track he and Thomas completed together, and the opening cut on that first 12" for Skudge's white label offshoot. Both producers still hold it dear as one of their favourite productions, and it certainly set a tone for the project, not least in tempo. Across that first EP and equally on the second one, the beats fall slow and heavy, at odds with the metallic clang of the drum sounds and the oppressive textures. As one of the distinctive hooks to their project, it must be asked, why did they decide to go slow?
"It's like Newworldaquarium told me once," Martin answers, "that's why he likes to make slow songs. You can fit more things into the song, and both of us are no club geeks, we don't go out so much…"
"Not anymore!" Thomas chimes in. "The first track was 110 bpm at the start, and we thought, 'oh, we can continue with that, 'cos we've done 120 to 130 before'."
It's worth noting the pair's comments about not hitting clubs so often these days, as it feeds into the notion that the music they make is not meant for the dancefloor. There's no doubt that some of their creations would slay the right party at the right time, but it's a purpose far removed from the motivation behind the conception of the music, and it reflects their views about clubbing in Sweden in general.
"Here in Sweden I feel like going to clubs I hear the same tracks I heard fifteen years ago," Martin laments. "For me it's the music I started out listening to, so I'm feeling a little bit old."
"You are old," Thomas retorts. They both agree on the fine fettle of the techno being made in Sweden however, listing artists such as Rivet, TM404, Frak, Abdullah Rashim and Varg as exciting talents in their native land. Thomas has his own ventures within Swedish electronic music, largely focused on his Etcetc alias, as well as Kretipleti and Haul, two projects he works on with Pehr Herb. Alongside the music they make together, he and Pehr run the burgeoning Yta imprint, soon to release a compilation that will bring together a Fishermen track alongside some other artists including Martin's even fresher alias, Smell The Flesh.
Fuelled by the dark allure of voodoo imagery and shamanistic ritual, the first Smell The Flesh single on Skudge runs in a neat parallel to Fishermen, loaded with tension and heavy with symbolism. There is even a crossover of samples between the two, although this is very much Martin's baby. Given his dizzying array of projects, you would be forgiven for thinking Martin worked full time on music, but in fact his day job sees him working for a film company making commercials and promotional material. He's the first to admit he is somewhat hyperactive, but this other side to his life is poised to feed into his music.
"My boss is a photographer and he always says, 'I wanna do things with you'" Martin explains, and the chance may be just around the corner with the development of the Fishermen live set. Having invested in some hardware, now they just need to spend some time in the same location to forge their plan of attack.
"I think when we're going to perform live we'll bring in some elements from the songs but a lot of things are just going to appear live," Martin reveals. "The most fun I had with Donk Boys was playing live," Thomas adds. "It was amazing all the time."
It will be the first time Martin has worked on a live set, having suffered from anxiety that has stood in the way of the pressured situation that hangs over public performance. "I was a DJ when I was younger and I'm starting to DJ again in small clubs in Stockholm," he says, "but these panic attacks came into my life and I became more isolated. I'm working on that right now, and when that's over, me and Thomas are going to rule the world!"
There is certainly a bright future for the duo, with their imaginations already overflowing with the future possibilities for Fishermen. Having completed the album they now stand at a juncture where they could develop the project in a multitude of different ways. Their ideas zip back and forth like their production process, from going "harder and faster" to "calmer and more suicidal", whether to feed in acoustic instruments, and taking their love of concepts even further into elongated pieces such as one work in progress entitled "The Whale".
"Now it's Thomas' time to work on that," explains Martin. "It's his turn to conquer The Whale"
One thing is for sure; there is no shortage of oceanic imagery for the pair to use as jump off points. If all else fails they can at least draw on the fact that one of them actually is a fisherman.
"I love fishing," Martin proclaims. "I went up north in Sweden this summer and it was so beautiful, on small lakes with no people around. It was cleansing my soul." Quite whether such serene subject matter could ever feed into the art of two self-confessed lovers of the dark side remains to be seen.
Interview by Oli Warwick
Patterns And Paths will be released on Skudge White next month