Five Records: Paul Purgas

With a new Emptyset album just released on Raster-Noton, Paul Purgas engages in a discussion with James Manning on five records that hold personal resonance.
Paul Purgas is probably best known for his part in creating processed sine waves strong enough to blow your hat off when playing as one half of Emptyset alongside James Ginzburg, but he's also an enterprising promoter and shrewd experimental music enthusiast known for hosting conceptual events in multi-storey car parks to playing exhibitions at Tate Britain. Purgas founded the We Can Elude Control label in 2009 with a self titled three-track CD featuring extended productions from Karl O'Connor & Mick Harris, Roger 'Sleeparchive' Semsroth, and Radovan Scasascia, known for a four-year slew of releases as AM/PM on London electro label Dreck Records.
We Can Elude Control has since grown with a further seven releases, paving the way for Purgas to create his own personal avenue for releasing rare, unreleased and revived electronic music, that, to call experimental, and at times prototypical, would be an understatement. This year's Thatcher-inspired Accumulator EP by Nocturnal Emissions is one example of this. An additional 23-minute live recording of the band playing the Brixton Ritzy in June of 1983 came with the release, and captured a performance which saw the band project excerpts of their 16mm film, The Foetal Grave of Progress, over a live TV broadcast of that year's general election, resulting in a demonstration against Margaret Thatcher's "catastrophic" re-election to office.
In the lead up to the release of a new Emptyset album which is now available on the Raster-Noton label, James Manning spent two months corresponding with Purgas and procured a selection of five records that reflect the musician's respected standing. Commencing with musique concrète of the 1960s and ending with some compositional Sähkö Recordings, Purgas also touches on ambient collaborations by Wolfgang Voigt, some locked grooves by Erik & Fiedel, and a childhood anecdote recounting what would turn into the first ever live manifestation of British Murder Boys.
Various Artists – Cybernetic Serendipity Music (ICA)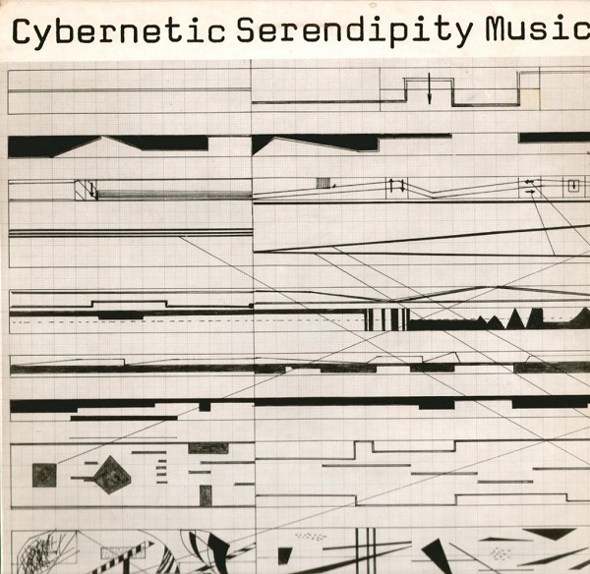 I guess you could call the music on this compilation truly experimental? John Cage and Iannis Xenakis are probably the most well known on the compilation, but it also features some synthesised experimentations. One artist I'm particularly interested in Peter Zinovieff who is known for founding the EMS synth company.
The compilation was released in 1968 as part of an exhibition of the same name at the Institute of Contemporary Art in London. The show was looking at how the emerging fields of cybernetics and computing would affect both art and music. It was a groundbreaking project and definitely paved the way for much of the experiments that took place in the following decades through the fields of architecture, video art, computer music and the emergence of new media. I think it's fair to call it experimental, probably radical would be more apt, given its historical context and legacy. I was in conversations with the ICA about reissuing the record on vinyl last year but the licensing situation was just too fractured, I was dealing with estates and tracking down quite obscure artists and scientists, in the end I had to let it go sadly. The Zinovieff inclusion is an interesting one too, the history of EMS and its role in the production of the Synthi series is a very significant part of the history of British music.
Can I ask where you came across this compilation? Crate digging, internet research or was it something that has long been in your collection?
I originally came across it about ten years ago whilst studying architecture in London. I was trained by a design group that had done a lot of work with the cybernetician Gordon Pask and the late architect Cedric Price, and the exhibition was a landmark project within this field. It was a benchmark in terms of considering how art, design, and sound could be developed simultaneously. It was only recently that an artist friend Yuri Pattison managed to track down a copy of the original vinyl release and passed it on to me. We decided in the end to archive it online with UbuWeb so the audio can be found there.
The EMS Synthi A is also the main focus of We Can Elude Control's latest release by Peder Mannerfelt.
Yes, last December I invited Peder to contribute to an exhibition I organised at a gallery called Färgfabriken in Stockholm, it was part of a project called Recurrence that included work from EVOL, Rose Kallal and Tom Richards. Peder did an improvised set with the Synthi A at the opening and we were both really happy with it so decided to put it together with another live performance as the release Stockholm Recorded.
Regis – Montreal (Downwards)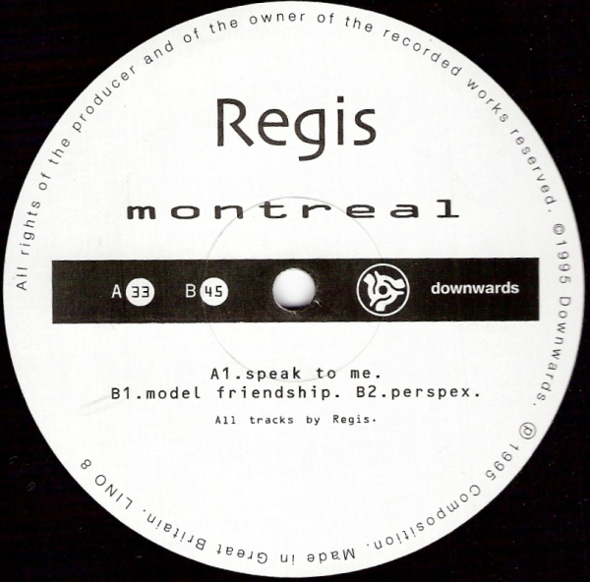 So you were saying this was a record from your youth? What sort of memories does it dial up?
It reminds me of some of my first experiences with electronic music. I grew up in Bristol and was from a young age around a lot of classic hardcore and dub from mixtapes and friends. Then one night I heard Surgeon was going to play in Bristol at a club called the Thekla, this was in 1995 so I was 14 at the time. It was on a midweek night so my friends and I concocted a plan to stay out as we had school the next day. That night Karl came down and brought a drum machine to play with Tony, I actually found out recently that night was the first ever live manifestation of British Murder Boys. Karl let us in backstage and treated us with a great deal of respect and the whole night had an immense impact on me.
Straight after I bought a TR606 and an old '70s distortion pedal from a free-ads paper and would spend hours DJing alongside it at home. Karl has always been very supportive over the years, and has nurtured a wave of British artists behind the scenes. I remember tracking down a copy of this record when it first came out. It was at a time when the city was utterly fixated with breakbeats and the halcyon Bristol sound, which I didn't feel any real connection with as I was more interested in learning about the music coming out of Detroit and Berlin that wasn't filtering in. So yes, this 12″ definitely comes with a whole world of memories for me
What was it like being in Bristol and feeling disconnected from the sounds you just spoke about? How much of a role did UK techno play when you were trying to learn about music from Detroit and Berlin?
In the '90s it was definitely a case of being surrounded by a musical culture that was focused on quite a narrow sound – and was invested in sustaining and celebrating that at the expense of allowing in other external influences. It was definitely a case of trying to transcend that situation that had claimed the city, and looking to learn about a sonic world beyond that. It was a time when music magazines and the radio were an amazing resource, also we would do epic 24 hour trips up to Lost in London. It's interesting to consider the UK techno angle, I remember when the first Blueprint stuff came out and to be honest it was never quite what I wanted, I was more interested in artists like Claude Young, Robert Hood and Jay Denham than the Brit contingent.
In some ways the more interesting UK techno labels were those much more on the periphery, like (Christian) Vogel's Mosquito label, and the material from Unspecified Enemies and In Sync. The traditional loopy UK stuff was something that was around, but equally felt most often like an impoverished facsimile of something else. Having said that I did always have an interest in what came to be called the Ealing sound, there were a few great records that came out on labels like Figment.
Lothar Hempel & Wolfgang Voigt – Colonia 1975 Ruckverzauberung 3 (En/Of)
An ambient record. I find there is so much ambient out there, a lot of it good, but when choosing these records there needs to be something that stands out. For me, listening to ambient can be a very personal experience, because sometimes you feel as though you are only one of a few who have actually heard it. Do you find this? Maybe with Colonia 1975 Ruckverzauberung 3?
I still enjoy Wolfgang Voigt's material both as Studio1 and Mike Ink, and equally I still revisit his work as Gas. There is definitely a sense of evocation and place in that particular project that still resonates. I'm not the greatest fan of ambient music as a genre/concept, but I do respect Voigt's aesthetic vision. This vinyl release is a collaboration with the visual artist Lothar Hempel, who is involved in the Cologne art and music scene, and the 12" was a rare opportunity to own a piece of his work alongside a Voigt release. The En/Of series is a sub-label of Bottrop-Boy and has been incredibly influential for me in terms of thinking about the relationship between music and art distribution.
As someone who hasn't been in a financial position to collect contemporary art, it's opened up a gateway to own pieces by some of my favourite artists over the years. They've released some exceptional editions by Seth Price & Bill Kouligas, Simon Starling & Oren Ambarchi, Monica Bonvicini & Maja Ratkje and many more. En/Of is unquestionably one of the most important projects in bridging visual art and music of the last ten years.
Is bridging visual art and music something you take into consideration with your own productions and label?
I definitely think that we have inherited a certain set of conditions that dictate the parameters of art production and distribution and has defined the relationship between the different artforms. If you look back at the period of the late '60s and early '70s there was a definite feeling that sound, experimental media, art, design, architecture, cinema and even industrial manufacturing were all part of the same cultural experiment. What we see now is something that adheres more to a territorial model in the arts that tends towards overspecialisation enforced through funding restrictions and market forces.
I think it's important to question these structures that have been ultimately moulded by both politics and capital and attempt to look backwards in order to look forwards. Nevertheless there are a few examples out there of spaces that really want to test these conditions, such as Arnolfini in Bristol, South London Gallery and Wysing Art Centre's annual festival Space-Time Convention, which in my opinion is one of the best festivals in the UK. I think organisations like these in this country are incredibly valuable and are a key part in shaping how we consider the relationship between art and music.
Erik & Fiedel – Donna (MMM)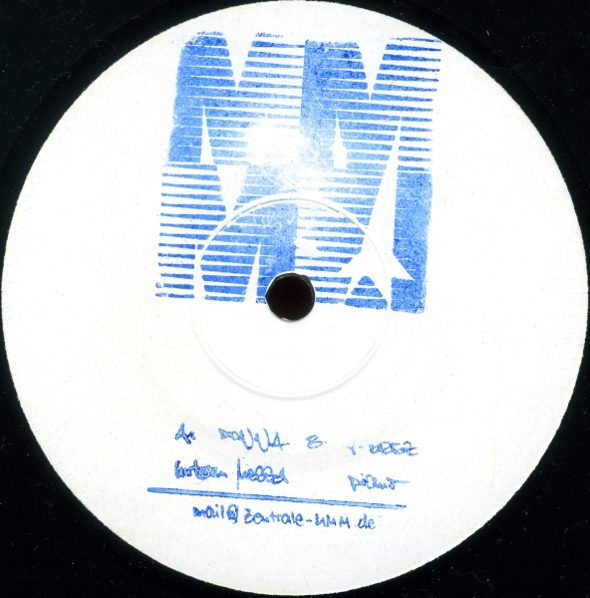 MMM is a quite an enigmatic label and from what I've heard of it this is my favourite release. It's quite a versatile record too, is that part of the reason why you chose it?
I first heard Derrick May play this in the mid-nineties, it was around the same time the first Soundhack release came out and both records completely blew me away. I'm a big fan of all the affiliated projects around this group – Smith N Hack, Fiedel One, Soundstream etc. I think Erik Wiegand is an incredible musician, DJ and instrument designer, and his projects have done a massive amount for pushing forward the scope and possibilities of electronic music. He truly is a legend.
I've been running a small club night in East London called Body Hammer over the last 7 years with Joe Hart from World Unknown. It's an underground night that plays vinyl only in a little warehouse space in Bethnal Green, a proper labour of love. Donna has consistently been one of those records that has always stayed in my box. I have had my copy for 15 years now and I still find it inspiring to play.
Do those locked grooves ever get a run?
Yes they do in fact, on occasion. I became a big fan of them from when I first discovered the Jeff Mills release Cycle 30 on Axis just after the Liquid Rooms compilation came out. It was a 12" with 8 locked grooves on one side, and it I used to play it quite literally to death. So yes, I am never afraid of dropping a locked groove, it's definitely a good test of a DJ.
Bruce Gilbert & Ron West – Frequency Variation (Sähkö Recordings // Puu)

Some Sähkö to finish off. Am I correct in saying that this is actually a half-an-hour piece separated in two parts for the vinyl release?
Yes, it's a recording that was made in 1974 at Watford School of Art, it was recorded two years before Bruce Gilbert started Wire and was part of a set of early analogue synthesis and tape experiments that continued through his work with Dome and his own solo projects. In many ways Bruce symbolises the spirit of British electronic music, and I think as an artist his influence has been immense. I was lucky enough to work with him on a project for Tate Britain as part of The Vorticists: Manifesto for a Modern World exhibition and he was great. I'd also highly recommend the IBM release he did with Pan Sonic. It was recorded in a flat in Oval when Vainio and Väisänen were living in South London during the late '90s and is a superb record.
Interview by James Manning